– or IS it the last?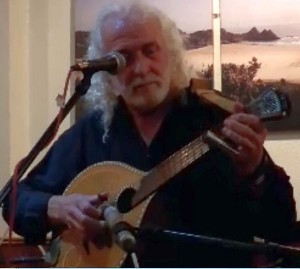 After more than 30 years of inspiring organising, warm memories, musical highlights, fabulous local beers from the pub micro-brewery and sheer artistic brilliance, the Halfpenny Folk Club closed its doors with a final flourish, delivered by the wonderful Bill Caddick and the stentorian voices of Swansea-based shantymen Baggyrinkle. The club used to use the restaurant at The Greyhound – located in the North Gower hamlet of Oldwalls, near Llanrhydian – every other Sunday night. But for now, booker and door-person Joy Toole and her husband, compére Tony, had decided that it was time to move on.
Baggyrinkle started off the night and hit the audience full-on with their powerful harmonising. Only three stalwarts remain from the group, which was founded by Dave Robinson, who ran the defunct Swansea Folk Club; but octogenarian Dave is still singing and Baggyrinkle have recruited new members. 'Old boy' Tony Beddow enhanced the sound with his spot-on tenor, and Dave James (from Llandeilo) delighted the club with his soulful interpretation of 'The Little Pot Stove'. Dave Robinson and the guys sang together on one of his well-known and well-loved compositions, 'A Pound And A Pint'. Baggyrinkle have spent years singing salty songs at clubs, concerts and maritime festivals all over Britain and Europe, and here's some good advice to some solitary hermits who, unbelievably, haven't heard them: Just go and hear!
I first saw Bill Caddick in Swansea University Folk Club in the 1970s, when he joined the Taffy Thomas-inspired innovative shadow puppet and street theatre group Magic Lantern – described by the BBC as "legendary". He left Magic Lantern to concentrate on his solo career, and he joined the Albion Band in the National Theatre productions of 'Lark Rise' and 'The Passion'. He later collaborated with Tim Laycock and Peter Bond in a stage show and album about circus life, called 'A Duck on his Head'. He wrote songs for radio and TV, and sang his own songs in a film about the Tolpuddle Martyrs. For seven years during the 1980s, Bill was a member of the brilliant band Home Service. He continued to write and perform at clubs and festivals, as well as continuing his involvement with the National Theatre, writing and appearing in several plays which included 'Don Quixote' and 'The Mysteries'.
His hallmarks include his 12-string guitar, his famous one-liner quips, and the strange mandolin instrument he bought for a song – two songs, to be precise. 'Waiting For The Lark' is one of his most famous successes, but that was even topped by his wonderful composition 'John O' Dreams' – a lovely, timeless song, which is based on Tchaikovsky's La Pathetique Symphony and which has been covered by folk artists from all over the world, including Christy Moore, Gordon Bok, Jean Redpath, The Clancy Brothers and The Dubliners. That mandolin-shaped instrument is, in fact, a very rare 17th-century English piece, fashioned to a French design, which Bill showed his enterprising genius by playing it with a bottleneck.
Talking of the bottleneck, it was a shame that Bill did not bring his steel dobro; he's a pretty accomplished blues guitarist. But the songs just flooded out, including the clever 'Writing Of Tipperary', which Bill described the inevitable turn of events leading to World War One, and how an insignificant music-hall showman called Jack Judge won his drinking bet by writing the soldiers' wartime anthem 'It's A Long Way To Tipperary' in a day; 'I'm In Love With A Gibson Girl'; the poetic and mysterious 'She Moves Among Men'; and the wild and utterly beautiful 'Unicorns'.
Bill is a magnetic storyteller and a thoroughly unique songwriter; he entrances and hooks his audience with his many fine songs, all blessed with the Caddick touch. For the inevitable encore, he closed the show with the memorable 'John O' Dreams', and the Halfpenny Folk Club all raised their voices in harmony and ended The Halfpenny Folk Club on a high. Below is a video of this never-to-be-forgotten occasion.
But is it end of folk music on North Gower? Tony said to me that, while the rigid programme has finished, both he and Joy are thinking about putting on the occasional artists if the mood takes them – and the next Gower Folk Festival is already planned at The Greyhound. Let's sincerely hope so…