TRIO TRIUMPH! FOXGLOVES DELIVER A WELSH/ENGLISH MUSICAL DELIGHT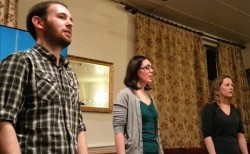 The Foxglove Trio are unique and a revelation; Mid-Wales singer Ffion Mair, Swansea-born spectacular 'cellist and guitar player Cathy Mason and Patrick Dean, melodeon player and 'cello player from Yorkshire, stirred up a bubbling cauldron of inspiring and exhilarating songs, tunes and absolutely lovely arrangements that had the audience on the edge of their seats, grinning broadly and shouting for more – in fact, the cheering hordes demanded a double encore. It was a great night!
For their first set, The Foxgloves exploded into 'The Owlesbury Lads', the lyrics and melody written and composed by Cathy and taken from a traditional song found in a book called Folk Songs Of Hampshire. Cathy lives in Hampshire now and is currently employed as Assistant Musical Director at Lord Wandsworth College, and Ffion and Patrick live in Hertfordshire; but the rich and vibrant Welsh tradition and the overflowing library of English folklore proved a fertile hunting ground for the Foxgloves' repertoire. The striking, most satisfying element is the way The Foxgloves mine Welsh and English tradition, and really enhance the programme by adding in snatches and tasty spices of other songs and tunes. Their brilliant arrangements and shimmering harmonies are just the icing on the cake.
Highlights were 'Selar Hill', by Valley Folk Club organiser Huw Pudner and Chris Hastings; 'James Snooks', written by Hamish Currie, Cardiff-based Scottish songwriter who was unfortunately whisked away by his job; 'Colli Llanwddyn', poet Harri Webb's lament about the drowning of Welsh villages to create reservoirs for the benefit of England, adapted for three of Mair's verses; and 'The Three Huntsmen', a humorous song about three foolish Welshmen found in a book belonging to Patrick's granny, influenced by the singing of Welsh romanies Hywel and Manfri Wood. The Trio were promoting their new album, These Gathered Branches; there's a FolkWales CD review on this.   Paul Seligman shot a video on The Foxglove Trio's performance.