Hats off to David! Wales salutes patron saint on his special day
Wear a Welsh hat on Dydd Gŵyl Dewi, St David's Day! These three dancers of Gwerinwyr Gwent (from left, Kathryn Bucknell, Sue Oates and Sue Venn) were waiting to go on and perform at the ASDA supermarket stage at the Sirhowy Valley town of Blackwood as part of Caerphilly Borough Council's St David's Day all-day celebrations on Saturday, March 1.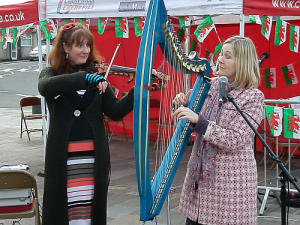 Welsh musicians, dance teams, choirs and more were among the thousands who were celebrating the patron saint's day in events all over Wales. In Cardiff, a massive parade, supported by the City Council, wended its way through the city streets and ended up in Cardiff Castle, where crowds were treated to old and new Welsh tradition from Pibau Planed, Bagad Morgannwg, Sesiwn Clera, Samba Gales, Wonderbrass and The Hennessys, with BBC Wales Celtic Heartbeat presenter and personality Frank Hennessy enjoying every moment. In the Rhymney Valley town of Bargoed, fiddle and graceful harp came together as Bethan Nia and violinist Emily Grainger weaved their magic – and this stiltwalker, disguised as a daffodil, wowed the shoppers in the ASDA stage.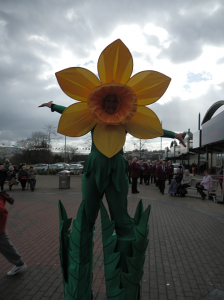 Tradition holds that St David died on that day in 569, and March 1 was declared a national day of celebration within Wales in the 18th century. National Assembly for Wales voted unanimously to make Saint David's Day a public holiday in 2000. A poll conducted for Saint David's Day in 2006 found that 87 per cent of people in Wales wanted it to be a bank holiday, with 65 per cent prepared to sacrifice a different bank holiday to ensure this. A petition in 2007 to make Saint David's Day a bank holiday was rejected by the office of the British Prime Minister Tony Blair.
---
Catrin, Seckou, Georgia lose out in Radio 2 awards
Welsh harpist Catrin Finch and Senegalese kora player Seckou Keita have lost out in two BBC Radio 2 Folk Awards, held at the Royal Albert Hall in London: Best Duo and Best Traditional Track for 'Les Bras de Mer', taken from their debut album Clychau Dibon, which was released on October 14 on the Astar Artes / Mwldan Label. Caernarfon-based singer Georgia Ruth was also unsuccessful after being nominated in the Best Traditional Track award, ('Codi Angor'.)
This was the first time that Welsh artists have been nominated. Mark Radcliffe made the nominations announcement on BBC Radio 2's The Folk Show just before the duo played to a sell-out crowd at Lakeside Arts Centre, in Seckou's home town of Nottingham. Catrin comes from the village of Pentyrch, near Cardiff, where she lives with her husband Hywel Wigley, owner of Acapela Studios.
It quickly follows two other major music industry nominations. The album was recently selected as one of Songlines Magazine's Top Ten Albums of 2013, chosen by editors Simon Broughton and Jo Frost and drawn from all the new albums reviewed in the past year – the first time an album featuring a Welsh artist has been included in this award. Clychau Dibon is also one of ten albums nominated for the fRoots Critics Poll Album of the Year 2013.
The past year was terrific for Catrin and Seckou, particularly since their showcase in October at the global music conference, WOMEX 2013 in Cardiff, impressed a crowd of international music industry delegates. Catrin and Seckou embarked on an 18-date UK tour, and dates for their next May 2014 tour are due in the coming weeks. The pair have also been invited to play at the 35th anniversary celebrations of fRoots Magazine in March this year at the Queen Elizabeth Hall in South Bank, London.
The project and album is a co-production between Cardigan-based Theatr Mwldan and Astar Artes. Clychau Dibon is produced by John Hollis.
'We are absolutely delighted to have received these nominations," said Dilwyn Davies, Theatr Mwldan's chief executive officer. "The album really seems to have widespread appeal across many genres – from classical and world music to traditional and folk. It's also a huge achievement for Wales, especially following the successful hosting of WOMEX this autumn."
The Folk Awards went to:
| | |
| --- | --- |
| FOLK SINGER OF THE YEAR | Bella Hardy |
| BEST DUO | Phillip Henry and Hannah Martin |
| BEST GROUP | The Full English |
| BEST ALBUM | The Full English – The Full English |
| HORIZON AWARD | Greg Russell and Ciaran Algar |
| MUSICIAN OF THE YEAR | Aidan O'Rourke |
| BEST ORIGINAL SONG | Two Ravens – Lisa Knapp |
| BEST TRADITIONAL TRACK | Willie of Winsbury – Anaïs Mitchell and Jefferson Hamer |
| BBC RADIO 2 YOUNG FOLK AWARD | The Mischa Macpherson Trio |
| LIFETIME ACHIEVEMENT AWARD | Martin Carthy |
| LIFETIME ACHIEVEMENT AWARD | Clannad |
| GOOD TRADITION AWARD | Cambridge Folk Festival |
| HALL OF FAME | Cecil Sharp |
---
Folk fans drink in Rail Ale Festival
The Roving Crows will among the bands at the Welsh Highland Railway's Rail Ale Festival on the weekend of May 16 at the goods shed, Dinas, boasting no less than 40 real ales.
---
Three new sessions start
Phil Tipton has news of three monthly tune-and-song sessions in South East Wales: The Station Hotel, Abergavenny (second Mondays), The Warwicks Hotel, Llantilio Crossenny on the A4233 (last Tuesdays) and the Britannia Inn in Crickhowell, Powys (third Fridays). All start between 8pm and 8.30pm.
---
Flook's John Joe drops out of Tredegar House Festival
John Joe Kelly has had to drop out of the Flook line-up for the Tredegar House Festival, west of Newport, on the weekend of May 9 to 11 – but Sarah Allen, Ed Boyd and Brian Finnegan welcome spectacular bodhrán player and 'dep' Brian Morrissey. The reason? John Joe has been offered a whole raft of work with an Irish dance spectacular, which could lead on to greater things.
Flook (pictured) join amazing Welsh trio Alaw (with jazz guitarist Dylan Fowler, accordion wizard Jamie Smith and fiddle virtuoso Oli Wilson-Dickson), the ever-popular Vin Garbutt, Welsh-English threesome The Foxglove Trio and Steve Turner at the festival, which welcomes dancers Folklore Ensemble Gramnitsy (Belarus) and Matenik (Czech Republic) including a host of Welsh and English dance teams.
---
9bach sign deal for Gabriel's Real World Records
Bethesda-based 9bach have signed a deal with Peter Gabriel's Real World Records – and their second album, Tincian, will come out this Spring. The deal comes four years after 9bach's drummer Ali Byworth picked up the rock star in his London taxi cab and swiftly played him one of their early demos – and Peter told him that he really the sound.
9bach's singer, actress Lisa Jen Brown, said that the band played a booking at the Womex event in Copenhagen two years ago and Real World had expressed an interest in them. "At that point, though, we didn't really have much to promote, so they said they'd stay in touch. But when we were recording our new album, we sent them off a couple of tracks and heard back almost straight away.
"They said they loved the music and definitely wanted to work with us – However, they had to run the final decision past Peter, and he was away on tour at the time. But he clearly liked our songs, too, and eventually we got the 'thumbs up' from him. Now we can't wait to meet him in person to ask if he remembers first hearing us in the back of Ali's cab all those years ago."
9bach's success with Real World is an all-Welsh triumph – the band produced the album in Wales with support from the Arts Council Wales Music Industry Development Fund, set up to support Welsh  musicians in developing business skills. 8bach are anticipating their second album to pay for their third, and so on – creating a sustainable future for both the band and the Welsh  music industry as a whole.
But 9Bach are not the only ones to have benefitted from Welsh arts funding. The MIDF fund has supported the further development of 53 artists and music companies in Wales since it was set up as a pilot project to boost business skills within the music industry 15 months ago. Altogether, £30,000 of MIDF funding  has enabled the band, who also contributed  £12,000 to the project privately, to not only fulfil its own economic objectives over the past 12 months, but also those set out by other music professionals in Wales too.
Bryn Derwen Recording Studio in  Bethesda, Wild End Studios in Llanrwst  and a variety of locally-based music professionals were employed by 9Bach to bring their songs to fruition after the band secured the grant, which has been core-funded by the Welsh Government as part of its strategy for  developing the creative industries in Wales. The idea is to ensure that musical talent not only emerges from Wales, but also has the professional services available locally to help it prosper.
Fronted by Lisa and her guitarist husband Martin Hoyland, 9Bach consists of drummer Ali, South Wales bass guitarist Dan Swain (based in London) and Dan's sister, harper Esyllt Glyn Jones, who lives in Llantrisant.
---
Brady plays St David's Hall
Paul Brady, the ex-Planxty member who went on to be a highly-regarded singer, songwriter and multi-instrumentalist, is playing at Cardiff's St David's Hall on Thursday, May 15. He is one of Ireland's successful artists, crossing musical boundaries again and again, incorporating folk, rock, traditional Irish and classic pop styles into his songs,  drawing on his extensive catalogue which spans 40 years. Often classified as a musicians' musician, Paul Brady's songs have been covered by a huge array of major artists.
He began to write songs in the early 1980s and has since forged a reputation as one of Ireland's finest singer songwriters, releasing many popular and critically-acclaimed records. Soon after the 1981 release of Hard Station, his first album of his own compositions, his songwriting started to come to the attention of artists worldwide. His first 'cover' came the following year when Carlos Santana recorded 'Night Hunting Time'. Since then, his songs have been sung by many international artists including Tina Turner, Cher, Carole King, Art Garfunkel, Bonnie Raitt, Joe Cocker and Phil Collins and – closer to home – Ronan Keating, Maura O'Connell, Liam Clancy and Mary Black. Paul continues to garner huge respect from the younger writers and performers of today, including Glen Hansard and Shawn Colvin, who are among the many that hold him in high regard.
---
Fiona, Mike display new CD for Llantrisant
Llantrisant Folk Club, The Windsor, Pontyclun, welcomes wonderful Glasgow traditional singer and cellist Fiona Hunter, accompanied by fiddler, guitarist and prolific composer Mike Vass, on Wednesday, March 5 – two days after Fiona's debut CD release. Fiona's CD has garnered many admiring reviews from the British media, including this one from The Living Tradition magazine: "Fiona's blend of fluid vocal technique and passion, her experience in song arrangement and interpretation and her love of Scotland's kist o'riches come together to glorious effect. Mike Vass, Fiona's band member in Malinky, plays a blinder on this album and has produced it beautifully." The Spring programme includes Yorkshire hurdy-gurdy player Jon Loomes (March 19), Irish songwriter Colum Sands (March 26), The Askew Sisters (April 16), James Hickman and Dan Cassidy (April 30), Ian Bruce and Ian Walker (May 7), Cardiff favourites A Fanfare Of Strumpets (May 21), Olion Byw (June 4) and Scottish fingermeisters Sandy Brechin and Ewan Wilkinson (June 25).
---
Folk Clubs welcome guest artists
The Valley Folk Club at the Ivy Bush, Pontardawe has The Foxglove Trio (April 18), David and Issy Emeny (May 16), Y Plebs (May 30) and George Papavgeris (June 20). Newport Folk Club (just off the M4's junction 27 in The Fugitives Athletic Club, High Cross Road) stages Rob Garcia and Paul McNamara as Na-mara (April 10) and Ken Nicol and Becky Mills (June 12). Newport's rival club, The Lyceum Folk Club of Newport, which is also on Thursdays, meets in the Lyceum pub in Malpas Road and has Winter Wilson (April 3) and The Jaywalkers (June 12).
---
Blackbeards tour the Marches
Rip-roaring Yorkshire band Blackbeard's Tea Party go on tour promoting their three albums (Heavens To Betsy, Tomorrow We'll Be Sober and the latest, Whip Jamboree) just outside Wales at The Edge Arts Centre, Much Wenlock, Shropshire (April 6), the Rake And Pikel, Huntington, Chester (April 12), Chester Folk Festival (May 25) and Festival At The Edge, Much Wenlock (July 18).
---
Festival's Folk Award chance
Calling all Welsh musicians – the Isambard Folk Award gives any artist of any age the chance to open for one of the Bristol Folk Festival's headline acts on the weekend of May 3 and 4. All entries are welcome, including solo artists, duos, bands; traditional folk, contemporary and experimental. The award's inaugural year, 2012, saw Josienne Clark and Ben Walker win amidst tough competition from a large group of talented hopefuls. The chosen duo went on to become nominated for numerous BBC Radio 2 Folk Awards, including this year's Best Newcomer and Best Duo. Submissions from this year's Bristol Festival awards are now being accepted.
---
Club celebrate 20 years of dance
Llandovery Folk Dancing celebrate their 20th anniversary with a fest noz/twmpath on May 23 in Llanwrda Hall SA19 8HD, featuring husband and wife Rachel Goodwin and Hervé Drean from Ferel, Brittany, friends and members of Breton-Welsh band Twm Twp. The fest-noz starts at 7pm and the twmpath starts at 8pm.
The anniversary continues with a twmpath at Myddfai Hall SA20 0JD (Friday, June 20, 7.30pm) with Cadi Ha and English and American dance sets with ever-busy caller Mic Spenceley at the Rhys Pritchard Hall in Brecon Road, Llandovery (Friday, 18 July, 7.30pm).
Website: Llandovery Folk Dancing