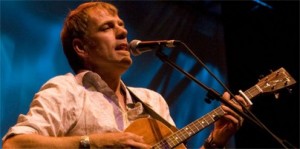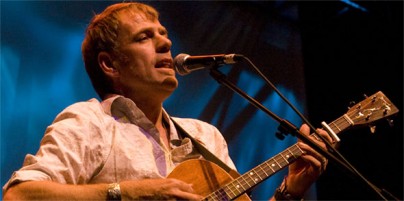 MARTYN JOSEPH: Roots Unearthed, Lefel 3, St David's Hall, Cardiff, November 29, 2016
It was a brilliant, celebratory homecoming for Martyn Joseph. The Penarth-based guitarist, wonderful singer and unique songwriter was just into his Winter Tour, with shows and concerts all over the depth and breadth of the UK, with America and Europe beckoning on the horizon; but the Lefel 3 Lounge was sold out here, and all Martyn's family were waiting to see him – and he didn't disappoint, not one jot.
Martyn strode onto the stage, like the proverbial Colossus, and launched straight into 'Sing To My Soul'; the audience were with him all the way from this moment on, singing the well-known and well-loved familiar chorus. He had them eating out of this hands as he paraded song after excellent song. He revisited his album Under Lemonade Skies with the magnificent 'Lonely Like America', his 2012 collection Songs For The Coming Home with the life-affirming 'On My Way', and his most recent release, Sanctuary, with an entire battery of good-time items, including the chorus-shouting 'I Searched For You' – a legion of guitars lined the stage, and he chose the four-string tenor guitar. As an intro to 'When Will We Find?' Martyn informed the crowd that his old Lowden was a hastily-chosen stand-in; his cherished, favourite Lowden guitar had been stolen in a tour van break-in at a services near Andover recently. He powered through all the Sanctuary favourites, including 'Bobby', his tribute to the assassinated Bobby Kennedy, 'The Luxury Of Despair' and Martyn's tender love song to his mother, 'Her Name Is Rose'.
Martyn shows his proud love by telling a spell-binding and magnetic story of the True Wales, a country that combines such utter scenic beauty with such terrible injustices, perpetrated on the working population by a whole train of mega-rich masters. 'Dic Penderyn' was one of those injustices; Richard Lewis, a worker caught up in the Merthyr Uprisings, he was unjustly accused of harming a soldier and condemned to death. The soldier testitifed that Dic was not the guilty party, and thousands petitioned for his freedom; but Lord Melbourne and the London Government wanted the Welsh labour movement to be taught a sharp lesson. Dic was hanged in Cardiff, his wife watching as he died, saying in Martyn's words, which forms the great chorus: "Lift me up, oh lift me, boys, let me see the one I love". Martyn conveys the story in matter-of-fact modern slang to hammer home Melbourne's contempt for the Welsh working class and the full horror of the establishment's actions.
He donned a Fender electric guitar, announcing that he had just written a song and apologising for reading the lyrics to refresh his memory, but he scored on 'This Glass'. He even revisited one of his hero Bruce Springsteen's songs, a rock musician's weary comment on his wandering life, 'The Promise'; Bruce's lyrics, "tires rushing by in the rain", provided the title of Martyn's tribute album to The Boss.
Martyn's testimonial to Areurin Bevan and his vision of the National Health Service, 'Nye' resonated deeply, as did the lovely 'Cardiff Bay'; and his poem to Wales, 'Land Of Evermore', really hit the high spots. After the inevitable encore, with the crowd clapping, cheering and shouting for more, he simply said: "You were good tonight!" But without you, Martyn, without you…
Mick Tems