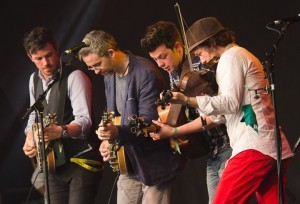 WE BANJO 3: Roots Unearthed, Lefel 3, St David's Hall, Cardiff, October 20, 2016
The packed Roots Unearthed audience and never seen or heard anything like it; the Irish band We Banjo 3, after a storming set, had cajoled the ecstatic punters to remain standing while they lit the blue touchpaper for the final, triumphant piece – and the crowds danced, jigged, waved their hands, whooped and shouted for more. The foursome, who include two pairs of brothers, really sizzled and burned as they turned on the energy and sheer vitality; and it's even more remarkable because three of musicians were struck down by a food poisoning bug and had to remain seated through the night, leaving banjo player Enda Scahill unscathed. Blame the suspicious cheesecake!
We Banjo 3 have musical pedigrees as long as your arm. Enda is a banjo wizard who has has recorded with Grammy-winner Ricky Skaggs, guested with The Chieftains, toured with Frankie Gavin, The Brock McGuire Band and Stockton's Wing. He's a leading author on Irish banjo techniques with two self-published titles among the best-selling Irish banjo tutorials available. His recording career includes his ground-breaking solo album Pick It Up, Irish Times Album of the Year Humdinger with Paul Brock and Green Grass Blue Grass with The Brock McGuire Band, recorded in Nashville. The Irish American News said he "does things on the banjo which should be impossible." His brother, Fergal, is one of the most renowned fiddlers in Irish music. An Irish fiddle and bodhran champion, Fergal has performed and recorded with a glittering army of Irish musicians including Martin O'Connor, The Brock McGuire Band, Michael Rooney and June McCormack and Stockton's Wing. His two solo albums, The Dusty Bridge and Wayfaring, stand proudly among the very best Irish fiddle albums. Martin Howley, seven times All Ireland Banjo Champion, was the first Irish banjo player to play at the Grand Ol' Opry in Nashville, and has toured with The Brock McGuire Band and performed extensively across Europe and America. Now teaching many young banjo players, he is passing his craft on to the next generation. His younger brother, Dave, the lead singer of the band, has a brilliantly soulful voice and plays banjo and mandolin, but it's his chunky, driving guitar that provides the band with its steaming rhythmic powerhouse.
All four musicians must have a reputation that goes to guarantee bottoms on seats, but We Banjo 3 have hit on a heady mix of quality Irish music and traditional American bluegrass as well – a kind of Celtgrass style, with spectacular harmonies providing the icing on the cake. They rocketed off to their opener, 'Kindness', and soon the audience was roaring along to 'Prettiest Little Girl' and 'Down The River I Go'. Tunes and heavenly songs followed thick and fast, with a fabulously wonky 'Foxhunters' Jig' and 'Pressed For Time', with Fergal delighting the crowd with a breathtaking bodrhan solo. This band has a shedful of exceptional material, great songs, absolutely memorable tunes and loads of tingling electricity and proud attitude to spare. We Banjo 3 have created a monster – and I, along with the smiling, satisfied crowd, with definitely be coming back for more.
Mick Tems