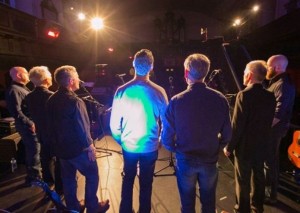 It's going to be one stupendous night at Llantrisant Folk Club on March 30, 2016. The South Wales folk scene is looking forward to a stunning seven-strong Irish invasion when  harmony singers Coda are coming from their base in Westport, County Mayo – and they're performing just one gig. Coda includes Irish teacher Conall Ò' Dhomnaill, brother of the former Bothy Band, Relativity and Nightnoise members Trίona Ni Dhomnaill and the late Micheál Ò Domhnaill, and Brian Lennon, a doctor and brother of Maurice Lennon, fiddler with the former folk-rock band Stockton's Wing and a nephew of Charlie Lennon – fiddler, pianist, composer and a respected legend.
It will be a special homecoming for the only Welsh member, Steve Bryant. Steve was born in Cardiff in 1948 and grew up in Barry, leaving the local Grammar School in 1965 for an apprenticeship in engineering. He was a drummer for various rock bands, gigging in Barry and the South Wales valleys: "Tom Jones, Andy Fairweather Low and Dave Edmunds were the up-and-coming local names at the time – I don't think we ever troubled their consciousness." Music was Steve's sole interest, but he says: "The 'sensible' career paid off in the end."
Steve married, and he moved to the Midlands to work in the power industry. A few years later, he was introduced to folk and Irish traditional music by none other than guitarist Jon Scaife, who has played many times at Llantrisant with wonderful Vermont band Gypsy Reel – the leader of Gypsy Reel is banjo and guitar player Claudine Langille, formerly a member of Touchstone, the American band founded by Tríona. Touchstone recorded two highly-acclaimed 1980s albums, The New Land and Jealousy.
Jon really inspired Steve with his enthusiasm and his fabulous playing, and he placed him on Irish traditional music's version of The Road To Damascus. (Llantrisant Folk Club has got a lot to thank Jon. He recommended the Club to Steve, who said: "He told me it would be a great place for Coda to play – so here we are.")
Much later, Steve emigrated to Mayo, in search of traditional music: "I had met Suzie, my second wife, while playing Irish Trad in the Manchester area. We visited Westport in 1995 to check out Matt Molloy's bar and fell in love with the place – the bar and the town. We bought our house in Mayo in 1998 and moved over. Molloy's is still our local, and I play there most weeks."
Steve and Suzie live in the Mayo countryside, 10 miles outside Westport and near the Sheefry Mountains. It's an attractive and beautiful place to be: as Steve said: "The music, the Atlantic coastline – there are some of the best beaches in Europe, and Clew Bay is spectacular, in good weather anyway – we do get some, just never know when it's going to happen. And the Guinness…"
Steve joined Coda in 2010. He said: "All of us sing in the tenor or bass line in Cor Mhaigheo – or The Mayo County Choir, as it was known. I'd never have considered joining a choir in the UK, but I knew Brian and Declan through Molloy's trad sessions and their 'street cred' was persuasive. We all enjoy the challenge of some really complex music – it's certainly not 'Onward Christian Soldiers'. We decided to try something different – hence Coda, but we're all still singing with Cor Mhaigheo as well."
Westport is home to the famous Matt Molloy's Bar, right in the town on Bridge Street.  Steve said: "Matt is one of the best and, without doubt, the best known Irish Trad flute player in the world, having played with The Bothy Band and Planxty – and he's still with The Chieftains after many years. He opened his bar in Westport in the early 1990s, and it's one of the best known Irish Music venues on the planet – sessions seven nights a week. The bar is a magnet for tourists from all over the world; it's busy year round, and in high season it's hard to get in.
"Matt was a musical hero of mine when I got into Irish Trad in the UK in the 1980s  – one of life's surprises is that I now know him well as a regular in his bar, and I have played with him in many sessions here. As it happens, Coda are singing at his son's wedding in June."
It's time to meet the four remaining members of Coda. Alan Drumm is a marine biologist, and all three singers are teachers: Declan Askin teaches design/technology, Leonard Kelly teaches English and Mike Cannon teaches maths. The members suggested name after name, but Steve says that Coda won fair and square: "We did a lot of brainstorming to find a name. Coda was the democratic choice from more than 100 suggestions. The word we had in mind was the musical term denoting the final passage in a generally classical piece."
The family links with Trίona, Micheàl, Maurice and Charlie are pretty strong – in fact, there's a You-tube video, shot in the Dublin Temple Bar Tradfest, of Trίona brilliantly harmonising 'Lord Franklin' with Coda. Perhaps she might like to join?
"It's a nice thought – but we have 'day jobs'," Steve says. "Triona is a professional recording artist and has a full workload – so, no. Triona sang with us at the Tradfest concert in Dublin and at our CD launch in 2013 – it was great to perform with her.
"The Lennons are an amazing musical dynasty. Maurice produced our first CD and has played in a few gigs with us. Brian is a top-notch singer and trad session flute and low whistle player with Coda. Brian and Maurice's dad, Ben, won the RTE Gradam Ceol Lifetime achievement award last year for his contribution to Irish music as a fiddle player. We were pleased to see Charlie in the audience at a recent concert we did in Galway City."
Coda choose their repertoire with the utmost precision. Their debut CD, Mouthmusic, was a delicious stew which includes Tom Waits' lovely 'The Briar And The Rose'; a Gaelic song from the Western Isles of Scotland, heard when Clannad performed it; 'Lord Franklin', learned by Connal from his late brother Micheàl; 'Mouth Music', from the Scots Gaelic puirt a' beul (tunes from the mouth); 'Bring 'Em All In', from Mike Scott of The Waterboys, described as "one of the greatest love songs ever written"; the jaw-dropping and utterly beautiful harmony song 'Because' by The Beatles; the Scots-Gaelic 'Fionnghuala', collected by Micheàl Ó Domhnaill from the Isle of Barra; and the magnificent 'Full Force Gale', written by the born-again Van Morrison, which just about rips the guts out of all the listless, weak stuff which today's modern hymn books insist on churning out. Coda is in the process of recording a second CD, and I for one cannot wait to get hold of it.
Steve said: "It's often difficult to get agreement across the band regarding new material – we have a fairly diverse range of tastes. We're a democracy, so inevitably our repertoire includes songs some like more than others, but finding arrangements that work for the audience is what drives us – and the harmony aspect is key to what we do.
"We're confident that we're much stronger now than when we recorded the first CD, which we started back in 2012. The challenge is recapturing our live sound – it's difficult with seven voices and up to five instruments, unless you're Peter Gabriel and you spend a year in a studio. We're wondering about recording a live album, but we'll see. The first CD covered a wide range of genres, and the second will too – including some original compositions by Declan and Brian."
For someone born in the South-East of Wales, Steve copes with the difficult puirt a' beul: "Conall is an Irish teacher and helps me out with phonetic lyrics, which is not too much of a problem with six other voices around you. I'm not sure I'd fancy a solo run at it, though – but we've all sung Latin, Italian, Russian, French and Irish with the choir, anyway."
For Steve, it's the stuff that dreams are made of: performing with a coterie of Irish musicians, with strong Ó Domhnaill and Lennon family roots; How is he feeling?
"Ah, yes! As an Irish Trad devotee living in the UK, the thought of being part of an Irish band based on the Atlantic coast would have been pure fantasy. There are plenty of top-notch trad Irish bands out here, but few, if any, are doing what we do. So it's incredibly rewarding to be part of something that's so well received – and to come back to Wales to perform with them. What can I say? Jaysus!"