Here is Page 3 of our catalogue of past guests to let you know what you have been missing over the last few months - an insight into the calibre and variety of guests you can see at our little club.
Guests N - Z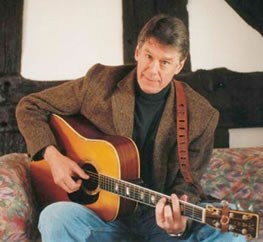 Jeremy set Africa alight in the sixties with his Ag Pleez Deddy and was then banished for ridiculing apartheid. After two years on the West End Stage in Wait a Minim, he became a leading entertainer on the British folk circuit. Songs such as Jobsworth, Red Velvet Steering Wheel Cover Driver and Prawns in the Game were very well known and are still sung today. He shared the stage with Spike Milligan, Donald Swann and Sydney Carter, and he had extensive TV work including At Last It's Friday with Richard Stilgoe, Keith Dewhurst and Diana Quick and Pssst! with Julie Covington and Kenny Lynch. His programme, Songs from the Two Breweries, included The Dubliners, Ralph McTell and Pentangle. Finally he had his own BBC2 series, simply entitled Jeremy Taylor. In 1979 he was readmitted to South Africa.
He settled with his wife in Mid-Wales and continues to entertain widely in folk clubs. He also lectures in schools on the subject of South Africa. . He has also produced a new album of songs and poems by Sydney Carter entitled Lord of the Dance.
" Jeremy Taylor is rather an elusive man and an extraordinarily good songwriter. He has the ability to reveal illuminating glimpses without awkwardly constructed comment."
- Melody Maker
" The one-man show must be one of the most difficult forms of show-biz, but not for Jeremy Taylor. He's a joke-spinner, a creator of characters, a singer, a personality - in sum, an engrossing entertainer."
Last visited the Folk Club 23rd November 2005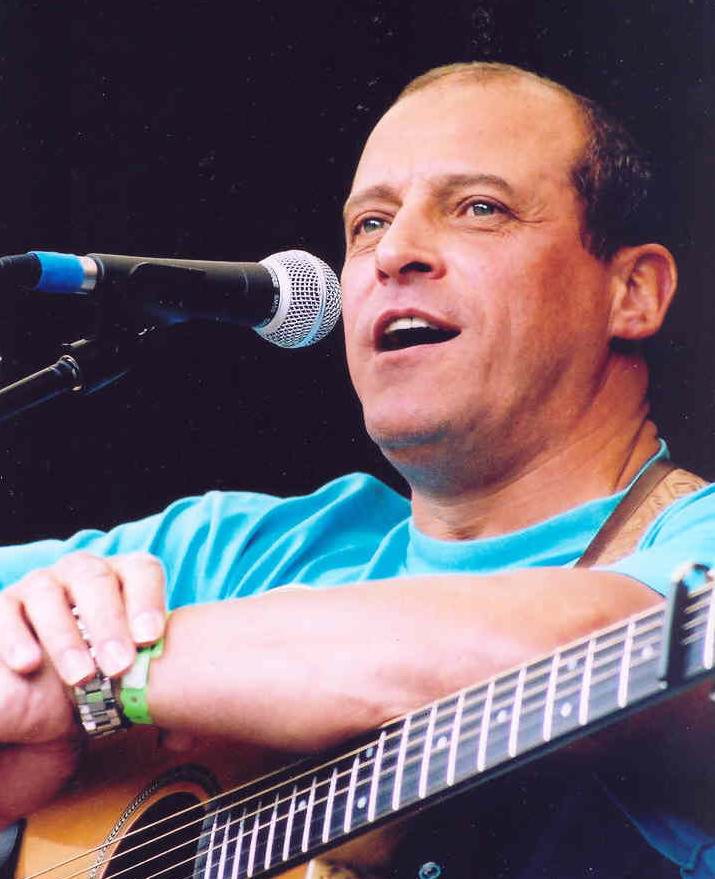 BRAM is an entertaining artist with a distinctive voice and relaxed stage presence who gives an evening Taylored to suit his audience. Bram calls on a large repertoire of traditional songs, together with contemporary and humorous material, performed on acoustic guitar, duet concertina, or unaccompanied. With a wealth of experience behind him, he has established a fine reputation which has gone from strength to strength from tours in the UK and USA of folk clubs, festivals and concerts. This is Bram's second gig at Llantrisant Folk Club; his last appearance attracted such enthusiastic shouts for more that we couldn't say no!
Last visited Club: Wednesday September 16, 2009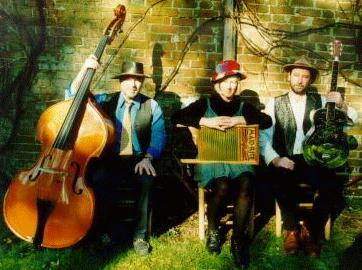 An evening of goodtime ragtime bluesy folky skiffly stuff, with a real New Orleans feel. It's hot, it's fun, and it's finger-clickin' good.

More Tamale chat - pictures and sound samples here



"Their joint wealth of musical dexterity, experience and knowledge accumulated from years of playing has given them a musical authority that allows them to perform with warmth, humour and great skill.
This is what they do. They play, they perform and they entertain. If there is an agenda, it's this - Enjoy."
For more information click here.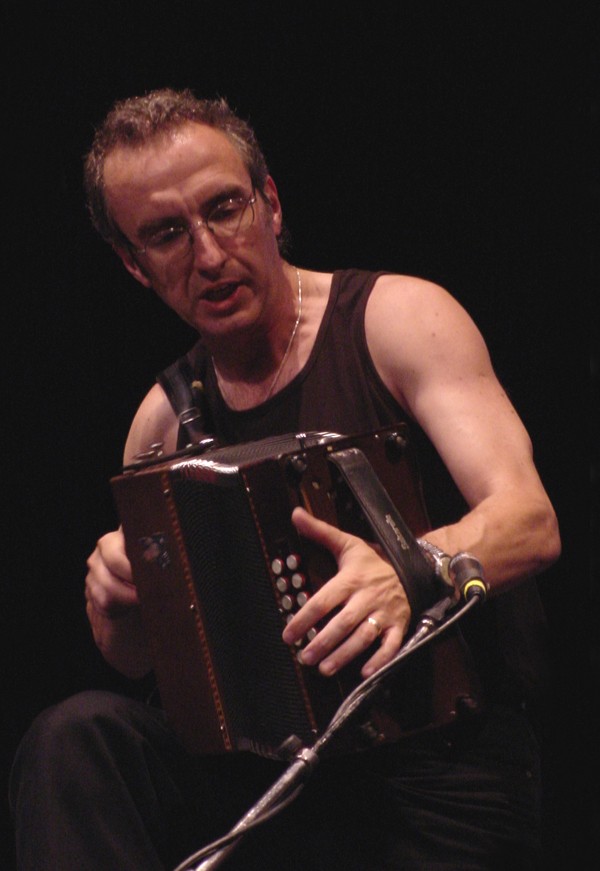 Brian is one of our most accomplished performers of traditional folk songs and music. He's a top squeezebox player, expert on both anglo-concertina and melodeon, a skilled guitarist and a compelling singer. His repertoire is firmly based in the folk tradition and includes classic songs, some of the greatest of the ancient ballads and lively dance music. But he can charm the audience with a set often covering contemporary songs, new music of his own, and wild squeezebox excursions into ragtime and blues. His stage act is known for startling variety, a committed and energetic performance and subtly humorous introductions.
Brian has played major folk festivals in Britain, Australia, New Zealand, the USA and Canada, as well as touring extensively in Europe. He has collaborated with many British and American musicians, worked in theatre, and is also in demand as an instrumental teacher and workshop leader. He has recorded seven CDs and published a book of original music in traditional style.
Last performed at Llantrisant Folk Club Wednesday February 27, 2008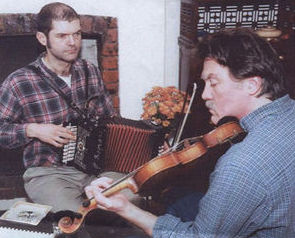 Gareth Westacott's passionate fiddle and Guto Dafis' punchy melodeon blend perfectly make a full and powerful sound. They have rediscovered a largely and distinctively Welsh folk-dance music as hypnotically vibrant as that of Brittany. Their repertoire also includes harp airs, jigs, hornpipes and songs.

The CD

Toreth (Fflach Tradd CD265H) was released in 2003. "It's really enjoyable, urging me to dance to the dance tunes and join in with the songs… you can breathe in the smell of wood smoke and wine… a lovely CD." (Sally Clayden, Taplas)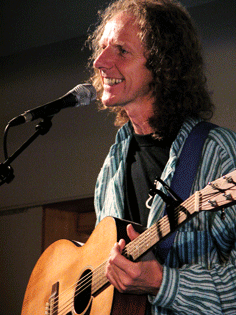 Colum makes his return to Llantrisant once again, and we can look forward to a fine batch of his own whimsical, searching songs, some penetrating, some comical, but all thoroughly satisfying. A member of the internationally renowned Sands Family from County Down, Colum established his reputation as a songwriter with the release of his first solo album, Unapproved Road in 1981. Songs like Whatever You Say, Say Nothing, and Almost Every Circumstance were soon in the repertoire of artists from Billy Connolly to Maddy Prior and June Tabor.

His second album, March Ditch, inspired a special BBC TV documentary and songs like The Man With the Cap and Looking the Loan Of a Spade confirmed his unique ability to observe locally and appeal universally. On his travels around the world he soon discovered that many of his songs had arrived before him, carried by other singers in the folk process and on recordings by fellow performers like Andy Irvine, Tommy Makem and Liam Clancy, Roy Bailey, Mick Hanley and Enda Kenny.

Countless other performers have been introduced to the air waves through Colum's work as a presenter of BBC Radio Ulster's Folk Club programme. He has also broadcast a series of programmes for BBC Radio 2 and his work in radio and studio production earned him the Living Tradition Award for services to Folk and Traditional Music.
Last visited Llantrisant Folk Club Wednesday, October 6, 2010



Quicksilver - Hilary Spencer & Grant Baynham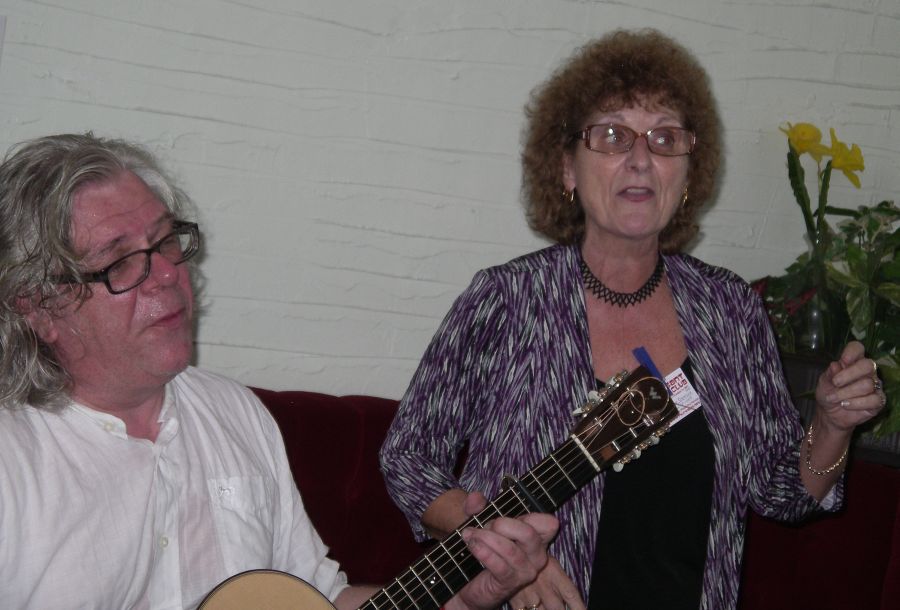 Photo: Mick Tems
A magic mix of Grant Bayhnam (master guitarist and ex-songwriter to the stars on Esther Rantzen's BBC series That's Life) and Hilary Spencer (The Voice of a capella trio Artisan, founder member of Les Barker tribute group MrsAckroyd and a trained classical singer) - what a brilliant, hilarious combination! We reckon that Hilary is vying for a place in Artists Who Have Visited Llantrisant Folk Club The Most - this is Flos Headford's review of QuickSilver's CD Make 'Em Laugh! in Shreds And Patches magazine:
"Subtitled "100 years of comic song", this masterful CD is probably the best collation of comedy songs I have come across, and the performance standard is almost unbelievably high. Hilary has a nigh-flawless voice, and the control to go with it (having trained at Manchester Royal college of Music as a soprano).
Grant is a recognised favourite of British broadcasting media, and worked for four years on Esther Rantzen's "That's Life!" series. His lyrics had all the agility of Noel Coward, and his fingers are equally nimble.
"The combination of these talents gives us a duo who sound confidently competent with material from sources as divergent as Jake Thackray and Gilbert & Sullivan. It's a live recording (never the easiest thing to excel at), and after the hilarious self-introductory song (written by Grant), one can sense that the audience haven't clocked the idea that they're allowed to have fun. But their reserve doesn't last to the end of the second item, Old Tyme Dancing written and made famous by the adorable Joyce Grenfell - you know the one - "Stately as a galleon I sail across the floor..." And by the time they've heard O Sole Mio (words by the barking Les Barker), they are helpless.
"You can't pick a favourite from such a rich album, but I'll mention some of mine - Mad Dogs And Englishmen (Noel Coward), Madeira M'Dear (Flanders and Swann), If It Wasn't For The 'Ouses In Between (Bateman and Le Brunn), The Elements (Tom Lehrer and Arthur Sullivan), Let's Do It (Victoria Wood) and The Cauliflower Song (Grant Baynham). The whole CD is a tour de force by two of the most talented performers in the kingdom. Three cheers for QuickSilver!"
Last appeared at Llantrisant Folk Club Wednesday October 5, 2011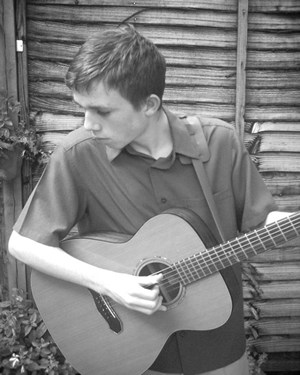 Young Gareth has been playing guitar for just an incredibly short time, but he's got the virtuosos scrambling for superlatives - Dylan Fowler and Wizz Jones among them. See Gareth play and be amazed and flabbergasted!



Tane Raj Singh Sodha & Kahn Sakar Manganiar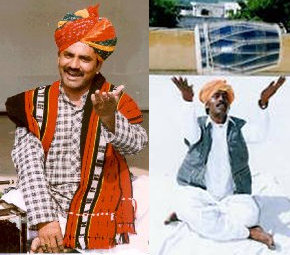 Both these mesmerising, spellbinding musicians from Rhajasthan, India can delight any audience – and Tane Raj (a post-graduate) has an outstanding voice to die for. Their visit this time was the third foray in Indoceltic Connections, a series of music exchange projects between musicians in Wales and Rajasthan. Their dexterity on a number of Indian instruments, including harmonium, dholak, chotara and khartal, just has to be seen to be believed.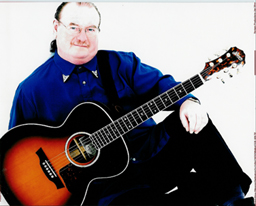 Good, solid, entertaining memorabilia from the master guitar virtuoso, who is influenced by a host of U.S. blues, bluegrass and ragtime musicians – and some British old-timers as well! Eddie's been on the road, trading licks with the amazing John James as Carolina Shout. He's recorded four albums and CDs, and the Folk Club keeps having him back!




Ian was born and brought up in Suffolk where he learnt much of his early material from singers like Phoebe Smith, the Ling family and Percy Webb. He left for Poland and now lives in Oxford, where he continues to vent his spleen, sing and write songs. He currently works with Ian Giles and Graham Metcalfe in the a capella trio GMW (in fact, there's a rumour that Graham might just accompany him!) He is the author of many songs, including One More Pull and Hooks and Nets. A warm welcome back for one of our oldest friends.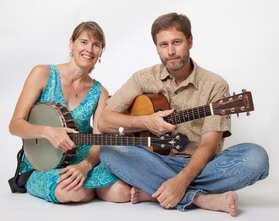 Banjo, exquisite fiddle, no-nonsense guitar and Dana's timeless, beautiful, stirring writing:
"Rural America explored with elegant simplicity. Their music and cleanly poetic songwriting bring to mind the great folksingers of our times" - Ashville Citizen Times
"Powerful, rolling, fingerstyle guitar playing is the first aspect to grab you. Lyrically, Robinson's songs are wonderful. Pure love for what life has to offer, without being over stated or painfully too-utopian about it. Perfect fodder for both old-time and contemporary folk enthusiasts" - Crossroads
"Many songwriters, such as Bruce Springsteen or John Mellencamp, have been heralded as modern day Woody Guthries or keepers of the American rural spirit, but that mantle might be better entrusted to musicians like Dana Robinson who embody both the heart and the soul of folk music" - Dirty Linen
They're here from Ashville, North Carolina, for another eagerly-awaited visit - so listen!
Last appeared at Llantrisant Folk Club WWednesday, March 10, 2010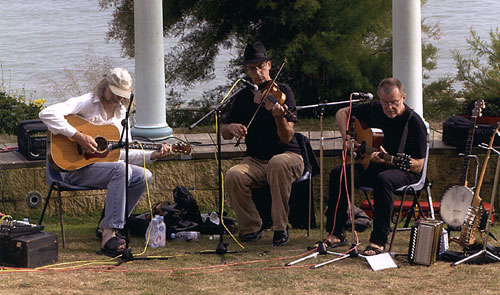 America, Wales and England provide the perfect blend when stunning instrumentalist Chris Moreton (guitar and mandolin, from Usk - his 2000 jaw-dropping appearance was the reason why we count this among our birthday treats!), Pete Cooper (fiddle and viola) and Dave Arthur (melodeon and multi-instrumentalist) kick off with their very own Old Time Music favourites. There's loads of knowledge and experience encapsulated in these three musicians – and it's fun, too!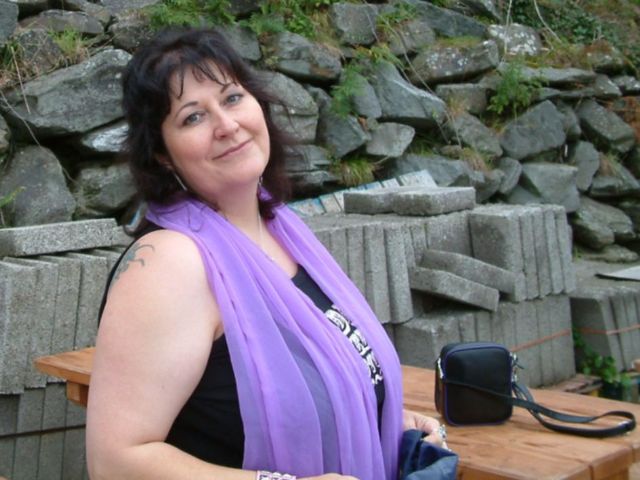 Shonaleigh Cumbers is a Drut'syla, a storyteller from the Yiddish tradition and one of the foremost tellers of stories on the British scene. She draws you into the world of tales with images and music of breathtaking vividness. She's going to do excerpts from her hilarious show The Gammon of Guilt, the Doughnuts of Desire - One woman's epic quest across Stamford Hill with a pork chop – don't say we didn't warn you!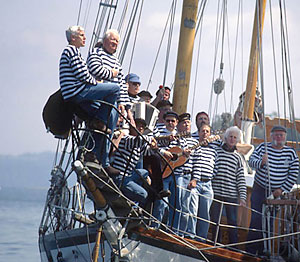 "A class act," "a cut above all the rest," and "a new approach to an old genre" - that's how the American maritime media describes the Shifty Sailors (from Puget Sound, USA). The reputation of the Shifty Sailors is spreading not only in the Puget Sound area, but nationwide and around the world. They started simple enough - the Island County Historical Society was planning a signing and reading to promote their newly published book Sails, Steamships and Sea Captains. Fearless captain Vern Olsen was asked if he could form a group that could sing seafaring songs - he did, and it was so successful that over the months and years more singers joined in and they began practicing and honing their act.
In 1997 the group recorded its first CD Heave Ho My Lads followed 3 years later by their second CD Haul On... Now in 2004, Ho For The Life has hit the stands to early acclaim. All from Whidbey Island, the songsters are busy in their professions and avocations - there is a lawyer, three doctors, three teachers, a counsellor, two bus drivers, a retired navy man, a contractor, an acupuncturist and a retired town planner!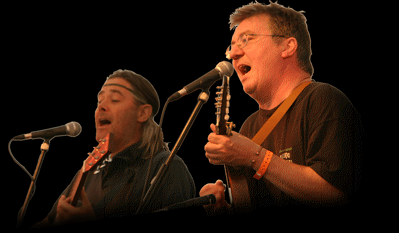 This is a tale of two musicians, one a master at his folk art (Napper) and the other a pop professional with links to Pete Waterman (Bliss). As Tom Napper continued to work the clubs and festivals, Tom Bliss became disillusioned with amplified music. Then he was persuaded to bring his Eko Ranger to a session, and you know the story... Sessions became an obsession, including Tom Napper's regular haunt. Inspired by the sheer joy of playing acoustic music, Tom Bliss was writing folk songs and tunes again, wrestling with the fiddle he hadn't played in ages - and planning an acoustic duo which he knew held the key to bring his songs to a wider audience. Then, in a call to Tom N. about something else entirely, he said: "You don't happen know anyone who might be interested in forming a duo, do you?&quot to which the reply was: "well - now you come to mention it...!&quot
Latest CD: The Kelping. Stage sparkle: Unbelievable. Audience rapport: Just see them cheer!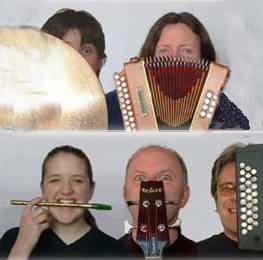 Family band NMTB is a versatile five-piece from North Wales, fronted vocally by Neil, Meg and Kate Browning, and driven by rhythm section Pete Walton and David Browning. Collectively, the range of their experience in roots music, from Cajun to ceilidhs, via Blues and folk-rock, ensures a fresh and unique approach to traditional Welsh music and song.
Ex-Bluehorses member Neil Browning is one of North Wales' leading button accordion players. His debut instrumental album Scwîsbocs was released in 1999 on Sain records, to critical acclaim.
In addition to her leading role on vocals, Meg is a talented bodhrán and box-player in her own right. She is also finding a unique voice as a composer and songwriter.
Missing is David Browning - he couldn't get time off school. So it's no consolation to tell you that as well as being a great kit-drummer and orchestral percussionist, David won the Sidmouth Festival bodhrán competition in 1999, aged just 13!
Kate Browning was part of the 10-strong Degogenod, the young Welsh contingent at last year's Falun festival in Sweden. As the newest member of the band, she now adds whistles and clarinets.
Completing the line-up is non-family member Pete Walton. More usually these days seen playing fiddle with Cajuns Denbo, he now returns to his first love: the bass. Last performed at Llantrisant Folk Club October 5th 2005 - Dave Browning was not able to be there, but the others gave a stunning performance.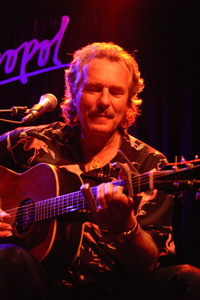 Hans is a Dutchman who lives in lives in Vienna and plays blues - and just read the quotes:
"One helluva guitar player!" (Bo Diddley)
"Hans Theessink is an international blues treasure. He is one of the world's pre-eminent pickers and his warm baritone expresses blues" (Blues Revue, USA)
"Theessink sings the blues with a voice the texture of black molasses and plays guitar as if he were born to it. The overall feel of the music is devastating competent. Theessink is deservedly outstanding in his field - Nobody living does it better" (The Living Tradition, UK)
"Hans has got an instantly recognisable sound. He's a fine songsmith and a strong, confident composer, often of songs with a social conscience"
(Blues on Air, Australia)
Last visited Llantrisant Folk Club on Wednesday 30th November 2005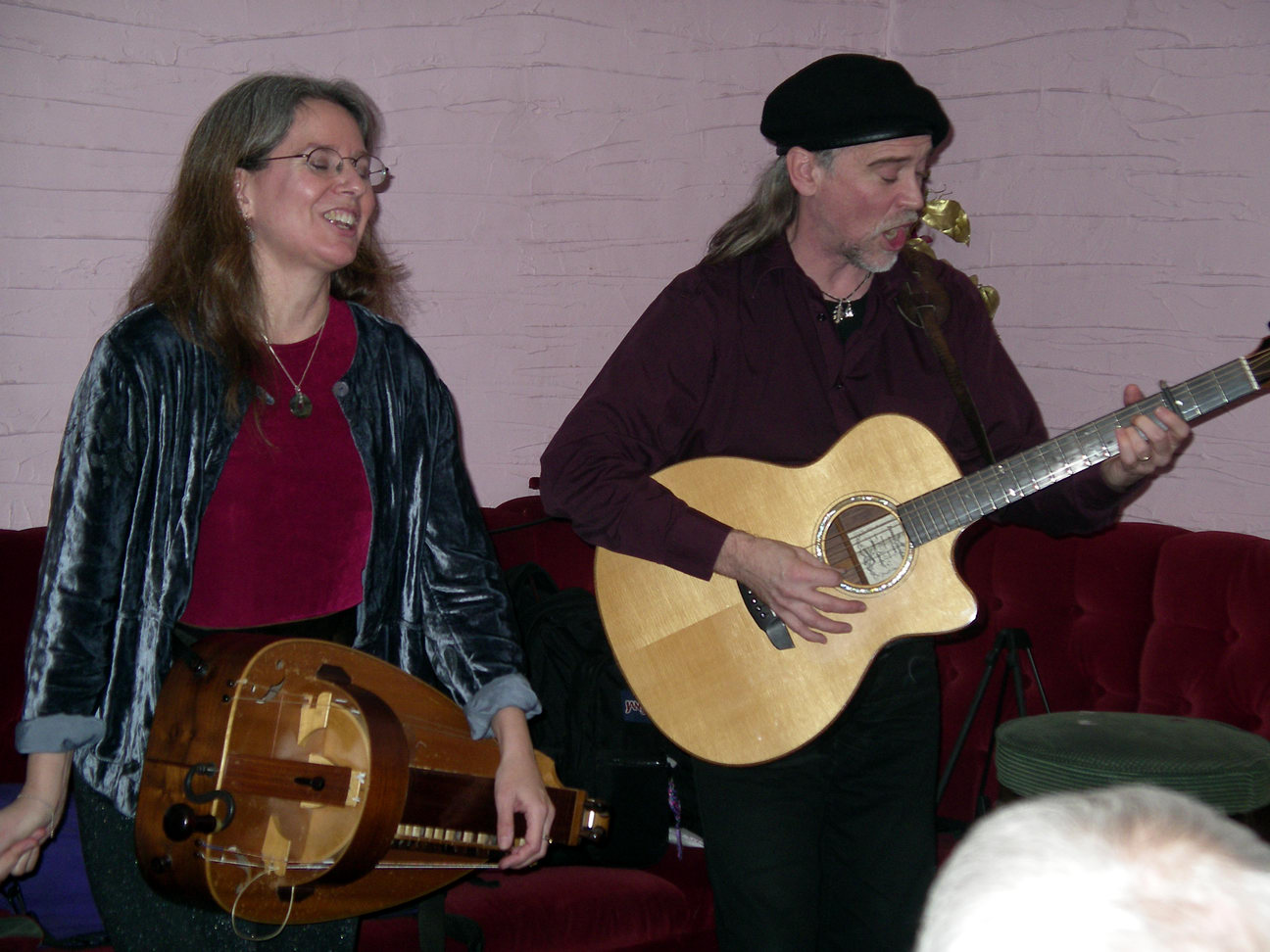 From Seattle, USA. "William Pint and Felicia Dale rank among North America's most exciting interpreters of music based in the traditions of the British Isles and France... unconventional but spine-tingling... unique and mesmerising"
- Dirty Linen
William and Felicia are good friends of Llantrisant Folk Club, and we're waiting with bated breath to hear what delights they can come up with this time! They specialise in songs of the sea - sea shanties and other songs of a nautical nature both traditional and contemporary. Their approach to this maritime music is more modern and high-energy than the traditional style of shanty singing. Felicia uses the ancient hurdy-gurdy or vielle-a-roue and the Irish tin whistle to great effect, as a melody instrument or invoking sounds like electric guitars, cello, bagpipe or brass to accompany songs. William's guitar and octave mandolin work sets the songs to driving rhythms or delicate delicate back-up. Great vocal harmonies round out their big energetic sound. It's great to have them back.
Last appeared at Llantrisant Folk Club Wednesday February 25, 2009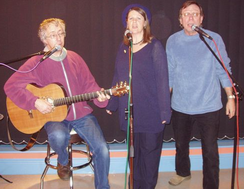 This trio promise a collection of songs and music that will keep you listening and thinking all evening. Outstanding harmonies gently sway between traditional and contemporary folk, to music hall and old favourites, from the 16th to 21st Century. Not only does John Eyre (the lap dog) write some of the songs - he arranges and writes the harmonies. The Amazing Arthur Hyde (the wild dog) also writes songs and is a strong influence on the harmonies. Sally Stamford (the pretty puppy), also known as the Lemonade Lady, sings some traditional folk songs and makes freshly squeezed lemonade (sometimes both at once). As Sally and the Shot Dogs say: "We hope you'll laugh and dream with us..."
Last appeared at Llantrisant July 12th 2006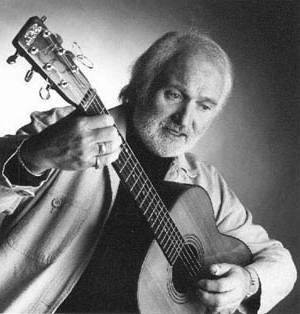 Although an Englishman, this singer has nonetheless become one of the greatest ambassadors of Australian folk song, having spent over 30 years playing music absorbed from the musical tradition of drovers, bush workers and cane cutters. Having spent time employed as a bush worker himself, Martin first fell in love with the traditional Australian songs when he was working on a South Australian sheep farm in the early sixties. Only 18 years old, Martin found himself enraptured by the songs he heard from the local farmhands, and after leaving his job, travelled the Australian outback, playing in pubs and trading songs with those he chanced to meet. By 1967, he had befriended Australian-born singer Trevor Lucas and was recruited to join Martin Carthy and Dave Swarbrick to contribute to Bert Lloyd's classic Leviathan. He soon found himself at the centre of a Australian folk music revival, recording his own debut with Nic Jones and a cast of friends and playing the country from end to end before returning home to Britain, where he found a similarly receptive audience. With over 30 albums to his credit, Martin is still an active touring act, presenting commentaries on Australian history, reciting bush poetry, and delivering outback anecdotes that have earned him a reputation as a tremendously warm and hypnotic performer. Martin last appeared at the Folk Club on Wednesday August 16th 2006.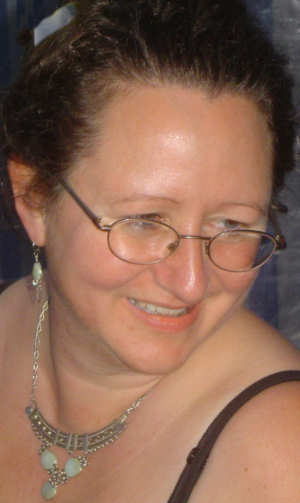 Having relatively recently discovered folk singing in 1997, Hilary (Hils to her friends) spends much of her spare time on the fringe at folk festivals and supporting local clubs, intent on encouraging others, listening and collecting songs. As organiser of MudGathers at various Folk Festivals, she is known as My Guru Always Said on the worldwide music discussion forum, www.mudcat.org. Hilary's love of stories shows through in her collection of unusual ballads and traditional songs, which she normally sings unaccompanied. Her wide repertoire also includes many songs from contemporary artists with subjects ranging from the sad to the hilarious. Last appeared at Llantrisant Wednesday April 4, 2007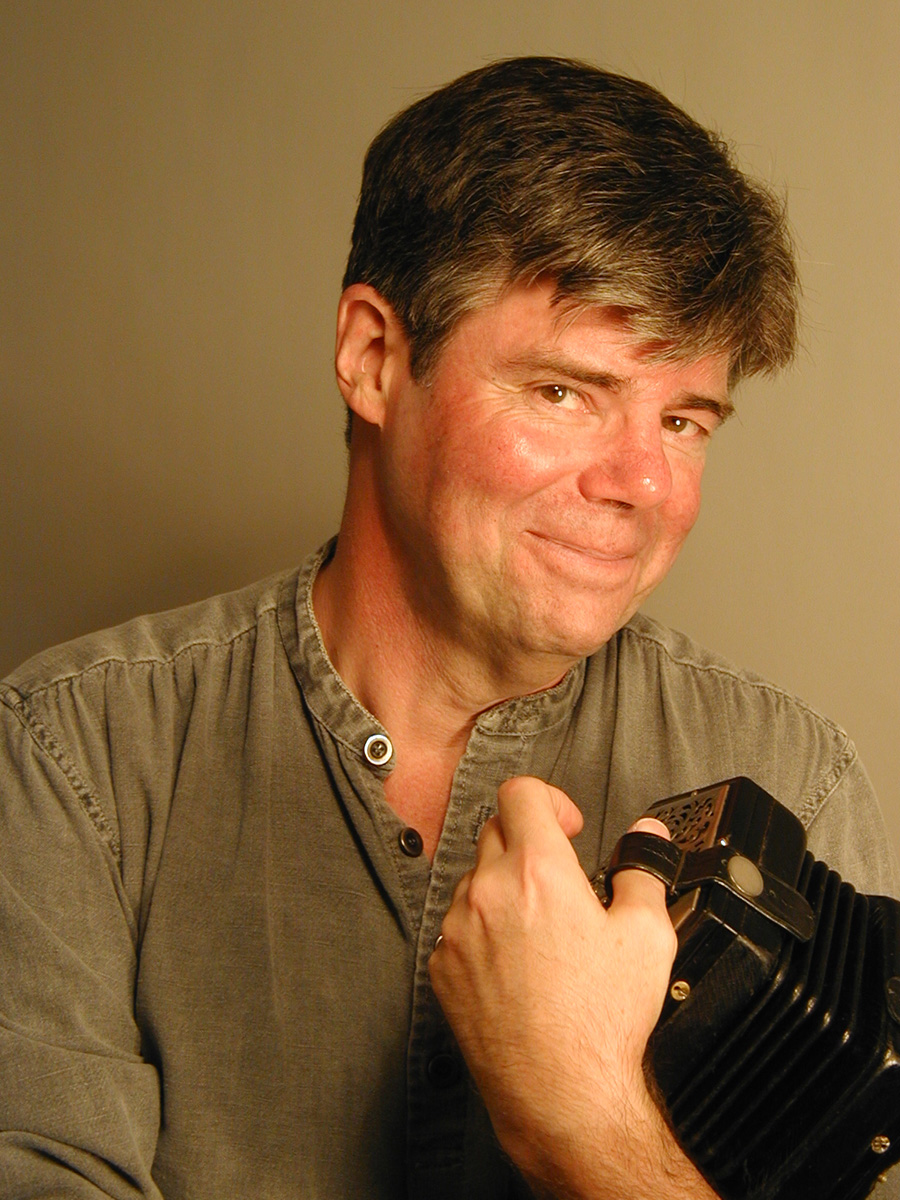 Jeff Warner performs the traditional music of America's rural past, from the outer banks of North Carolina to the Adirondacks and Coastal New England. Whether singing a cappella or accompanying himself on banjo, concertina, or guitar, Jeff presents the voices of real people, and their understated emotion in one entertaining package.
Jeff grew up listening to the songs and stories of his father, Frank Warner, and to those of the traditional singers his parents met during their folksong collecting trips through rural America. Wherever he goes his well-tuned ear collects traditional songs which can only be called great. He presents the oral literature and music of the American people with warmth, humor and understated scholarship: ballads sung in old England and New England, songs of Revolutionary War heroes and work aboard wooden sailing ships, African-American banjo tunes, and Irish concertina tunes. An evening spent in Jeff's company is a garden full of precious delights.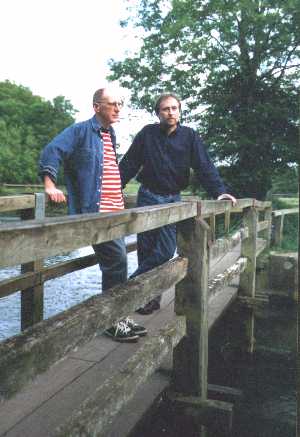 Here is a mouth-watering prospect to look forward to... Mick is known on the folk scene as a superb singer of traditional and original material - in fact, Froots described him as "definitely the most underrated singer in the country". Pete Harris plays guitar, bouzouki, mandolin, mandola, bass guitar and whistle, and he comes from Newport, Gwent! He has worked with a number of successful bands, including The New St George and The Burlesdon Village Band, and is also a fine solo performer.
Mick and Pete have released six albums, Drink up the Sun, Another Place, Another Time, The Widow's Promise (a CD compilation of the best of the previous two), Hard Season, The Long Road and the follow-up album to The Long Road, entitled Something to Show and featuring the customary mix of Ryan originals and traditional songs, plus one by Graham Moore. Just out is The Island of Apples, featuring seven items from folk musicals and the remainder from either Graham or Mick with two traditional songs. Hear them! Last appeared at Llantrisant Folk Club Wednesday July 18, 2007



Mick Ryan & Paul Downes (England)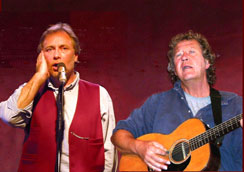 Mick is well known as a fine singer of traditional and original songs; "definitely the most underrated singer in the country," according to Froots magazine. Mick wrote comic and serious material for very popular band, Crows, and he has since written for radio and a series of highly successful folk musicals: A Tollpuddle Man, A Day's Work, The Voyage, Tanks for the Memory and, recently, The Navvy's Wife. He came to Llantrisant Folk Club with Pete Harris, a partnership which "positively oozes skill and professionalism" (Folk North West) and "utterly superb singing" (Shreds and Patches).
Paul has been introduced (to his embarrassment) as one of the greatest acoustic guitarists in the world - it's easy to see why, when you hear the dazzling array of styles he performs with effortless brilliance. He has a rich musical background that has included working with Phil Beer, The Arizona Smoke Revue, Pete Seeger and, currently, The Joyce Gang. Nine albums with bands, four highly-acclaimed solo albums and over 200 session credits have still left time for Paul to tour every concert venue, theatre and festival in Britain (including two appearances at the Royal Albert Hall with Show of Hands); plus many tours in the USA and Europe. Mick and Paul provide singing, music and entertainment of the very highest quality.
Last appeared at Llantrisant Folk Club Wednesday, February 23, 2011



Red Duster - The Northwest Passage
Ross Campbell and Ron Baxter are Red Duster, and the Red Duster is the Red Ensign - the flag of the Merchant Navy. They live in Fleetwood, on the Fylde peninsula and home of the Fylde Folk Festival. Ross and Ron present thematic shows which are both entertaining and informative - and the range of material at their disposal enables them to put together a whole host of songs and stories, tunes and monologues to keep any audience enthralled. This is a story about the explorer Lord Franklin and the Canada's Northwest Passage from Ron, interspersed with songs from Ross.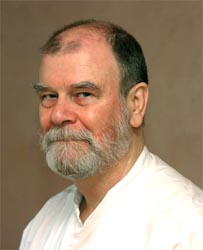 Former actor Mike is one to watch and hear! He lets his deep-brown voice breathe new life into traditional and contemporary songs, and the audience just laps it up. In fact, it's time for several quotes:
"Those who have heard Mike Nicholson sing will not need me to tell them what a delightful experience that is. When Mike sings a song it stays sung - and you won't forget it" - The late Bob Copper, Copper Family…
"His songs are wonderful - his delivery is so laid back he makes Perry Como look like St. Vitus' Dance. He's brilliant" - Folk on Tap…
"A voice to be proud of, songs to die for and a great personality" – Bodmin Folk Club...
Last appeared at Llantrisant Folk Club Wednesday October 24, 2007



Whiskey River (Aidan Sheehan, Martin Blake & Rob Strawson)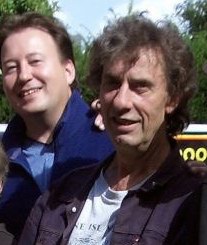 The Whiskey River Boys are expanding – they're bringing fiddler Rob Strawson (ex Blake's Three) with them! Cajun musicians Aidan Sheehan (from Cwmbran) and Martin Blake (also leader of Blake's Three) made the trip to Cajun country in south-west Louisiana and visited Angelle's Whiskey River Landing on the Levee Road, just out of Henderson, LA, in the Atchafalaya Swamplands. This is a dance hall to die for, an experience not to be missed… Aidan and Martin will have lots of good tales to tell you as they whip up a storm! Laissez le bon temps rouler!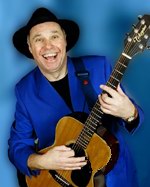 With a grin from ear to ear and a sack of songs and stories to keep the most varied of audiences delighted, Shep is the complete folk entertainer. Often compared with the Jasper Carrott school of observation comedy, his song introductions are peppered with one liners and social comment - plus the odd shaggy dog tale. He says he's a folk singer, stand-up comedian and entertainer; he's recorded eight LPs, music cassettes and CDs, he's a radio producer, a presenter and a script writer, a Special Event and festival director, an after-dinner speaker - and a shantyman as well. A truly international performer who has delivered the goods from Bahrain to Bermuda, Oman to Ontario, Huddersfield to Hong Kong and left them all shouting for more. With 26 years' experience, a great eye for detail and the ability to think and act on his feet, Shep Woolley really is the Act Not To Be Missed.



Aidan Sheehan's Harmonica Workshop

Aidan, who is a qualified National Harmonica League tutor (and a Whiskey River musician) holds a six-week blues-harp workshop at the BBC Club at the BBC Centre in Llantrisant Road , Llandaff. Llantrisant Folk Club has invited him and his students to play at a live Showcase gig – we have many fond memories of the last Showcase night when Aidan and the students kept us satisfied, and all on 10-hole harmonicas, too!
Last appeared at Llantrisant Folk Club
Wednesday July 9, 2008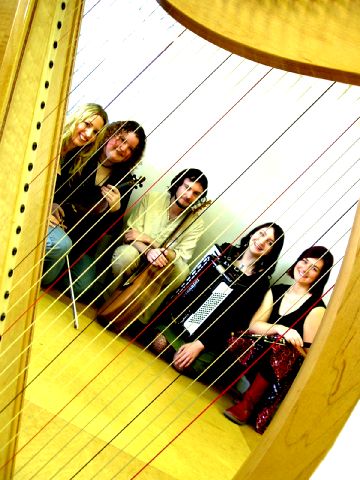 Lauren McColl, Scottish fiddler and BBC2 Young Folk Award winner, joins this amazing and stunning international band who are making their debut in South Wales

. With a truly diverse international line-up, they combine music from all their different cultures to form a distinct and dynamic musical sound. Norah Rendell (Canada) plays flute and sings beautifully; Ailie Robertson (Scotland) plays clarsach harp and electroharp; Fiona Black (Scotland) plays accordion and Alan Jordan, the only Irish member and the only man in the outfit, plays guitar, sings harmonies and takes the lead on the occasional Irish-language song. Their first CD has received some rave reviews – in fact, celebrated accordionist Karen Tweed approves: "The most exciting music, let alone folk music, I've heard in years. Beautifully sung and played, they aren't afraid of boundaries. It's so my kind of music!"

Last appeared at Llantrisant Folk Club Wednesday August 13, 2008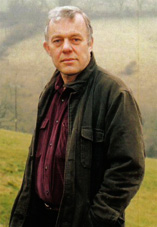 Steve comes from a family of singers and concertina players. His grandfather was known to have sung and played the instrument in the 1890s.
He began his career on the Manchester folk scene at the end of the 1960s. Joining the Geordie band Canny Fettle in 1970, he made two albums and toured in Britain and Europe with them for eight years. In 1979, he won the Melody Maker "Stars of the 80s" national competition, which persuaded him to turn professional for 12 years until 1991. During this time he made four solo albums with Fellside Records and toured internationally.
A period of 13 years away from the folk scene followed, with Steve building a violin retailing business and diversifying musically into a more classical mode - but folk music has a habit of getting into your blood. So 2004 saw Steve make a somewhat nervous return to the folk scene, and he was warmly welcomed to the extent that he was asked to make a new fifth album, which is now completed, at Ollie Knight's studio in Robin Hood's Bay and includes guests like Martin Carthy, Nancy Kerr and James Fagan, Kevin Brown and others.
Last appeared at Llantrisant Folk Club Wednesday September 17, 2008



Pontneddfechan Acoustic Club: Song Of The Earth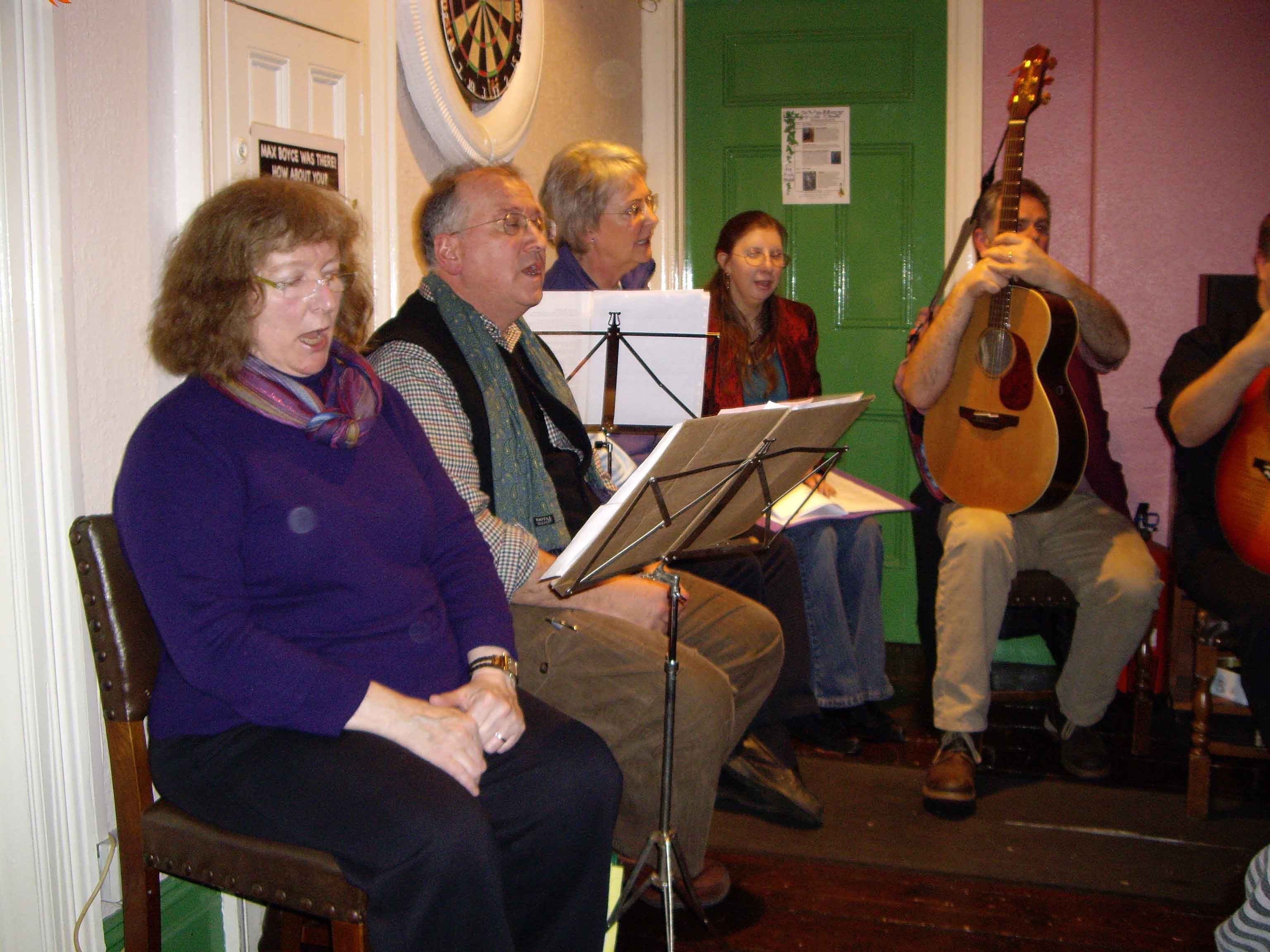 An evening of readings and songs of and by the workers, compiled and performed by members and friends of Pontneddfechan Acoustic Club, featuring Sharie Jones, Eric Morgan, Liam Kealy (banjo, guitar, harmonica), Alun Chesterfield (banjo, guitar), Huw and Heather Pudner, Joe Hayton (guitar), Angela Nemeth, Sandor Nemeth (guitar), Jamie Nemeth (fiddle), Janet Jones (guitar), Ivor Gwilym (guitar, harmonica), Rob Watkins (guitar), Mark Thomas (drum, vocals).

Last appeared at Llantrisant Folk club Wednesday October 22, 2008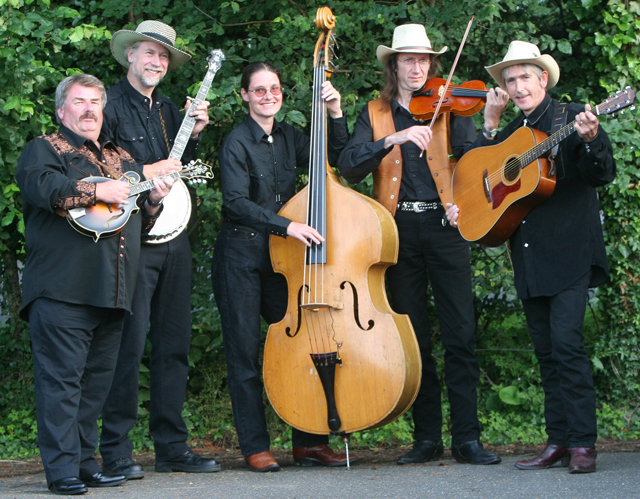 That amazing, stunning musical master, Chris Moreton, has played three times in Llantrisant Folk Club - once in his jaw-dropping solo debut, twice as a member of Rattle On The Stovepipe and three times jamming with Jim Couza. Chris is playing a fourth time as a member of Roots & Galoots, our special South Wales guests at the Christmas Party - a joyous, happy good-time bluegrass band who are whipping up a melodic storm and who are winning themselves plaudits every time they come off a stage. Roots & Galoots are Bill Steele (guitar and vocals), Becky Lee (acoustic bass and vocals), Roland Emmanuel (mandolin and vocals), Roy Nicholls (fiddle) and Chris (guitar and banjo). They have just brought out their new CD, which was recorded live at Didmarton Bluegrass Festival, and their second CD, Another Night, was launched in 2006. Roots & Galoots enjoy delighting audiences at weddings, concerts, barn dances, festivals, house parties, Western theme nights and ceilidhs - a good all-round band! Last appeared at Llantrisant Folk Club Wednesday December 17, 2008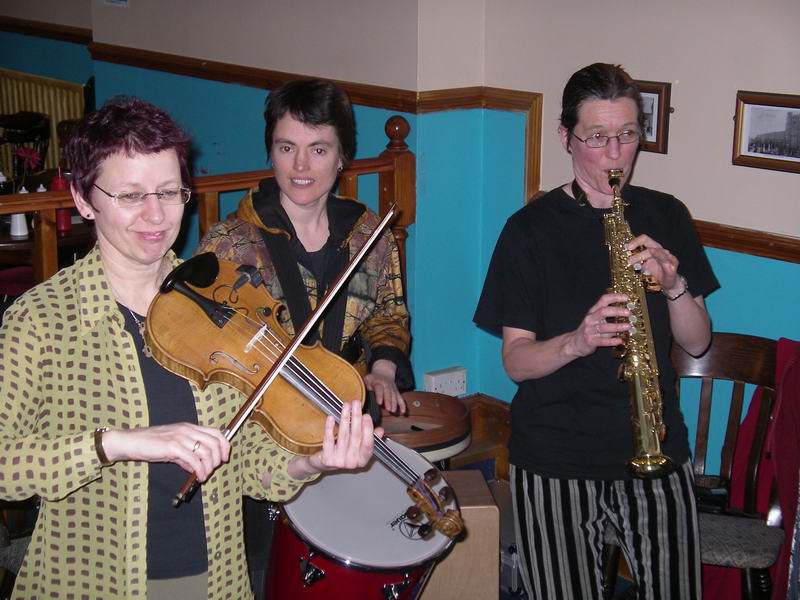 They were playing in the Wales Millennium Centre in the afternoon - and Zoox (Linda Game, Jo May and Becky Menday) are a superb trio, serving up a cocktail of new melodies and traditional tunes with a delicate balance of strings, wind, percussion and voices. Be prepared for a fabulous array of instruments from contrabassoon to congas - exciting arrangements, great musicianship and infectious energy typify performances in a show which is guaranteed to entertain and enchant. Individually, Zoox have played and do play with groups such as Token Women, Kitchen Girls, The English Contra Dance Band, Freyja, Broken Ankles... and the Royal Philharmonic Orchestra.Last performed at Llantrisant Folk Club as a Showcase act - Wednesday January 14, 2009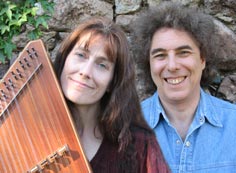 Tania Opland & Mike Freeman (Alaska & England)
Hammered dulcimer, guitar, violin, cittern, Native American flute, percussion... with songs in many languages and rhythmic roots from Siberia to Morocco. This Anglo-Alaskan duo have been on the road together since 1995 in a unique collaboration which combines their distinctly separate musical backgrounds, bringing their exuberant music and wild tales to audiences around the world.
They met in England in 1994, and have toured the UK from Shetland to the Channel Islands, Norfolk to Cornwall, Scotland and Wales. Performances in North America have ranged from Maine to the Aleutian Islands, and from British Columbia to Texas. Tania and Mike have made guest appearances on albums by William Pint and Felicia Dale, Artisan, Hilary Spencer, Linda Waterfall, Peg Loughran, Alicia Healey and many others in the US, Canada, Ireland and Britain. Wednesday May 27, 2009



Brian Willoughby and Cathryn Craig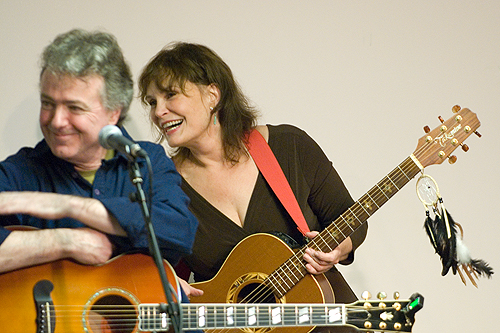 Their partnership began when Brian, lead guitarist of The Strawbs for 26 years, met Cathryn, a respected American session singer and songwriter, in Nashville. The rest is history… The duo are festival favourites, and Cathryn is a skilled raconteuse. Her childhood memories are filled with her family singing on the back porch, and one song which Cecil Sharp recorded her great grandfather singing was The Rejected Lover, still one of their favourites. "They remain an accomplished, professional, entertaining but also very personable duo… They've got it all, musical talent, great songs, great singing and great PR" (Steve Pritchard). Last appeared at Llantrisant Folk Club Wednesday August 12, 2009.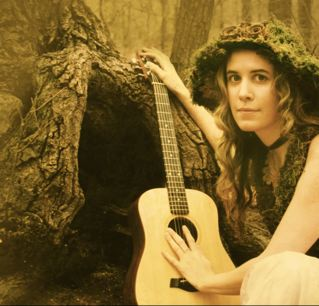 Songwriter Pamela comes from Amherst in the state of Massachusetts, and her Myspace category is Acoustic/Experimental/Pastoral Folk. Already well-known in Wales, this is her debut appearance at the Club. Her new CD, Courting Autumn, has attracted reviews such as:
"Sheer beauty... Shannon's guitar playing has rightly been compared to that of Bert Jansch and this album evokes the Neo-Renaissance exploration of bands like Pentangle" - Sing Out! magazine
"Pamela's performing style is enchanting: she has an attractive singing voice, sensitive and responsive, seductively sweet-toned... her voice is brilliantly complemented by her well-developed guitar playing, deftly intricate and hauntingly full-toned. She also has an acute ear for colouristic arrangement, conjuring some rich and uncannily persuasive chamber-folk tapestries... The combination of unusual instrumental detail and finely-honed poetic imagery provides some stop-you-in-your-tracks, neck-prickling highlights... A very special, seriously beautiful album" - fRoots magazine
"A most beautiful album... utterly lovely, so sweet and poignant... it made me shiver" - Shirley Collins
Last performed at Llantrisant Folk Club Wednesday September 9, 2009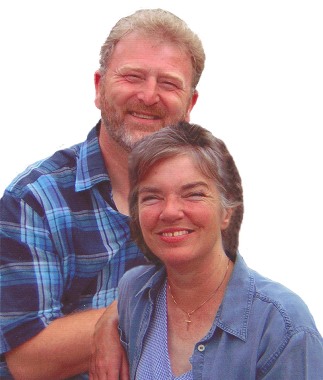 Half of the late lamented Newcastle harmony, sea-song and chorus group Salt Of The Earth, well-established and much respected harmony singers Barrie and Ingrid boast superb voices – and Llantrisant Folk Club looks forward to having them as guests. Their stirring songs are mainly traditional, with original arrangements and accompaniment by Barrie on English concertina and guitar. They also sing Barrie's songs, written in the traditional style, many of which have been recorded by other performers. Don't miss them!
Last performed at Llantrisant Folk Club Wednesday November 11, 2009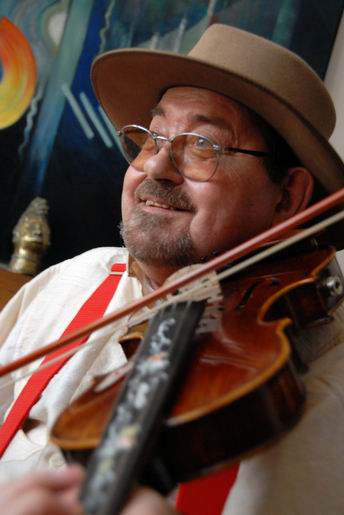 The man! Amazing fiddler and co-writer with Fairport Convention, teaming up with Martin Carthy MBE, Beryl Marriott, Simon Nicol and Alistair Hullett, band member with Whippersnapper, The Ian Campbell Folk Group and Swarb's own band, Lazarus - his fiddle mastery knows no bounds. Dave is a veritable guru of the violin and a breathtaking musician, and his ranconteur onversation and his outrageous jokes are a delight.
Last performed at Llantrisant Folk Club Wednesday, February 3, 2010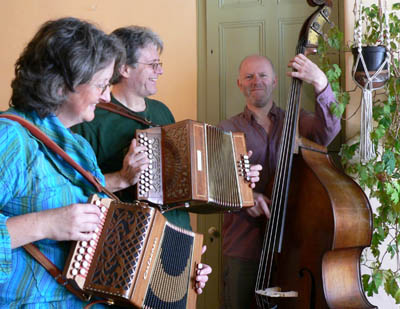 Never Mind The Bocs save the day! North Wales family band Neil, Meg and Kate Browning, with Cajuns Denbo double bass player Pete Walton in tow, jumped into our yawning gap, and will motor down from the Gog to play us some of those wonderful songs and Celtic-inspired chunes. Neil, Meg and Kate were at Llantrisant Folk Club's 30th birthday Ascent On Snowdon at the base camp, the Glan Aber Hotel in Betws-y-Coed, and played like angels - little did we know we would be seeing them again so soon!
Last performed at Llantrisant Folk Club Wednesday, July 14, 2010



Sara Grey & Keiron Means (USA)
We HAD to book Sara and Keiron to go with our 30th birthday celebrations! Sarah Grey comes from New England, USA, but there was a time when she was so taken by Llantrisant Folk Club and Wales in general that she moved to the Llantrisant area, with her son Keiron in tow. Keiron, born in the USA, is now an mighty traditional singer and musician, influenced by his mother, and Sarah is still delighting audiences with her simple, beautiful Americana - she's a true singer and storyteller. The traditional artist Roy Harris says of a Sara gig: "I came away even more convinced that she belongs in the company of those greats of tradition she so admires... To hear her play and sing, to observe that body language, tapping foot and smiling face, is to know an artist totally at one with her music. Sing on, Sara!"



Showcase with Pluck and Squeeze (Wales)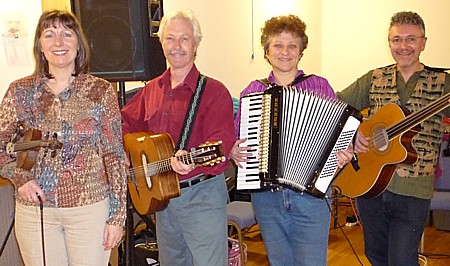 The Cardiff ceilidh band! Pluck And Squeeze consists of Heulwen on red hot fiddle, playing everything to jigs to gipsy jazz; Pete on guitar/banjo who's a driving rhythm section (usually to distraction); Lorna on accordion, a keyboard wizard with lightning fingers; and Jeremy lays down a solid beat on his fretless acoustic bass. The band are still basking in TV stardom - they were the ceilidh combo who played away while our compere, booker and caller, Pattie Smith, showed all the Gavin And Stacey cast how to twmpath in the hilarious episode when Bryn surprised Gwen by throwing a barn dance - and Gavin And Stacey is still being shown, time and time again! Last performed at Llantrisant Folk Club Wednesday, January 19, 2011



Showcase with Tylwyth Teg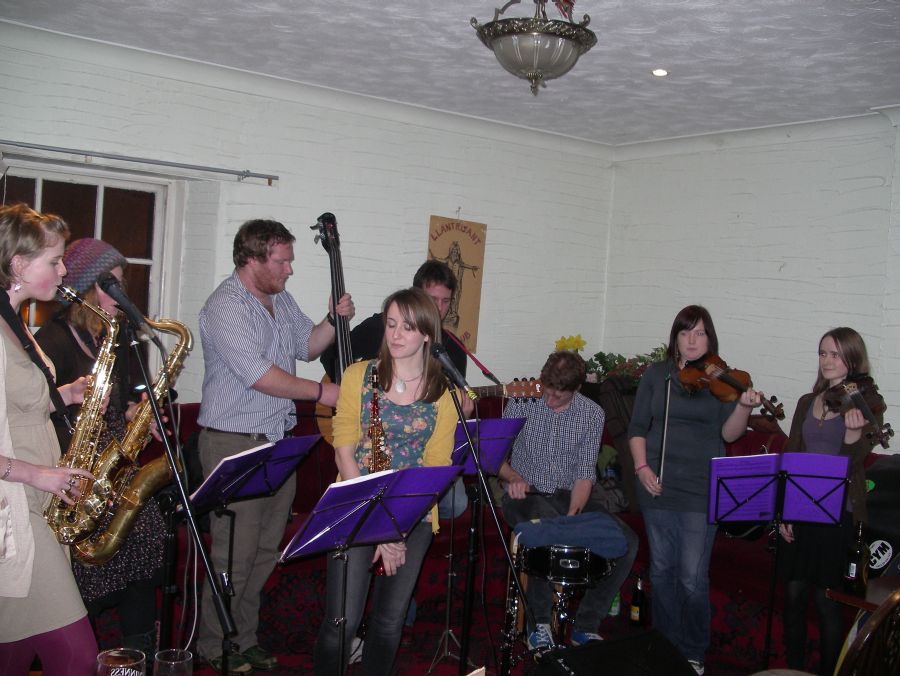 Formed in Cardiff in October 2009, Tylwyth Teg are a 12-piece folk-rock band. Influenced by traditional celtic music, Tylwyth Teg incorporate funk, ska and anything in between bringing the rock to folk! The band say: "With instruments varying from fiddles, Irish flute, cajon and various saxophones, this is a group with unrelenting enthusiasm, which guarantees dancing by the end of the night!" Often playing sessions around Cardiff, Tylwyth Teg have also taken part in the International Pan Celtic Festival in Dingle, Ireland, and at Lowender Peran, the folk festival of Perranporth. The members are Jo Marriott (Irish flute/Clarinet/Soprano sax), Sally Wooldridge (flute/piccolo), Katie Marriott (fiddle), Heulwen Williams (fiddle), Alice Day (fiddle), Mary Day (fiddle), Anna Fonge (cello), Rich Jackson (accordion), Andy Taylor (guitar), Gruff Johnston (guitar), Dave Francis (bass guitar) and Ed Millington (drums/cajon). Last appeared at Llantrisatn Folk Club Wednesday, November 23, 2011



Showcase with Yann-Fanch Perroches & Brigitte Kloareg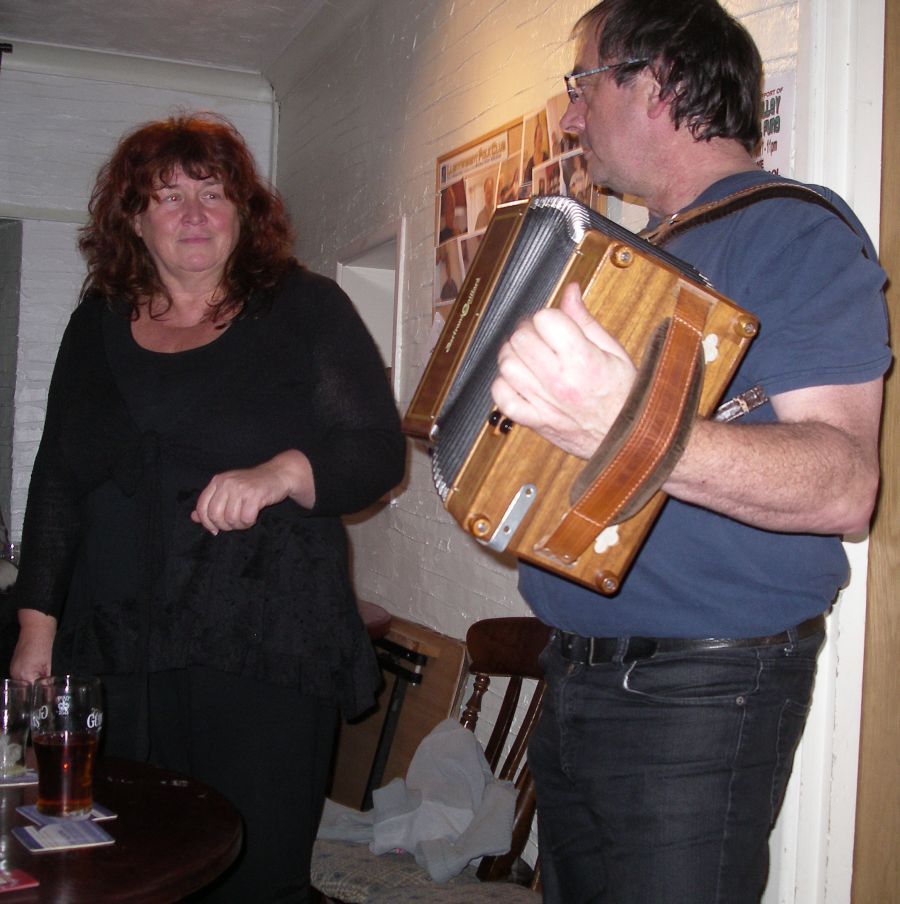 We're delighted to welcome Yann-Fanch Perroches & Brigitte Kloareg, from Brittany. Yann-Fanch, an exquisite diatonic accordeon player and ex-member of ace fest-noz band Skolvan and member of traditional fest-noz bombarde-and-biniou-koz quartet La Godinette, accompanies strong-voiced traditional singer Brigitte, who is making a belated return to Llantrisant Folk Club. Last appeared at Llantrisant Folk Club Wednesday, November 23, 2011



Christmas Party No 2: The Village Quire (Wales)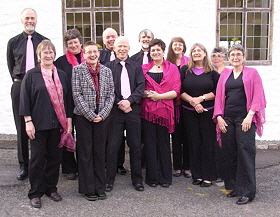 From Glasbury, near Hay-on-Wye: "The gallery... looked down upon and knew the habits of the nave to its remotest peculiarity…"

So wrote Thomas Hardy in Under The Greenwood Tree - and we are looking forward to an extra-special Christmas Party when The Village Quire joins us to fill us with song, harmony, joy and exciting, spine-shivering West Gallery carols. Happy Christmas to you all!
The Village Quire, from Glasbury near Hay-on-Wye, was formed to sing West Gallery music - what the villagers would have heard in rural parish churches in the late eighteenth and early nineteenth centuries. West Gallery music is energetic, joyful, no-nonsense stuff that is great fun to sing and listen to. The Village Quire performs without the accompaniment of instruments - so If you enjoy the thrilling sound of unaccompanied vocal harmony, then this is definitely the stuff for you!
Last appeared at Llantrisant Folk Club Wednesday, December 21, 2011



Pilgrims' Way (England)
The Club first encountered this refreshingly different, reassuringly traditional, three-piece band with a big personality and a big sound when they organised the successful Saturday afternoon gig at the recent Tredegar House Folk Festival in the City of Newport. Playing their own particular brand of folk music, melodeon player Edwin Bessant, fiddler Tom Kitching and singer and second fiddler Lucy Wright were brought together by a series of chance meetings at sessions around the North West of England, bonding over red hair and a shared love of traditional music, they have been shaking up assorted kitchens, public houses and folk venues ever since. They were nominated for the Horizon award at the 2012 Radio 2 Folk Awards. Their influences individually are many and varied, but they share a deep respect for the tradition and take as their inspiration some of the most influential bands from the 60s/70s revival. Edwin is a multi-instrumentalist who is known as an inventive box-player and as a drummer with ceilidh band Jabadaw; Lucy is an internationally-renowned jews harp player and a traditional singer who is influenced other singers from the Irish tradition, particularly Maggie Boyle; and Young Folk Award finalist Tom, described in The Living Tradition magazine as "one of the best young fiddlers in England", has appeared at Llantrisant Folk Club with singer-songwriter and guitarist Gren Bartley. Named for the Rudyard Kipling poem, set to music by the great Peter Bellamy, their aim is to present gimmick-free folk of the finest kind. Last played Wednesday, April 18, 2012



Making contact
For booking information and general club enquiries, contact Pat Smith:
Telephone 07989 209824 or 01443 226892
Email ................. Pat Smith


Copyright © 1998 Mari Arts.

Last modified: 18 September, 2015