Here is Page 2 of our catalogue of past guests to let you know what you have been missing over the last few months - an insight into the calibre and variety of guests you can see at our little club.
Guests D - M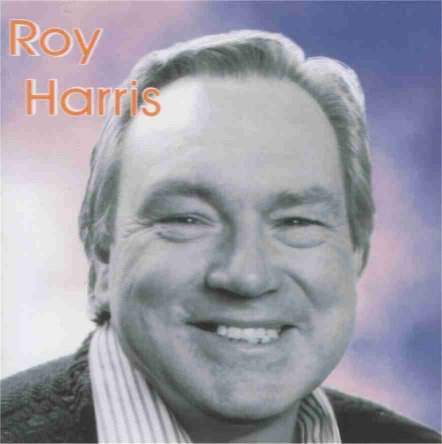 Welcome to one of Cardiff's veteran folk-club organisers and a very fine singer, too. Roy moved to Nottingham, where he left his mark on The Tiger club, the Broadside singers and Topic Records before he settled in Cardiff once more. A masterful performer, Roy gently coaxes the audience in giving it what matters most - the song.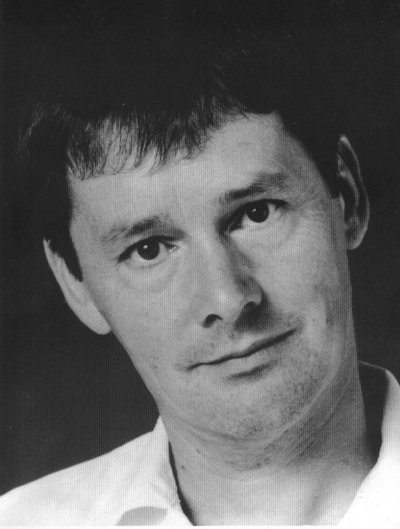 24 years' experience as a folk singer, concertina player and actor has made Tim one of the most exciting and interesting performers today. With a wide and unique repertoire of material and a particular interest in the songs and traditions of the West Country of England and East Anglia, Tim is constantly in demand in folk clubs, festivals, schools and community venues as a solo artist and also with his group The New Scorpion Band.
For more information, click here.



Lynne and Dave stunned and delighted us all when they left their Ffynnon partner, Stacey Blythe, behind and brought us the duo performance. Sadly, Dave died of a heart attack while the band was in New York, leaving us the legacy of an artistic, inventive bass player who made made each moment a joy to be with.
For the record, we have reproduced Ffynnon's pages - thanks, Dave, for all this marvellous music.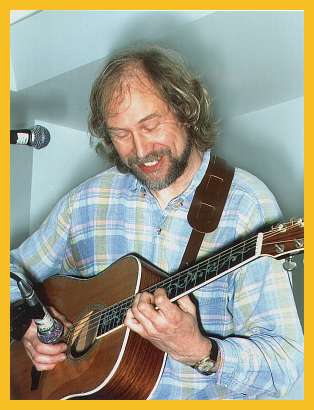 "The UK's Premier Flatpick Guitarist"

Chris's performances feature a variety of songs, audience participation, anecdotes and arrangements of Celtic, Appalation and Texas fiddle tunes. Classical pieces by Handel and Mozart and self written material on guitar, banjo and mandolin
Awarded BBMA "Instrumentalist of 1996" and Guitarist Magazine's "Acoustic Guitarist of the Year" for 1997
For more information click here.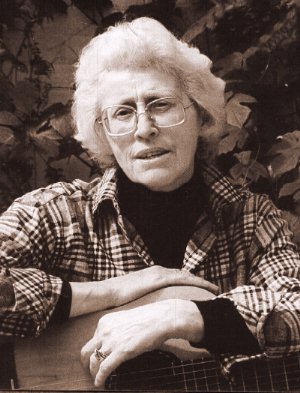 Ray, who died of cancer, aged 70, was undoubtedly one of the foremost traditional singers the folk scene was ever likely to see. One of the famous Fisher family who have been synonymous with all that is best in Scottish song, Ray learned many of her songs and much of her style from such famous exponents of the Scottish tradition as Jeannie Robertson, the Stewarts of Blair and Lizzie Higgins. She brought to her singing a directness that drew the audience right into the song as the story unfolded.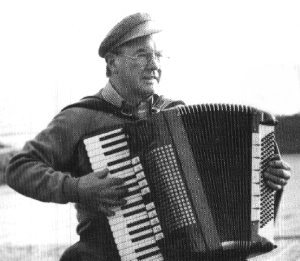 One of the legendary High Level Ranters, Johnny is a prolific songwriter and musician. He draws his material from the rich heritage of that area, representing a continuous tradition of music spanning 350 years. Accordeon and Northumbrian pipes are his main instruments, although he is also famed for his prowess on the piano.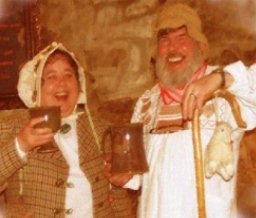 Gill and Barry Day are folk activists… not only do they organise and perform at pubs and parish halls around their home in the Forest of Dean, but they do it with joy and enthusiasm. Both are known for their powerful voices – Barry sings a wide range of material with choruses and audience participation, while Gill digs deep into Old Tyme Music Hall. The two are responsible for the increasingly popular Cotswold Capers festival and various wassailing and other good time weekends.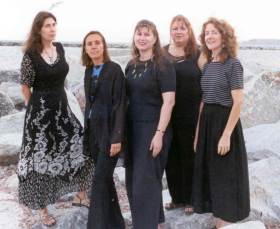 The salt of the earth! We already know Joy Bennett, who's guested twice on her travels - and Joy brings four luscious ladies who are experts on sea shanties, maritime songs, traditional work songs, songs of fishermen and their wives and songs in the Irish tradition. Quotes on their CD: "Whether leading a singalong aboard the Peking at South Street Seaport in New York or firing up a festival stage, this group is a winner..." - or Roy Harris has said: "whatever the sceptics may say, women can sing shanties. Joy Bennett, Maggie Bye, Alison Kelly, Bonnie Miller and Deirdre Murtha certainly can."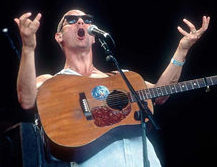 Just the man for Xmas! Stand-up comic, fall-down comedian, surreal snigger-snogwriter, guitar hero, tall story-teller, champion tiddly-winker, friend to the pantomime horse, erstwhile slice of bacon and all-round good egg. Our scouts have seen Keith in many a festival and have come back rubbing their eyes disbelievingly – how can he get as good as this?



Jim Mageean and Johnny Collins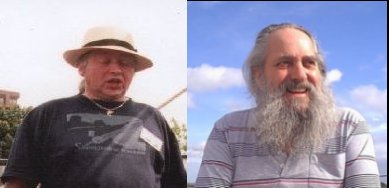 They're everybody's festival favourites – shanties and songs of the sea, industrial ballads and rip-roaring belters, all delivered by two powerful voices which leave a long-lasting impression. Jim (sea song and shanty expert) comes from Newcastle and East Anglian Johnny (enormous beard and voice) lives in the Home Counties, so this is a rare occasion.
NOTE: After this was written, Johnny Collins died of a heart attack in Poland on July 6, 2009, aged 71, when he was touring with Jim. He was a truly great singer, and his stentorian voice made the rafters roar. Many, many mourners couldn't get into the full-to-bursting chapel at his funeral, held to celebrate The Life Of A Man. Farewell, Johnny - this was a marvellous gig.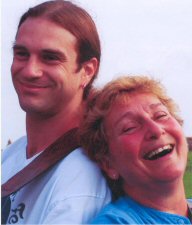 Sarah Grey comes from New England, USA, but there was a time when she was so taken by Llantrisant Folk Club and Wales in general that she moved to the Llantrisant area, with her son Keiron in tow. Keiron, born in the USA, is now an mighty traditional singer and musician, influenced by his mother, and Sarah is still delighting audiences with her simple, beautiful New England songs and tales - she's a true singer and storyteller. The traditional artist Roy Harris says of a Sara gig: "I came away even more convinced that she belongs in the company of those greats of tradition she so admires... To hear her play and sing, to observe that body language, tapping foot and smiling face, is to know an artist totally at one with her music. Sing on, Sara!"
Sara and Keiron are international festival artists, and Llantrisant Folk Club is very proud to welcome them back. Last visit Wednesday November 7, 2007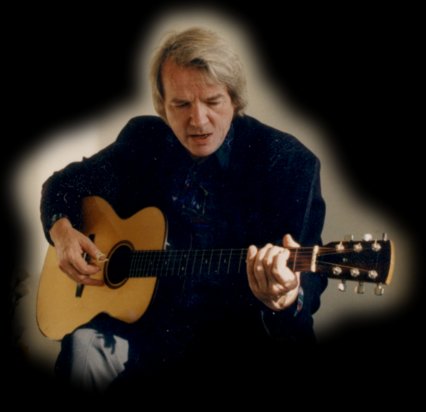 John McCormick was born and raised in Indianapolis. He is a modern minstrel with gentle wit, sensitive vocals, and wicked guitar skills. He has mastered the intricate styles of the American, Irish, Scottish and English folk traditions while developing a rich, resonant and wonderfully expressive voice. John regularly performs throughout Europe and North America - and he still managed to pay a call to the Llantrisant Folk Clubroom for a foretaste of his exquisite performances.



(from New York)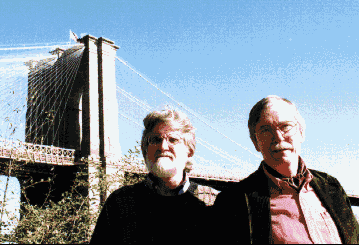 Friends for 25 years, Bob and Dan teamed up for the first time in 1997. They've sung together from Dublin to Denmark to San Francisco, lectured and taught at the Royal Scottish Academy of Music and Drama, the Sidmouth International Festival and the Inishowen International Ballad and Folk Song Seminar. Back home in New York, they're leaders of The New York Packet, South Street Seaport Museum's maritime music group, and frequently play at Irish music sessions with 1986 All-Ireland Champion fiddler Brian Conway.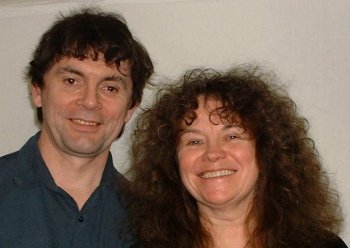 Since early in 2001, Mary and Anahata have been working together to pursue the highest standards in performance of traditional English music. Their highly musical and enthusiastic approach has won them a steadily growing reputation for their singing and playing in folk clubs and festivals. Mary sings traditional songs, mostly in English and a few in Welsh, and plays banjo and concertina. Anahata accompanies with melodeons, concertina and cello, and they play instrumental arrangements, mostly of English traditional music. Don't miss them!




Bob was our first guest way back in 1980 - and we've been waiting 25 years to welcome him on his second visit! This 73-year-old, Tyneside-born, London-based, soaring tenor has just recorded his latest CD, The Common Stone, after a break of 28 years, and standing among the songs can be found Martin Carthy, the Watersons, Linda Thompson and guitarist Richard Thompson. It's a tribute to Bob's standing: an expression of the affection in which he is held by younger singers whom he influenced and often gave exposure at the legendary London clubs he ran. The Common Stone reflects this approach, with traditional material such as The Wealthy Squire or She Moved Through the Fair rubbing shoulders with You Are My Sunshine, Brecht's Song of a German Mother and Geordie ditties, too. Prepare to be captivated - and stunned.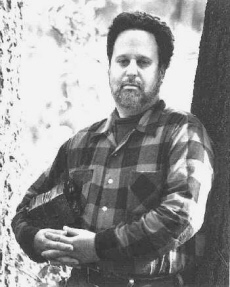 Jerry (from New York) is widely known for his powerful voice and his consummate mastery of the older traditional styles of singing. He is also among the best players of the English concertina around and he is widely known for scholarship as well as performance.
His workshops for singers, involving both voice and traditional style, are widely respected in the US, and he taught singing at the Easter School connected with the National Festival in Canberra, Australia (2003) and at the National Festival of Scotland (2002). Last performed at the Folk Club on September 21 2005.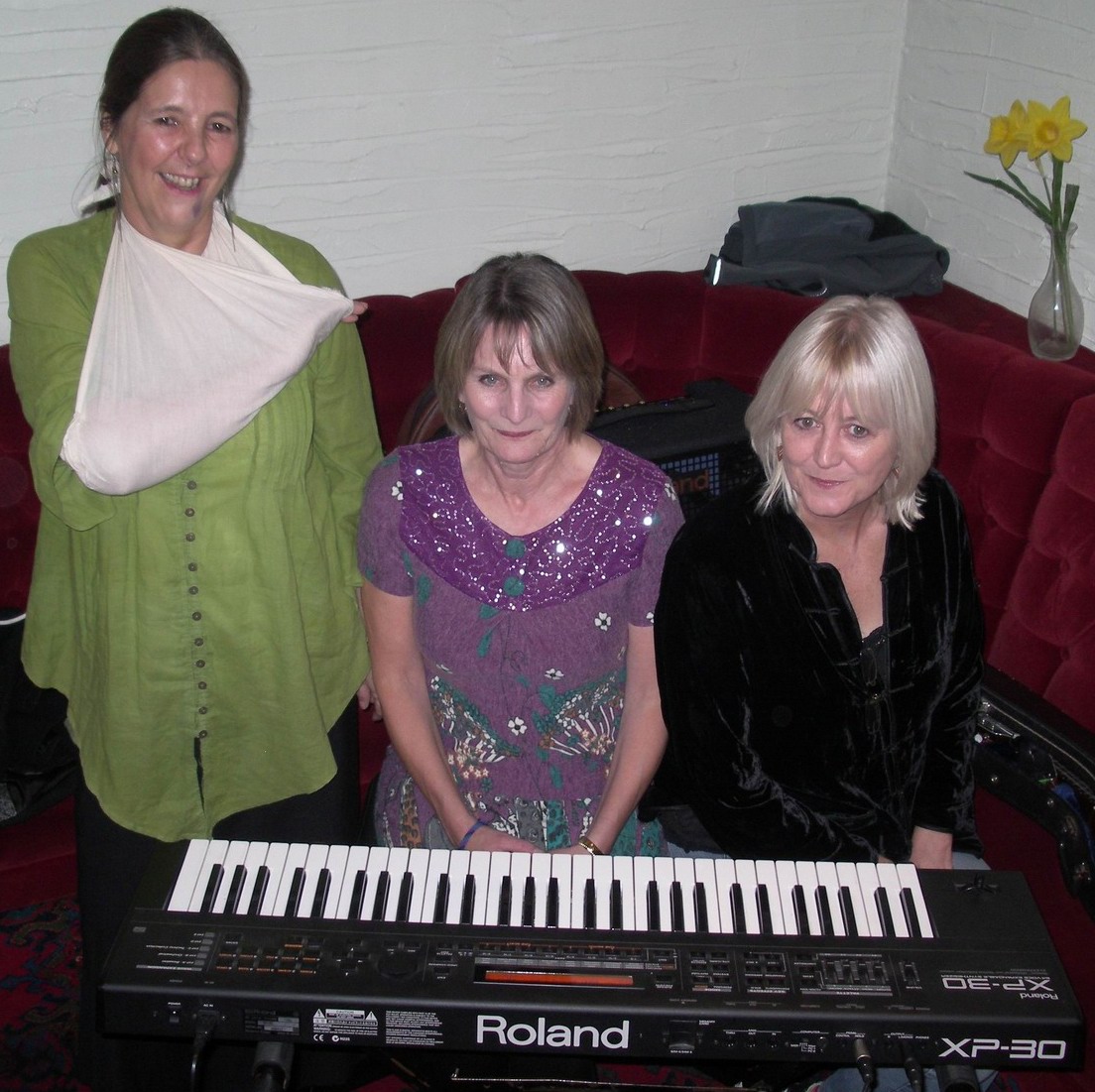 Photo: Mick Tems
Hold on to your seats! Grace Notes are Maggie Boyle (flute and bodhran), Helen Hockenhull (keyboards) and Lynda Hardcastle (recorders). They perform a cappella and enticingly sparse accompanied arrangements of traditional and contemporary songs in three-part harmony - just listen to what the reviewers have said about them... "The voices glide like birds circling on warm air currents" (fRoots)... "They don't come much better" (Time Out)... "Nothing short of stunning&quot (Jim Lee, Dirty Linen, USA). The group started performing in 1993 and their first album Down Falls The Day was released in 1994. Their second album, Red Wine and Promises, was released in 1998 on Fellside Records, and their third, Anchored To The Time, also on Fellside, came out in 2001. Fellside released Northern Tide, Grace Notes' fourth CD, in 2008. Grace Notes last sang at the Club on October 26, 2011.
Grace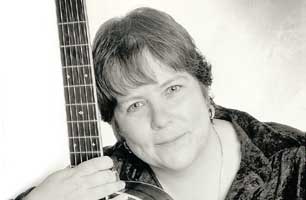 Think of Anne and you think of Icarus - that stunning, beautiful song that had many acoustic musicians, including Martin Simpson and June Tabor, queueing up to record it. Anne has been writing songs ever since she can remember, and performing in UK folk clubs ever since she was first able to persuade a barman to serve her with orange juice.
Anne lived in Lyon, France, when she suddenly realised that her songs were beginning to travel without her back in England. She came back, and worked as Reviews Editor for Karl Dallas's Acoustic Music magazine. Nic Jones came across Anne and her songs at this time, and from then on her reputation spread slowly but steadily through the folk circuit.
Anne now works mostly solo, although she teams up with Steafan Hannigan from time to time for recording (he has worked on all Anne's four albums) and occasional touring in the USA. Anne's work always attracts attention - songs which take myths and legends and weave them into a new relevance, songs which pack a surprising emotional punch through the ancient tales. Anne last visited the Club on Wednesday 4th January 2006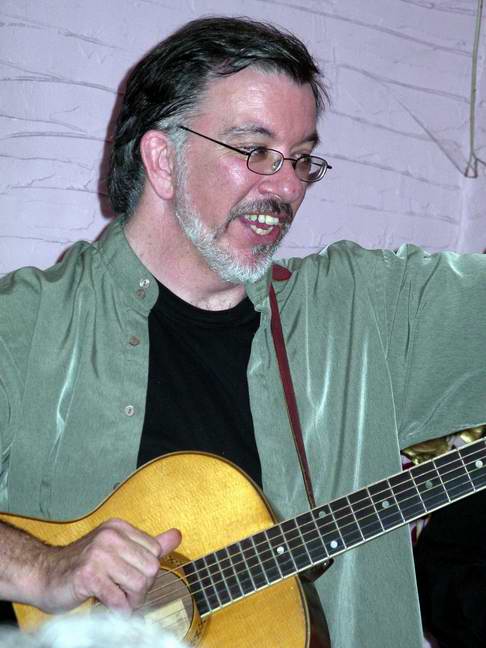 James (from Canada) is renowned for mining the past for musical inspiration. His most celebrated songs tell the stories of extraordinary events from history through the eyes of ordinary people. Now, after eight albums, three Juno nominations, a Juno award and a total of 17 years as one of Canada's best-known exports on the folk circuit, Keelaghan mines his own history with Then Again. He reworks 11 of his best-loved tunes, bringing them up to date with the versions he now shares with his audiences. Meanwhile, James continues to win accolades for his songwriting; he just won first place in the folk category of the USA Songwriting competition for the second year in a row. He also earned praise for his tribute to a Canadian songwriting legend with his cover of the Canadian Railroad Trilogy on the recent Gordon Lightfoot tribute album Beautiful. Last visited the Club on May 31st 2006.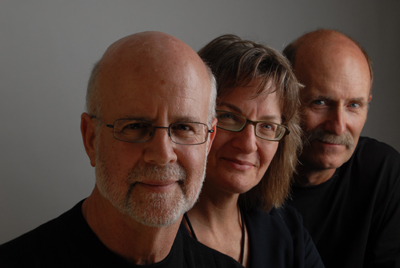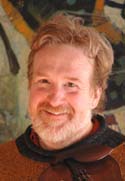 Truly amazing stuff! From St Albans Folk Club in Hertfordshire, the Southwestern US, and Toronto, Canada, Finest Kind are the remarkable trio from Ottawa whose exquisite harmony singing and brilliant vocal arrangements bring a fresh sense of excitement and discovery to the performance of old songs. Formed in 1991, Finest Kind are Ian Robb (ex-member of St Albans Folk Club and a concertina player extraordinaire) Ann Downey (guitar, banjo, bass among other instruments) and Shelley Posen (professional folklorist, versatile singer and multi-instrumentalist). Roy Harris, expert, writer and reviewer, says: "Exemplary! We could do with them over here for a while – they would refresh our folk scene greatly." They made their debut at Llantrisant Folk Club Wednesday November 12, 2008, and last appeared on Wednesday May 18, 2011 (when they introduced fiddler and
mandolinist James Stevens, an expert in Cape Breton, Irish and French Canadian styles - pictured above right.)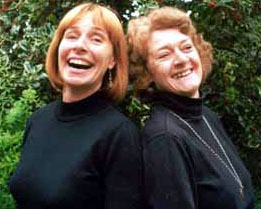 Lynne and Pat are two of the most experienced and established harmony singers on the folk scene - and what harmony it is! They have a leaning towards traditional English material, but occasionally diversify and perform their own material and Victorian/Edwardian songs. Their interpretation of both contemporary and traditional material is sensitive, moving and has plenty of humour. Lynne and Pat have trespassed, touted, marshalled, organised and appeared at clubs and festivals in careers spanning two millennia. They offer a wide range of musical material, traditional, Victorian, Edwardian, Contemporary, Rude, Silly and Self-penned, all delivered with their unique blend of harmony and humour.Their latest album The Moon Shines Bright is available now from WildGoose Records. Last visited Llantrisant Folk Club on Wednesday July 26th 2006.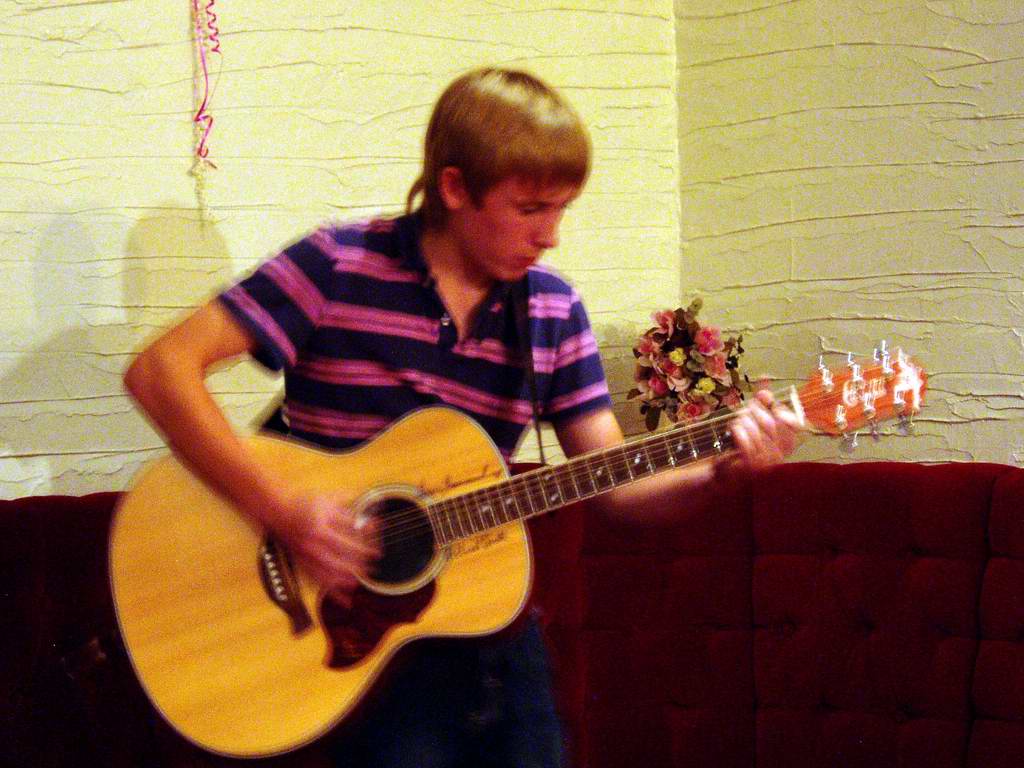 John, who comes from Swansea, is a 16-year-old acoustic guitarist who really enjoys playing to many audiences, including the Talgarth Festival and Gower Guitar Festival, where the festival rebooked him for next year. He's into the music of Tommy Emmanuel, Chet Atkins and Jerry Reed and has been inspired to cover their songs and write his own. He played to Tommy Emmanuel in The Point, Cardiff - that's John (in the white shirt) jamming with Tommy, in the blue shirt! John has a website, too - www.johndignam.tk . Played as a Showcase artiste at Llantrisant Wednesday August 30, 2006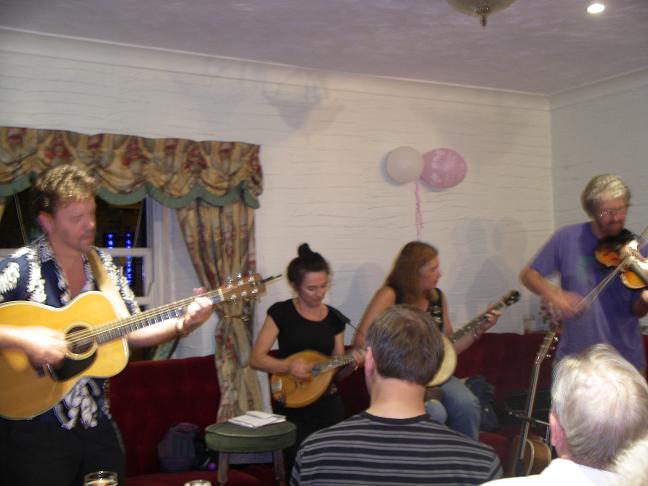 Llantrisant Folk Club gives an ecstatic welcome again to Claudine Langille, Jon Scaife and Graham and Camille Parker. We've lost count of how many times we've been thrilled and delighted by their electric atmosphere, their high-energy conviction and their superb musicianship (hot banjoist Camille is an ex-member of Touchstone, the sensational Irish-American band, Jon plays breathtaking guitar, Graham's a fiddler extraordinaire and Camille has a voice which has captivated the minds and hearts of audiences the world over.)
As Graham puts it: "We're not a rock band that celts, we're a Celtic band that rocks." Or listen to Rock'n' Reel's review: "A sound which is flawless and an atmosphere which is incredible. Even the most reserved audience would find them irresistible - they play each number as if it's the final one."
Last appeared at Llantrisant Folk Club Wednesday May 7, 2008



Steve Gilette and Cindy Mangsten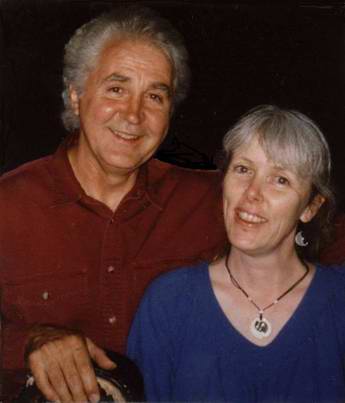 Steve and Cindy got married in 1989, and have toured the world together since then - but this is their first time as guests in Llantrisant Folk Club. They have a magical touch just playing as a duo - songwriter Steve has written for a host of artists, including Garth Brooks, Linda Ronstadt and Iain Matthews, but singers and musicians queued up to record Steve's ballad Darcy Farrow.
Cindy ("One of the finest singers in American Folk Music", according to the American folk magazine Come For To Sing), accompanies herself on guitar, banjo, English concertina and mountain dulcimer, her repertoire stretching from haunting ballads to writers as diverse as Jack Hardy and Nancy White.
Steve and Cindy have recorded three albums: Live In Concert, The Light Of Day (on Compass Rose Music) and A Sense Of Place (Redwing Music). The London-based magazine Folk Roots commented that Steve and Cindy are "still just about the classiest duo around, with more of their sublime traditional and contemporary folk." Last appeared at Llantrisant Folk Club Wednesday September 27th 2006



Mark Haines and Tom Leighton (Canada)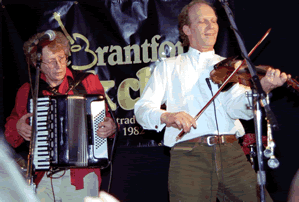 From Prince Edward Island and New Brunswick - prepare to be totally amazed! Tom plays accordion, bodhran, keyboards and synths, while Mark plays fiddle and guitar. As Lillian Wauthier said:
"Their music almost defies description... ranging from many unusual originals to Celtic, gospel, contemporary, bluegrass, vaudeville and swing influences - and great exciting polkas! - they are in a class of their own. Their phenomenal energy, vivacity, charm, breadth of vision and consummate musicality results in one of the most exciting and mesmerizing shows you'll ever hope to see and hear. Their enthusiasm and love of music is so encompassing and pervasive that the audience is swept up in a contagion of joy. Many in the packed house had never heard them before and there were constant looks of incredulity on peoples' faces and exclamations of wonder and amazement."
Last appeared at Llantrisant Folk Club Wednesday October 11, 2006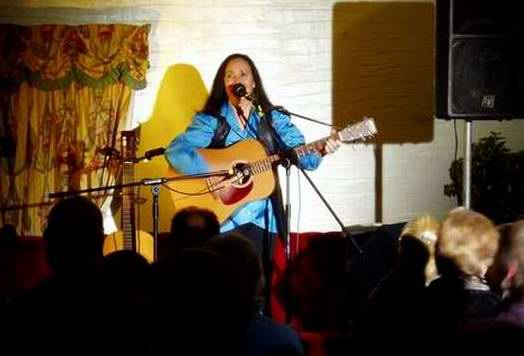 Julie makes a welcome return to Wales – and she brings with her a message of hope and a belief that music can change the world for the better. With over 40 years singing out over injustice, inequality and war, Julie Felix is a voice that needs to be heard now more than ever.
Her career spans four decades. She became a household name after arriving in the UK from California, when she became the resident singer on the Frost Report and then got her own TV series, with guests including Spike Milligan, Leonard Cohen, Donovan and Dusty Springfield. She has recorded with John Paul Jones, Kiki Dee and Martin Carthy, and has appeared on stage with Bill Wyman and Roy Harper. Always an activist, she protested against the Vietnam War, took part in a peace march through Latin America in the 1980s and has been involved in women's and gay rights, and peace projects including protests against the Gulf War. Recently she has been working alongside Christian Aid and Oxfam and Adopt-A-Minefield. Julie believes that the power of music can have a positive effect on the all-too-often harsh world, and she presents her message of hope with enthusiasm, passion, conviction and humour.
Her huge UK tour coincides with the release of her new CD, Bright Shadows. Her repertoire includes her own original material, Dylan classics, traditional Mexican folk songs and Native American chants. This eclectic material is all delivered in a rich, velvety voice that fills an auditorium, invested with great honesty and feeling. Julie visited Lllantrisant Folk Club on Wednesday November 22, 2006 in a concert sponsored by Arts Council Wales and Rhondda Cynon Taff Night Out scheme.



Keith Kendrick and Sylvia Needham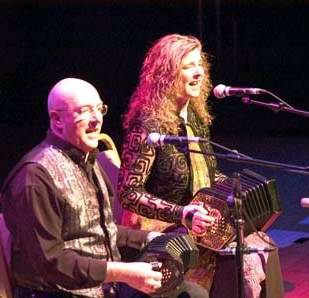 Vocal and concertina magic from Derbyshire's fabulous duo! Keith Kendrick's career has spanned nearly four decades, and involved a relentless pursuit of the best ways to communicate to others the inspiration that has motivated him. If you want an example of someone for whom folk music and life have become completely inseparable – a true folk musician – look no further than Keith. Sylvia is a fine and highly-skilled singer in her own right, with an immense and varied repertoire. A 'teller of stories through song' who effortlessly transports the listener into every scenario, she brings to the duo a unique and remarkably complimentary sense of harmony and delivery which can incite lemmings to turn back... hear them! Last appeared at Llantrisant Folk Club Wednesday February 21, 2007



Showcase with Ray Joseph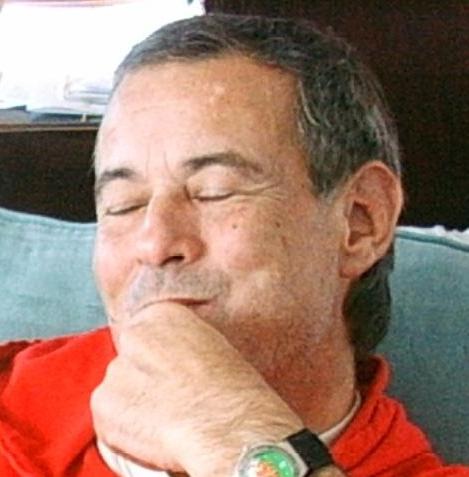 Ray believes in the Rhondda - that The Valleys are the heart and loving future of Wales. That's why he now tours - to entertain with a message for all who care about our future. He lives on Penrhys, because he says: "It is the pivot of a future world". A mysterious and controversial figure, novelist, poet and singer, his biographical details are an easy mix of enigma and contradiction. His anecdotes and songs give voice to a yearning to remake our world, and - hopefully - inspire you!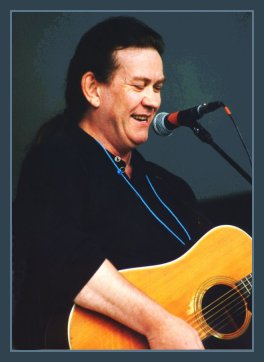 Scot, born in Leith in 1948 to a Scots Gaelic-speaking mother and an Irish father. Alistair Clark, reviewer for The Scotsman newspaper, takes up the story:
"Dick Gaughan has never been easy. The songs he delivers ask questions that some listeners may have thought never existed - so they may not, instantly at least, know the answers. When the answers duly come, delivered in a voice that throbs with a unique kind of controlled, vibrating passion, he can shake the most complacent mindset out of its skull.
"You go home from a Dick Gaughan session feeling exhilarated, not just at the wonderful skills of the most potent singer ever to emerge from the Scottish folk-music revival, not just at the astonishingly fluent and explosively eloquent guitar playing, but by the sense of the stark exposition of wrong and the tremulously argued legitimacy of right. Even those who disagree profoundly with his view of life recognise the conviction and the supreme artistry."
Last appeared at Llantrisant Wednesday November 21 2007



Tom Kitching & Gren Bartley (England)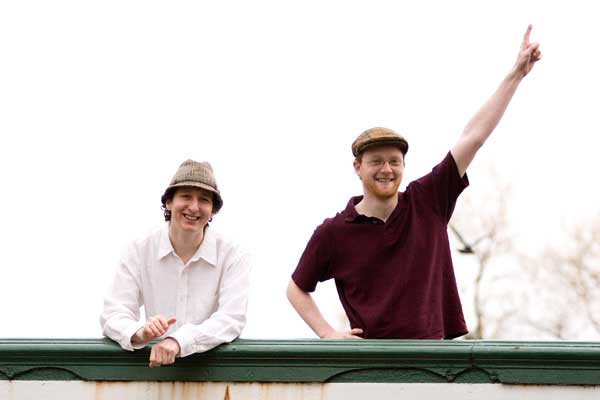 Tom and Gren come from deepest Loughborough and play an aromatic hotpot of folk, world and blues from around the globe. This is a great opportunity to catch the pair on their way up. Recently signed by Fellside records, and with a busy festival schedule, the future looks bright.
A Young Folk Award finalist in 2003, Tom plays fiddle with a unique flair, adding depth and context to material, drawing on his broad command of styles. Gren is simply a superstar of the finger style guitar in the making - leaving audiences flabbergasted with the speed and control of his picking, the sensitivity and variety of his music will draw you deeper in.
Last appeared at Llantrisant Folk Club on Wednesday April 23, 2008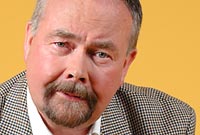 BBC Wales Celtic Heartbeat's favourite presenter, songwriter, Hennessys musician and personality! Frank's engaging chat, intelligent persona and absolute love for folk music will be sure to please and delight. Frank's songs range widely from Tiger Bay, Farewell To The Rhondda and The Old Carmarthen Oak to Cardiff Born, Cardiff Bred, Billy The Seal, Hearts On Fire and his latest 'hit' - Always Beautiful, a love song to Frank's home city, Cardiff. Warning: When Frank does a gig, crowds of fans come out of the woodwork and fill the place up.
Last appeared at Llantrisant Folk Club Wednesday October 8, 2008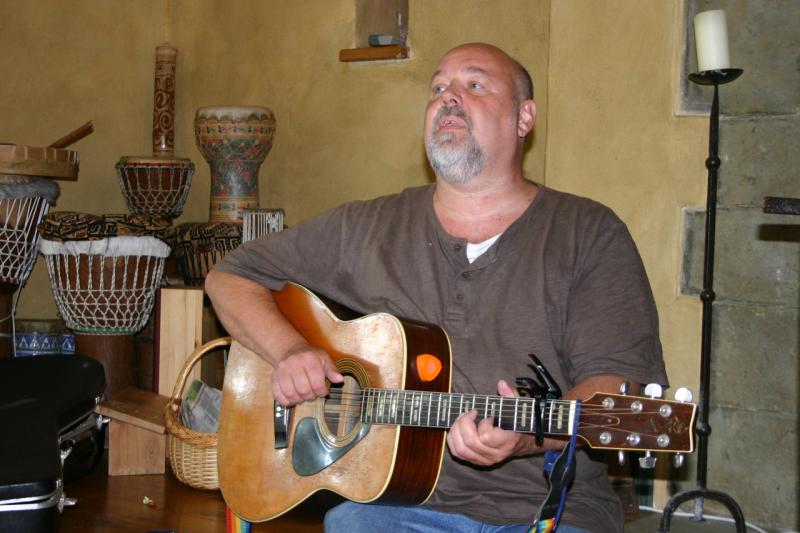 Jeff, from Deri, near Caerphilly, is very much a regular at Llantrisant Folk Club - and the buzz of excitement and interest is quickly mounting as he takes the stage for his second set in the Club's 28-year run. His self-made songs are sometimes amusing, sometimes tearfully powerful, always intelligent and incisive, and Jeff carefully blesses them with startling and original chord structures to die for. His easy charm comes through on every performance. His rare CD is a masterpiece - recorded live at Llantrisant Club, you can almost feel the audience hanging on every word.
Last appeared at Llantrisant Folk Club Wednesday December 3, 2008



Joe Latter (Wales)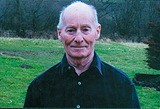 Joe, from Carmarthenshire, was 80 years old in April, 2009, and he was having a joint celebration with Llantrisant Folk Club. An evacuee from London in World War Two, Joe stayed in Wales and entertained Welsh audiences with his old and well-loved songs. He's a fountain of boundless knowledge, and the Club is honoured to have Joe guesting. Don't miss him!
Last appeared at Llantrisant Folk Club Wednesday April 15, 2008



Jerry Epstein & Ralph Bodington
Here's an interesting and exciting combination to look forward to! Jerry has toured 10 times in Wales, Scotland and England (including several gigs for Llantrisant Folk Club.) He's been involved in traditional music for 40 years and was director of the New York Eisteddfod, which is still making glorious music in Queens, Brooklyn. Ralph is a superb performer of banjo tunes and ballads from the old-time Southern mountain culture, and has a laid-back, easy style that comes right out of the old tradition.
Last performed at Llantrisant Folk Club Wednesday July 29, 2009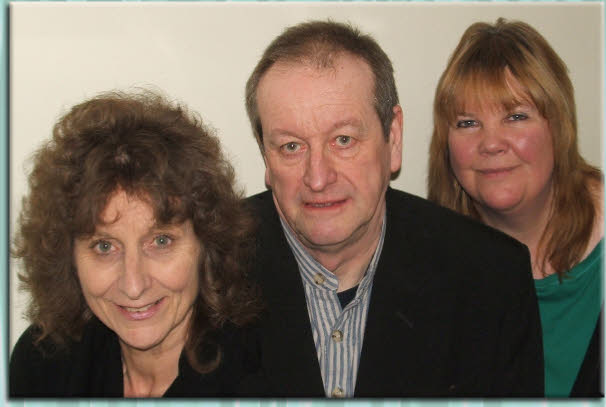 Hilary Spencer, Chris Harvey and Alison Younger are now working WITHOUT Les Barker. They took the decision to carry on without their guiding star, mentor and favourite lunatic, as he was cutting back on his live work following heart surgery. But the band will astound and amaze you with a trinity of rare delights!
Chris, Alison and Hilary are a remarkable trio of musicians that will delight and entertain you. Despite the absence of Les, his strange imagination still soars to musical heights through the stunning voices of Ms Younger and Ms Spencer and the keyboard wizardry of Mr Harvey. Alison, Hilary and Chris musically recreate the weird and wonderful world of the internationally acclaimed poet, philosopher, photographer and fruitcake and continue to perform the marvellous nonsense that is MrsAckroyd. Funny, witty, thoughtful, emotional - but always brilliant!
Last performed at Llantrisant Folk Club Wednesday June 20, 2012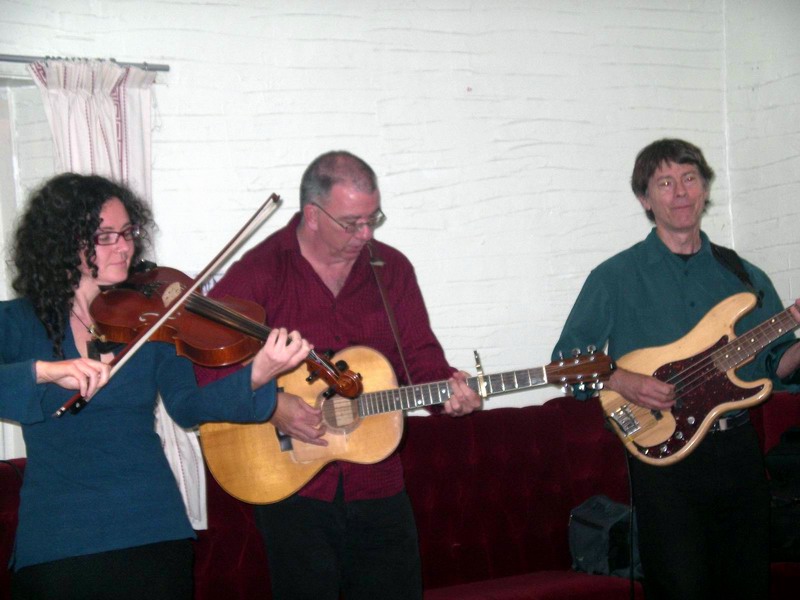 Folk music tells the stories of people and places, and Canada's James Keelaghan is certainly that kind of storyteller — mining the past for musical inspiration. His most celebrated songs are finely-crafted pieces that illustrate his compelling ability to create superb, deeply-moving stories about events, people, himself and the Canadian tradition. Now, after nine albums, three Juno nominations and a Juno award, and over 18 years as one of Canada's best-known exports on the folk circuit, Keelaghan has returned to one of his loves — the traditional ballads of the British Isles — and the result is A Few Simple Verses, one of the best albums of his career. In reconnecting with this music, he has found fresh inspiration and affirmation for what he does as a folksinger and songwriter. A guitarist with fingers of steel and with a smooth, coffee-rich, baritone voice that is the perfect vehicle for his personal, intelligent and meaningful songs, James is a compelling performer. Along with his trio, he develops an intimate rapport with audiences through his stories, enticing melodies and sense of humour, and then leaves them spellbound with passionate renditions of songs that touch on universal emotions and relate the past to the present.
James' trio consists this time of Zav (formerly Jamie) RT on her five-string viola (the fiddola) and David Woodhead on fretless bass.
Last performed at Llantrisant Folk Club Wednesday September 30, 2009



Sarah McQuaid (Ireland/USA)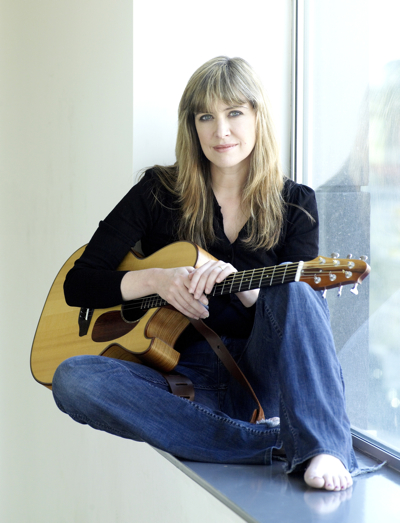 Born in Spain, raised in Chicago and holding dual Irish-American citizenship, Sarah was taught piano and guitar by her folksinging mother. From the age of 12 she was embarking on US and Canadian tours with the Chicago Childrens' Choir, and at the age of 18 she went to France to study philosophy at the University of Strasbourg.
Sarah moved to Ireland in 1994, and three years later she released her debut album, When Two Lovers Meet. The Rough Guide To Irish Music wrote: "Sarah's voice is both as warm as a turf fire and as rich as matured cognac... An astonishing debut by a unique talent." When Two Lovers Meet was re-released in Ireland and the UK in 2007, a year which saw Sarah move to Cornwall. She released her second album, I Won't Go Home 'Til Morning, which like its predecessor was recorded in Trevor Hutchinson's Dublin studio and produced by Gerry O'Beirne. Sarah has just brought out her new CD, The Plum Tree And The Rose, another Hutchinson/O'Beirne winner.
Renowned for her warm, engaging stage presence, Sarah is a versatile and beguiling performer, delivering a delicious mix of her own elegantly crafted originals to Irish and Appalachian folksongs, Elizabethan ballads and 1930s jazz numbers. She's the author of The Irish DADGAD Guitar Book, described by The Irish Times as "a godsend to aspiring guitarists", and has presented workshops on DADGAD tuning to festivals and venues everywhere. Last appeared on Wednesday, May 9, 2012.

David Llewelyn (USA and Wales)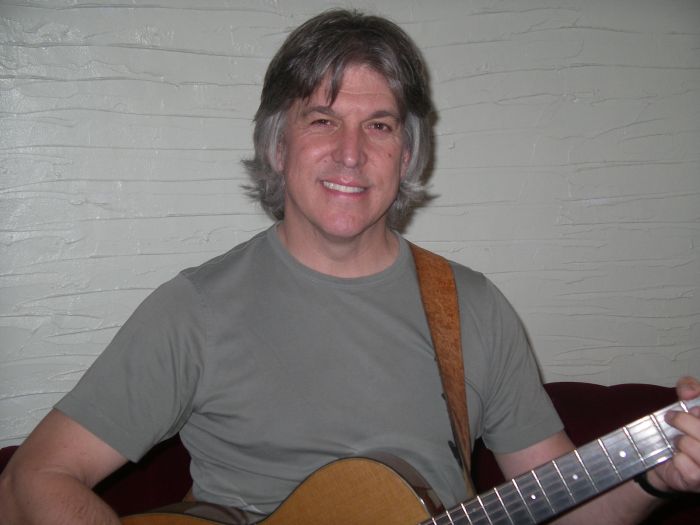 Photo by Mick Tems
Frank Hennessy is one of David's admirers - and Frank has been responsible for this one-off show! Coal dust and the mining valleys of South Wales supplied a down-to-earth upbringing whose values and early lessons David still holds dear. But at 17, with a jacket and guitar in hand, he left home in Mountain Ash, Cynon Valley, to begin what has been a lifelong passion. The workingmen's clubs of South Wales, the same anvil that forged Tom Jones, became the proving ground, the trial by fire.

Arriving in 1991, David dived into a career as a singer/songwriter, and a move to Nashville to sign with a Music Row publisher followed in 1996. But, as David says: "At some point I realised that I had not returned to Wales in 10 years - and as soon as I took my first breath of the valley's air, I knew that although the wonderful songwriting cities of Austin and Nashville may have honed my skills and taught me the craft, it was Wales, its Celtic traditions and working-class communities, that I had to draw from for my inspiration. It has increasingly drawn me back to my roots. I was part of the first generation not to go down the mines, and I've always felt thankful for that."

The inclusion of Take Us Down, one of David's songs about a young child's first day working underground and his father's heartbreaking thoughts, touched a general nerve at the New Folk competition at the 2007 Kerrville Folk Festival, and gained David a winning spot that year. The Texas festival has become a regular place of pilgrimage for David. Appearing on the main stage, his songs and rich baritone can be heard around many a campfire. His first CD, David Llewellyn (2004), quickly gained Top Ten radio plays on the Folk DJ charts and has proved a fast seller at gigs and house concerts. In 2007, David released Limited Edition, a CD of live guitar/vocals made up of songs about his upbringing in the culture of Wales. As David says: "If I could sprinkle some coal dust into your ipod without screwing it up, I would."
This was a one-off gig for David - and Llantrisant Folk Club was very proud to be part of such a unique event. Last performed at Llantrisant Folk Club Wednesday, April 28, 2010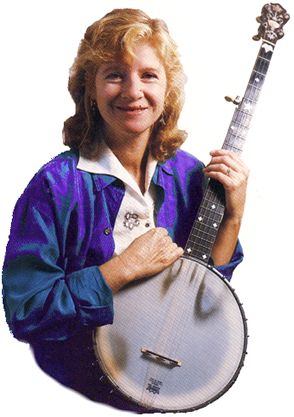 One of Llantrisant Folk Club's finest and dearest friends! Though Debby McClatchy lived most of her adult life near Roaring Spring, Pennsylvania, in the Appalachian Mountains, she was born in San Francisco in 1945. Her father's great grandfather came from Ulster during the famine, was a 49er in the gold rush and founded northern California's leading newspaper, The Sacramento Bee. Her early years in San Francisco have had a great influence on the way she lives her life and on her music.

Debby's mother came from the Smoky Mountains, near Knoxville, Tenessee. Her mom sang Carter family songs as lullabies, music hall songs for fun, and might yodel after a little creme de menthe.

Debby is an expert entertainer with wit and imagination. While she plays a variety of acoustic instruments, when touring she just totes her 1907 Bacon 'FF Professional' banjo and maybe a fiddle. She is recognised as one of the finest frailed-banjo players in the accompanying style and is much valued for her banjo and singing workshops. Her combination of goodtime, old-time banjo, glorious singing - with occasional outbreaks of mountain fiddling and freestyle Appalachian stepping - has made her a favourite in clubs and at festivals. She visited Llantrisant Folk Club on Wednesday, May 19, 2010 yet again - is this a record, Debby?



Dan McKinnon (Canada)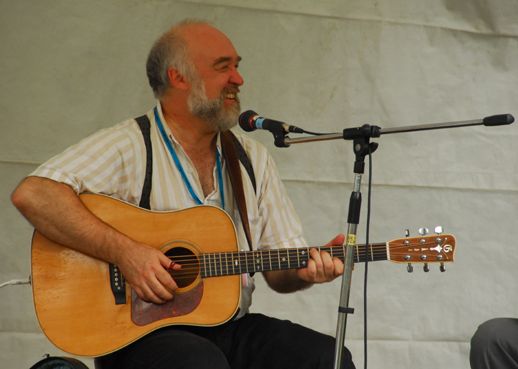 Dan's long-awaited return to Llantrisant Folk Club comes after he toured Britain with his Songs Of Stan Rodgers show, which proved to be one of the most moving and exciting in the Club's 30-year life. Born in Nova Scotia in the Canadian Maritimes, Dan is an absolutely stunning songwriter with a lovely, deep-brown voice that just commands you to pay attention; according to Dan, every set is a good-time experience.
David Kidman writes in a review of Dan's visit to The Black Swan in the city of York: "He's one of the most genuinely engaging performers I know. He put the near-capacity audience in thrall the moment he took to the stage with his customary opener Wandering Days, immediately winning over the curious into converts. Dan has a gorgeous baritone voice with an exceptional command of phrasing, light and shade – perfect for conveying the nuances and narratives of his finely-crafted songs."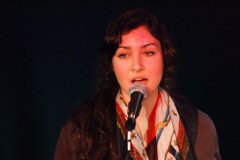 Photo: Alan McMillan
Chloe Matharu is a 19-year-old singer from Edinburgh whose cultural roots lie in Scotland, Wales and India. She is heavily influenced by the 1960s Folk Revival and grew up surrounded by the wealth of traditional music in Scotland and Wales. Chloe is a standout young traditional singer, and Dr John Barrow of the Stoneyport Agency is promoting her and singing her praises extensively. Chloe has a keen interest in folk history, and one of her favourite places to visit was the People's History Museum on the Royal Mile and the many castles and ruins to be found in South West Wales. She has always been a singer, performing in choirs, playing in bands during the Edinburgh Fringe and while at school Chloe won a place to perform at the Radio 2 Cambridge Folk Festival with its Youth Band. She has family in Milford Haven, and she's stopping off to do a Showcase on the way to see them. Noted singer and songwriter Karine Polwart pays her this compliment: "There's a plaintiveness and restraint to Chloe Matharu's singing that owes more to classic traditional singers like Anne Briggs than it does to the poppier inflections of many of her young folk contemporaries. And there's a refreshingly unaffected, intimate and pastoral quality to many of the arrangements on her debut album too." Chloe's on Myspace: http://www.myspace.com/chloematharu
Last performed at Llantrisant Folk Club Wednesday, July 21, 2010



30th Birthday Party No. 2 with The Jo Freya Trio (England)
Jo, musician and composer, comes from a pioneering background in folk and acoustic music. She plays or has played with Blowzabella, Token Women, The Lal Waterson Project, Coope/Boyes/Simpson/Fraser/Freya/Boyes, Maalstrom, The Fraser Sisters, Freyja, Scarp, The Old Swan Band, as part in duos with Kathryn Locke and Pete Moreton and as a session musician with Lal Waterson, Annie Williamson and Anne Lister. Surprisingly, Female Smuggler is Jo's first solo CD (she recorded an album called Traditional Songs Of England on request from the company who wished to release it, with arrangements done by them, so this is Jo's first in reality.) The intention behind the CD is to reflect the diversity of Jo's music. It's all here - beguiling instrumental, beautiful vocal, exciting traditional and visionary contemporary, and much of it is penned by the maestro herself. Jo is going out on the road to promote the album, accompanied by Neil Ferguson and Jude Abbott of Chumbawamba. Arts Council Wales was supporting this NIGHT OUT Scheme, which took place on September 15, 2010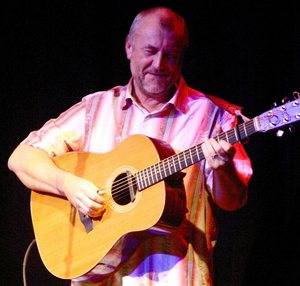 The Club extends a warm welcome to Bob, whose musical career started in the folk clubs of his native north-east, where he became resident singer at the celebrated Davy Lamp club. Later, he toured as a duo with fiddler Tom McConville.
Bob next teamed up with Stu Luckley, recording Nowt So Good'll Pass, the Folk Album of The Year which won them tours of Europe, Australia and New Zealand. Bob and Stu were in demand at festivals too, including the prestigious Cambridge Folk Festival, and played as support on tours with Richard Thompson and Ralph McTell. After recording a second album, Wish We Had Never Parted, Bob and Stu pursued solo careers. More recently, Bob re-recorded 14 songs from his albums with Stu which were released as the album Box of Gold.
He recorded his first solo album, Dreams Never Leave You, and joined fellow north-easterner Jed Grimes in The Hush, a six-piece band playing traditional north-eastern songs in innovative ways. The Hush's debut album Dark To The Sky gained a nomination at the 2003 BBC Radio 2 Folk Awards. Meanwhile, Bob regularly tours Britain, Europe, North America and Australia.
Last visited Llantrisant Folk Club Wednesday, October 13, 2010



Vicki Swan & Jonny Dyer (England)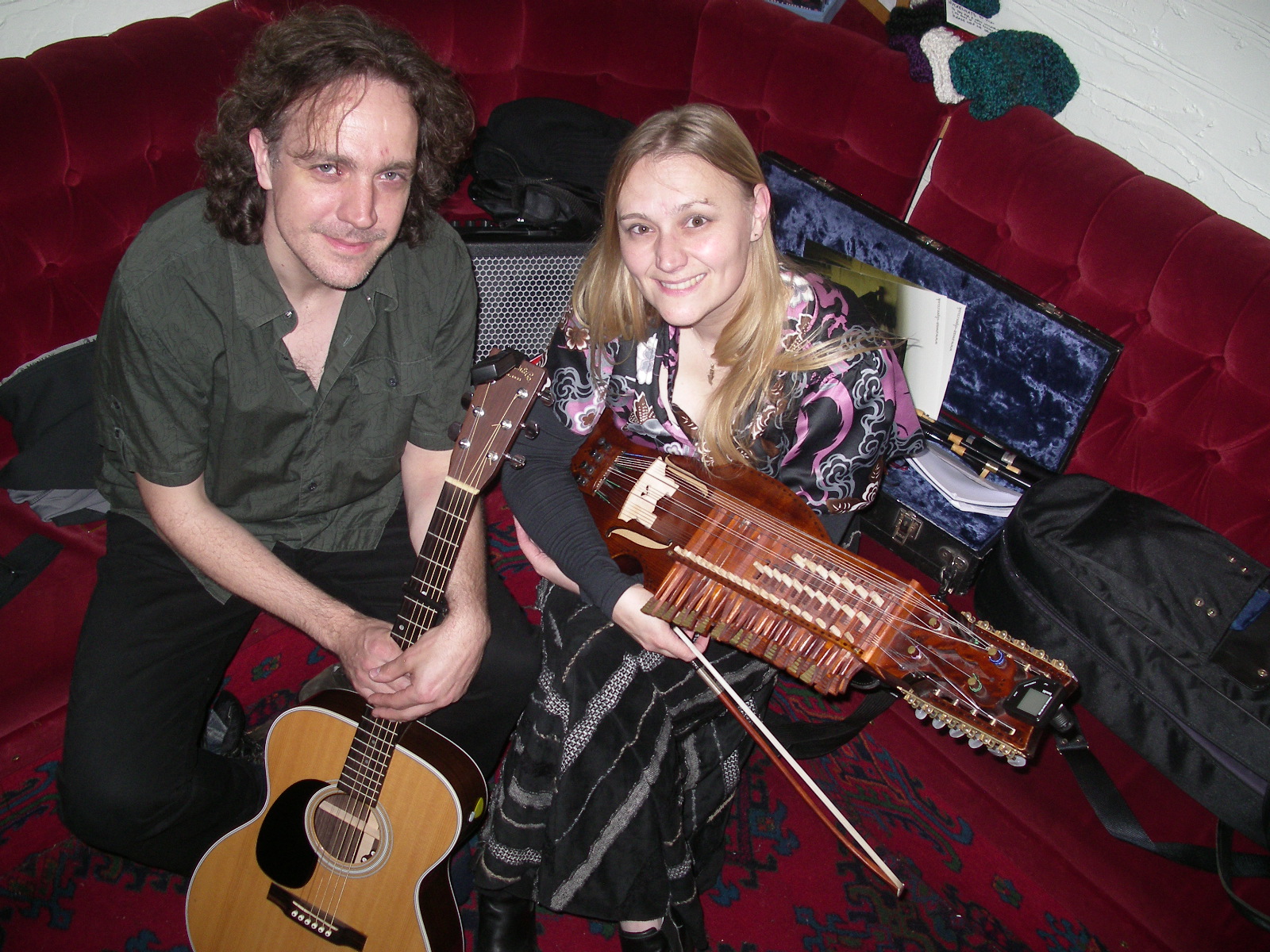 We've seen them and loved them at the much-missed Miskin Festival - currently taking the world by storm, Vicki and Jonny are rightly "establishing themselves as one of the best duos around on the folk scene today" (Famous Willows Folk Club). Although best-known for their instrumental skills with Scottish smallpipes, accordion and even Swedish nyckelharpa, the duo are well recognised for their song arrangements too. With their blend of traditional material and contemporary interpretations, they have developed a sound that is both familiar and fresh. Vicki and Jonny's strong educational background makes their workshops as powerful for a festival event as their performances.
Last visited Llantrisant Folk Club Wednesday, November 3, 2010

Showcase with Jelly-Roll Jones (Wales)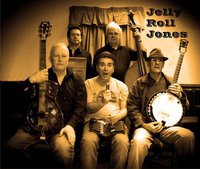 Calennig Dance Band bass player Mike Kennedy reveals Jelly-Roll Jones, purveyors of finest quality twentieth century blues from the likes of Tampa Red, Blind Willie McTell, Joe Primrose, Louis Jordan, Leadbelly, Big Bill Broonzy, Pokey La Farge, Junior Parker, Sam Phillips, Arthur Crudup, Robert Zimmerman and Mississippi John Hurt. This is guitar strummin', banjo pickin', double-bass thumpin', harp blowin', washboard beatin' music from these five fired-up Taff delta bluesmen. Come and experience heartfelt songs of love, sex, death and trains… Last visited Llantrisant Folk Club Wednesday, April 6, 2011



Fred Gosbee and Julia Lane (USA)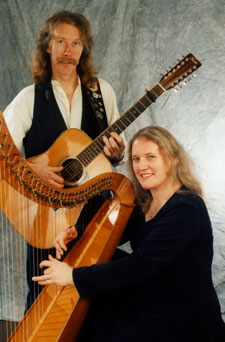 Julia and Fred are founding members of Castlebay, formed as a quartet in 1987 to perform and promote the music of their home state Maine and the Celtic lands of Scotland and Ireland. Castlebay became a duo in 1993 and since then regularly tours throughout the eastern US, performing at arts centres, festivals, folk clubs, schools, and libraries. They have toured Britain annually since 1993. They have collaborated with performers there on several CDs and also composed music for a major work presented at the Celtic Connections Festival in Glasgow in 2001.
Fred has played classic and 12-string guitar, violin and viola and Irish flute, tin-whistle, guitar, whistle and flute, and studied violin, tuba and string bass. He learned many traditional songs from his family, who worked as lumbermen in the forests of New Brunswick and Maine. His original songs have been sung and recorded by other artists.
Julia studied classical and flamenco guitar at academy and used the guitar until 1989, when she discovered the Celtic harp. She rapidly became a skilled and exciting player, winning the Senior Professional division at the New Hampshire Scottish Games Harp Competition in 1990 and 1991 and the International Folk Harp Competition in 1992. She is in demand as a teacher of performance workshops for the harp throughout the east coast of the US. Last appeared Wednesday, May 4, 2011.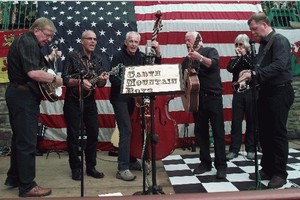 The Garth Mountain Boys (Wales)
Llantrisant Folk Club gets ready to welcome our local musical neighbours and friends - from the Taff River Delta, Cardiff and Pontypridd, just a tantalising taste of that old Bluegrass culture (with a spoonful of other songs, including Steve Earle's Galway Girl!). From the Deep South of Wales, here y'are - Richard Smith (aka Richie/Richpickings), banjo... Laurence (Lance) Williams: guitar and mandolin... 'Budgie': bass fiddle... Steve Porter (aka Stefan La Porte): harps... Alan (Billy J) Kramer: guitar and Mandolin... Chris Tweed (dobro)... Genuine bluegrass! Influences include Earl Scruggs, Ricky Scaggs, Jim Mills, Douglas Dillard, Dr Ralph Stanley, Bill Monroe, Sammy Shelor, Doc Watson, Alison Krauss, The Beatles, The Eagles, Lonnie Donnegan, The New Lost City Ramblers, Bob Dylan, John Prine, Johnny Cash, Jesse Fuller, Steve Earle. Oh... and Real Ale!
PS: Lots of down-home Americana and happy sessioning at the Tredegar House Festival real ale bar - and it was The Garth Mountain Boys and friends. The Boys' music and the ale sure goes down well! Last appeared on Wednesday, July 13, 2011



Eileen McGann & David K (Canada)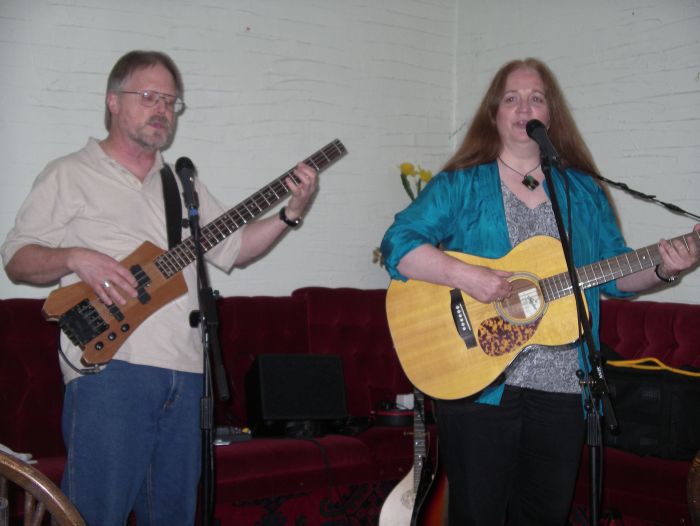 "One of folk music's most breathtaking voices... her songs range from Celtic and traditional to very contemporary and topical...
"A gifted lyric poet and musical composer whose gorgeous vocals make her a must-see performer!"
Eileen is one of North America's finest contemporary songwriters. She's an outstanding singer of the traditional music of Ireland, Scotland, England and Canada; She's an Irish Canadian, born in Canada to Irish parents. Eileen lives in Vancouver Island, British Columbia, and she's a seasoned touring performer, workshop leader and a Juno-nominated recording artist. She tours Britain with stringed expert and partner David K. Last appeared on Wednesday, August 17th, 2011

Showcase: Chris Lindsay & Tam Knox & Alan (Scotland)
The Showcase series presents, for Wednesday September 14, 2011 only: our own Highland bagpiper extraordaire, Chris Lindsay, and the folk singer from Scottish Lowlands, who has just relocated to Hawick on the borders, Tam Knox! Chris is a superb piper of amazing agility - Don't miss it!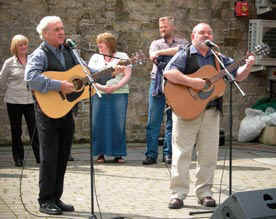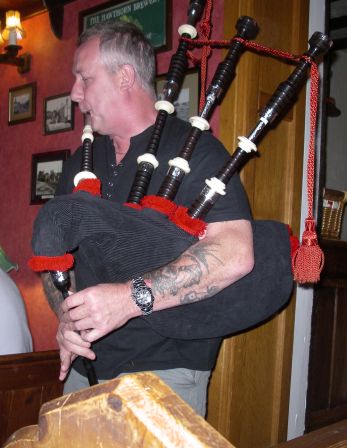 Photo of Chris Lindsay: Mick Tems



John Kirkpatrick (England)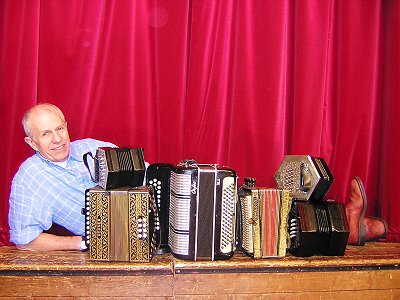 John was born in Chiswick, West London, in 1947. A deep love of music was instilled from birth, and family gatherings always included a hearty sing-song. School choirs, the Church choir, playing recorder and piano ensued, until he joined the Hammersmith Morris Men, in their second week, in 1959.
While with the team he took up the melodeon, then the button accordion, then the anglo-concertina, and got hooked on the traditional songs that were accompanied with a post-dancing pint.
John has gone on to become one of the most prolific figures on the English folk scene, performing solo, in duos, acoustic groups and electric bands, and has established an enviable reputation as an instrumental virtuoso and session musician, as well as a leading interpreter of English folk music. He has been a member of the Albion Country Band, Magic Lantern, The Richard Thompson Band, Umps and Dumps, Steeleye Span, Brass Monkey, Trans-Europe Diatonique, and Band of Hope, as well as numerous ceilidh bands.
He rejoined The Albion Band for The National Theatre productions of Lark Rise and Candleford, and from 1980 has regularly worked on shows at The Victoria Theatre (later The New Victoria Theatre) in North Staffordshire, The Orchard Theatre Touring Company based in Devon, and elsewhere. As songwriter, composer, choreographer, and musical director, he has contributed to over sixty plays in the theatre and on radio. And as featured artiste, band member, or session player, his music can be heard on over 200 different commercial recordings.
John has lived in Shropshire since 1973, where he had four sons by his first marriage. Now happily re-married, he still dances, with all four sons (on a good day), with the Morris team he founded in 1975, The Shropshire Bedlams. Last appeared on Wednesday, September 21, 2011


The legendary Welsh guitarist, singer and songwriter and wizard, who currently lives in Lampeter, rarely plays concerts these days - but now he's back! Originally championed by John Peel in the late 60s, he went on to achieve great success in the live music scene. From Scott Joplin and Chet Atkins in the early days, he later embraced jazz and blues, working with the likes of expert saxophonist Dick Heckstall-Smith.
John has recorded over 15 albums and toured extensively, playing with artists as diverse as Jools Holland, Ralph McTell, John Renbourn, John Martyn (who was the best man at his wedding!) and Led Zeppelin - as a footnote, he was also a guest artist on the last ever Brownie McGhee and Sonny Terry UK Tour of 1976, and guested with the stupendous Eddie Walker as part of the Carolina Shout guitar duo at Llantrisant Folk Club. He has performed at many prestigious venues including the Royal Albert Hall, the Paris Olympia, Edinburgh and Cambridge Folk Festivals, and over the years has performed some stunning, beautiful Welsh traditional tunes.
To show audiences what they're missing, here's John the marvellous entertainer - he sings, too!: http://www.youtube.com/watch?v=qeYFA-1KfjY
Last appeared on Wednesday, January 21, 2012


Issy & David Emeny with Kate Riaz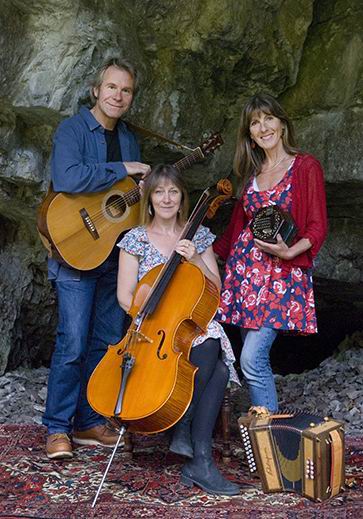 Born in Suffolk and now living in the West Country, Issy and David promise you an enticing melange of sparkling melodeon, guitar and 'cello, plus some beautiful songs. Issy, who was influenced by the great melodeon player and cartoonist Tony Hall, has a natural gift for composing but, having come to traditional music relatively late in life, initially started making up tunes "so that no-one could tell me I was doing it wrong!" Today, her reputation as a gifted composer is well established - songs with lovely melodies, captivating stories and a distinctly traditional influence are her trademark.
The couple, with Kate on 'cello, have quickly established a solid reputation, and here are just some of the glowing reviews:
"Truly astonishing musicians - quite brilliant - you'll rarely see better" (Tom and Barbara Brown)... "A must for folk lovers" (Vin Garbutt)... "A very talented trio - fine songs, great harmonies and excellent accompaniments" (Pete Coe)... "Make sure you see them - you won't be disappointed" (EDS Magazine)... "A top-class melodeon player with
a rare lyrical touch and a fine sense of harmony. Issy is also an excellent composer of sophisticated instrumental pieces" (Brian Peters). Last played Wednesday, February 15, 2012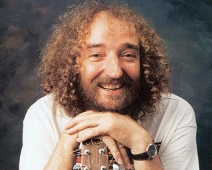 Teesside-born master songwriter Vin is just celebrating 42 years of delivering brilliant, mesmerising shows, performing all over the globe, just a solo master guitarist and whistler with a startlingly unique voice and a belt of jaw-dropping songs. But, typically true to himself, Vin doesn't like 'Star' status. All this has happened without the hype from big record companies, and without the usual publicity from the mass media. He has played in countries that the biggest stars will never see. This phenomenon has occurred solely by word of mouth, spread by people who have come across him, and felt the need to share this unique experience on the Folk grapevine. A Vin show is always a sell-out.
It is no surprise to find that Vin has ruffled a few ethical and political feathers by his comprehensive range of subjects and points of view. His fellow professional musicians were filled with admiration at his gutsy stances. Loudon Wainwright III admiringly said: "He really sticks his neck out and occasionally gets it kicked in, but this doesn't stop him - I'm a big fan of his!"
Last played Wednesday, February 21, 2012


David Gibb and Elly Lucas (England)
David and Elly are an exciting young duo who play a mixture of original and re‐worked traditional folk material. They hail from Derbyshire and have previously toured the UK extensively as part of David Gibb & The Pony Club. David plays the guitars, melodeon and sings; Elly plays fiddle, viola and also sings. From these minimal resources, the duo produce distinctive vocal leads, haunting harmonies and a quite dense instrumental sound. Their singing is simple and unadorned ‐ check out Elly's wistful vocal on Blacksmith or David's lead to Jerusalem Cuckoo. The pair were chosen as finalists in the prestigious BBC Young Folk Awards 2011 and, on the road, have supported such artists as Cara Dillon, Chris Wood,Coope, Boyes and Simpson, Jez Lowe and Megson. In early 2011, they released their first EP, entitled Three Children Sliding On The Ice, garnering praise and national airplay from the likes of the Mike Harding Show (BBC Radio 2). In the autumn of last year, they spent some time in the recording studio with producer Chris Harding, putting the final touches to their debut album Old Chairs To Mend, released on Hairpin Records in March 2012.
Last played Wednesday, July 11, 2012


Guto is one of Wales' foremost storytellers, and conveys tales with "a rare wryness and warmth", according to Powys folk development organisation TASC's chairman, Phillip Freeman. He is also a distinctive melodeon-player and singer, and has led melodeon workshops As a musician and singer he has toured in Wales, Brittany, Ireland, England and Estonia. He co-hosts with David Ambrose the popular monthly evenings of storytelling and music at Milgi's Yurt.
Danny has spent much of his musical working life involved in most of Juice's (the family Ceilidh Band) various incarnations - everything from psycho-skiffle to death-metal folk from Hell. He has also been a member of the Root Doctors, The Rowdy Dowd, Carreg Lafar, Taran, Yr Hwntws, with his two brothers and many others. Danny's astonishing guitar playing has graced many an album; he began playing with Juice at the age of 12 and never ceases to amaze with his inventive, subtle and powerful style. Danny is currently director of trac, the all-Wales folk music development organisation.
Last played Wednesday, July 25, 2012


A Fanfare of Strumpets (Wales)
A Fanfare Of Strumpets, purveyors of acapella songs for your delectation and delight, are
Blanche Rowen, Sue Ansell, Celia Webb and Helen Vincent. Standards and folksongs, dance numbers, medieval, Bulgarian, French and Breton - sit back, let your ears tingle, and wonder what you'll hear next...
A Fanfare Of Strumpets organise voice workshops for all abilities, entitled Sing Like A Strumpet. Llantrisant Folk Club member Paul Seligman recorded a video of their wonderful showcase for Llantrisant Folk Club: Click on their video: http://www.fanfareofstrumpets.co.uk/video.html Last appeared on Wednesday, November 14, 2012.