In this issue:
St David's Hall, Cardiff: March 3, 2013
You have to admire and love Fairport for paving the way as the first British folk-rock band of its time, for their fresh, amazing ideas and, in later years, for their sheer stage troopership. I grew up with Fairport; as a callow youth, I found my roots in Bunjies Folk Cellar in Soho and in folk nights put on by the Goodmayes Methodist Youth Club and the Ilford Young Liberals, but my definite road to Damascus began when I saw a scruffy young Fairport Convention playing support to Pink Floyd at London's Savile Theatre. They shambled on stage and only did two numbers, One Sure Thing and Season Of The Witch, including a jawdropping guitar solo from 17-year-old Richard Thompson; but they quite simply blew my mind, and opened endless possibilities and paths, resulting in my editorship of Folkwales OM, concerts all over the world with the duo Calennig and a 400-song collection in the South Wales Folk Archive – that's quite a responsibility!
The older Fairport were putting bottoms on seats considerably, thanks to two hours of BBC-4 documentaries which highlighted the band. St David's Hall was crowded – and Fairport's founding father, guitarist and lead vocalist Simon Nicol, sang his heart out as he took Fairport on a magic carpet ride of well-known and well-loved material which were spiced with completely new arrangements. In fact, Simon was the only member to have stayed the band's course, and even he took a three-year break. But Fairport is a rolling institution, and "new" musicians, bassist Dave Pegg and fiddler Ric Sanders (who between them have amassed a hell of a lot in years), multi-instrumentalist Chris Leslie and drummer Gerry Conway have taken on the Fairport mantle and called it their own.
Most bands become a parody of themselves, just churning out seventies hit after hit to keep the mums and dads happy. But Fairport aren't like that; come to think of it, they didn't have hits at all (unless you count Si Tu Dois Partir, a wacky Cajun-style number, with the Bob Dylan verses in French; it skirted around the high teens and twenties of the hit parade, before vanishing into obscurity.) Fairport are good, solid, seasoned musicians who can pack a knockout punch, and they still continue to delight and amaze growing audiences.
Of course, the band's true anthem wasn't a hit; 'Meet On The Ledge' was an early album track, and the LP was called What We Did On Our Holidays. The young Richard Thompson had written it for Fairport; he only performs the song rarely, but a Fairport concert wouldn't be a Fairport concert if the band didn't play it. The audience bellowed back the wonderful chorus, singing for all they were worth. As we filtered out of the Hall that night, both I and the swarm of fans got the warm impression that Fairport will go on and on – and if they do call it a day, that's the day that the world will end… maybe…
Mick Tems

Roots Unearthed, St David's Hall Level Three Lounge, Cardiff: June 4, 2013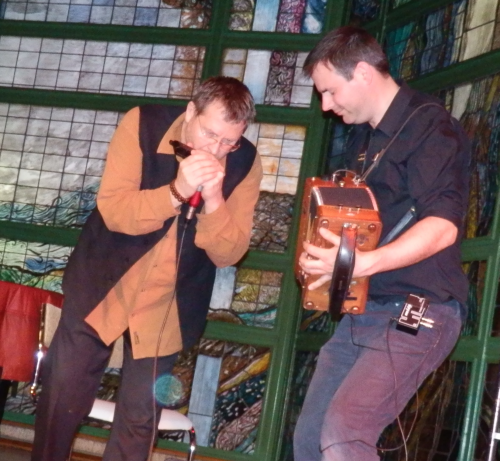 Brendan Power and Tim Edey: vertiginous variety from an unbelievable duo
Dave Haslam, compere for Roots Unearthed, put it most succinctly when he was introducing a harmonica-playing Kiwi and a young Kentish guitarist and button accordionist: either one of Brendan Power or Tim Edey would be worth every penny of the ticket money, but the duo is… well, unbelievable. The audience gawped at a vertiginous variety of breathtaking reels and hornpipes, wailing blues, pub rock songs, and some beautiful, sparse airs from the Irish and even Chinese traditions; and they really loved it, clapping and cheering amid shouts of appreciation.
Brendan was Riverdance soloist and Harmonica Player Of The Year. Tim spent five years over in Ireland, accompanying Irish musicians of the calibre of Sharon Shannon, Mary Black and The Chieftains ("I got thrown out of Irish language classes – Seamus Begley taught me some very rude words.") Brendan is a wizz at sound effects, and he playfully and skilfully built them up to where the audience could hear mouth-percussion, bass voice and accompanying harp wail, all married together; then he launched into a solo jaw-dropping masterpiece, his harp spitting flames. Tim's button-box flair was exhilarating, his fingers a blur as he coaxed his instrument to even more heights; and he absolutely attacked his precious guitar, willing it to wring out more amazing sounds.
Both Tim and Brendan live in Kent, where they love playing at this ramshackle pub in Whitstable. Brendan wrote a song about it, 'Rocking At The Old Neptune', the verses getting more ridiculous as the evening wore on: "If you want to see the sun going down over Sheppey, you can drink from a pint glass from The Old Neppie." 'Harmonica Man' was solid hot blues, Brendan in perfect rock-singer's voice; then Tim picked up the squeezebox, and he and Brendan went into some sure-fire Kerry polkas. John Prine's 'The Sound Of Loneliness' was another winner.
There isn't room to describe how Tim and Brendan had the audience on their seats; but I will tell you about Brendan's love of Chinese music. 'Moonlight Reflected On The Pond' was quietly magnificent, Brendan using his own harmonica to mirror Chinese instruments.
Mick Tems

BRIGITTE KLOAREG & YANN-FAŃCH PERROCHES
Llantrisant Folk Club, The Windsor, Pontyclun: May 24, 2013
This amazing man-woman duo brought a breath of fresh Breton air to South Wales, and the audience roared their appreciation and called for an encore. Brigitte moved to Wales, where she sang with ex-husband Jonathan Shorland, and her stay here made her become fluent in Welsh and English. She returned to Brittany, where she sings with her two daughters. Yann-Fańch is an diatonic accordion master, founding fest-noz superband Skolvan, and playing with Jean Baron, Christian Anniex and Pierrick Lemou as part of La Godinette. Both Brigitte and Yann-Fańch are part of the trio Diamik, with fabulous accordionist Gwenaël Kijiver.
Brigitte is a strong, mesmerising singer and a riveting storyteller. Yann-Fańch accompanies her with his accordéon diatonique, his empathetic playing absolutely brilliant but never upstaging her. From the Breton folksong 'Ni Neus Ur Vag' (I've Got A Boat) to the ballad 'La Magicienne' to the dance-song 'Plinn Mari 'Ra Din C'hoarzhin', the two paint a fabulous picture of Brittany and Breton folkfore. 'Catharina Stockholm' tells of a ship wrecked on the Poitevine Coast. 'Gavotte Ton-Tripl' and 'Ronds de Loudéac' hint at the strong traditional fest-noz culture ingrained in every Breton - we could almost taste the crępes and the chouchenn!
Mick Tems

Pontardawe Arts Centre: April 24, 2013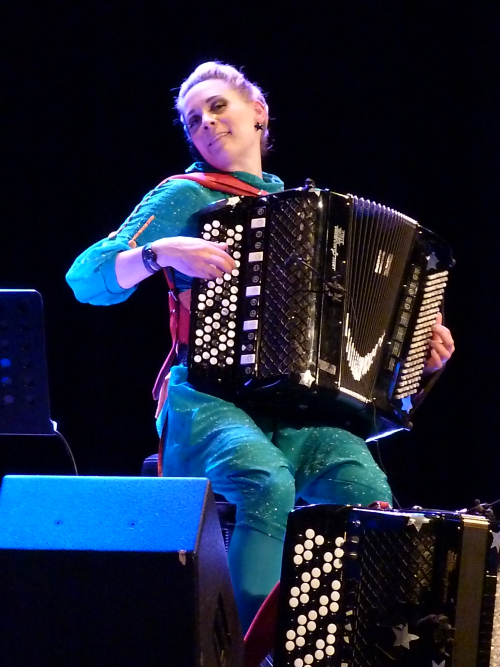 Dazzling virtuosity: Johanna Juhola. Photo: Lesley Davies.
Take a rainy night in Pontardawe, mix in four Finnish musicians playing tangos inspired by the dance halls of Buenos Aires and you have an eclectic evening with a touch of the surreal.
Johanna Juhola, star of the opening of the 2007 Eurovision contest hosted by Finland, has an undeniable presence, which coupled with some blistering riffs on the accordion created a mesmerising performance which swept away the small (but perfectly formed) audience. Johanna had fantastic support from the three musicians who make up Reaktori: Milla Viljamaa on piano and harmonium, Sara Puljula on double bass and Tuomas Norvio on electronic percussion (plus a few computer-aided gimmicks).
Johanna's showstopper Fantasiatango (which she performed in the Eurovision jamboree while dangling from a wire high up in a concert hall) was full of swirling rhythms, while a dance tune from the Finnish folk tradition proved a quirky piece with a jaunty double bass intro. Longing For The South had a lively waltz tempo with a weather forecast (yes, really) mixed in to enliven the proceedings and add an element of fun. Indeed, this intriguing blend of music and technology also saw a back projection of the famous tango singer Carlos Gardel, who was killed in a plane crash in 1935 along with his whole band. Johanna's mournful tribute Carlos also featured some stunning piano work, with rippling chords blending effortlessly to create a powerful impact.
Tango In An Elevator showcased accordion and piano; In The Groove was a fun tribute to amusement arcade dance games; while Bipolar Tango saw another back projection of a rapper, with the band building to a powerful climax, featuring excellent harmony singing. But my favourite song of the night had to be Path of Loneliness dedicated to the loneliest whale in the world (apparently he has no-one to talk to.) This had some beautiful vocals from Milla and some lovely well-timed accordion melding into a powerful whole. The Good Intentions saw another filmed contribution from a guest musician, Arnold Chiwalala from Tanzania, while Highway One proved a lively finisher, followed by an encore played at breakneck speed which once again demonstrated Johanna's dazzling virtuosity – Pontardawe has never seemed so exotic. Come back soon, Johanna.
Peter Davies

Roots Unearthed, Level Three Lounge, St David's Hall, Cardiff; April 30, 2013
It's unbelievable, but it's really happened; Home Service was considered to be dead and buried 25 years ago, but now actor and ultimate songwriter John Tams, formidable guitarist Graeme Taylor and stupendous percussionist Michael Gregory, spurred on by live Cambridge Festival tapes which have languished in the recording engineer's cupboard, have resurrected the band - and the eight-strong musicians are raring to go. They filled the Level Three Lounge with interested punters; Tams seemed unperturbed by the news that three of his musicians were missing. But sure enough and with five minutes to go, they reappeared, more heavy equipment being placed on the stage.
Twenty minutes late, Home Service roared into action - and they simply blew my mind with their no-nonsense folk-rock. This is an astonishingly fine band, with years of experience under their belts. Of the founder members, Tams is a brilliant songmaker and a mesmerising singer; Graeme Taylor, ex-Gryphon, is a guitar master and musical director, forging the original Home Service and The Albion Band, collaborating with artists as diverse as Kiki Dee, Tim Rose, Long John Baldry and Rolf Harris, spending 17 years accompanying Harris as The Roo Brothers; and percussionist Michael Gregory was a member of 'acid-folk' band Fuchsia, recording for the weird and wonderful Pegasus label, before spending eight years in The Albion Band, gradually morphing into Home Service. Since then, he has collaborated with many musicians, including the John Kirkpatrick Band, John Spencer's Alternative and The Green House Band.
Both Jonathan Davie (bass) and Steve King (keys) have impeccable credentials, while the brass section of Andy Findon (reeds), Roger Williams (trombones, euphonium and tuba) and Paul Archibald (trumpet and flugel horn) is absolutely stellar – both Roger and Paul are members of the Carthy/Kirkpatrick superband Brass Monkey.
The welling brass, Graeme's growling, virtuoso guitar, the band's prowling, deliberate beat, John Tams' expressive and soaring vocals, songmaking which rallies against the unequal, grossly unfair world we choose – or have got no right – to live in. You can bet that a few hundred people were galvanised that night, and Home Service should be decorated for doing so.
Mick Tems