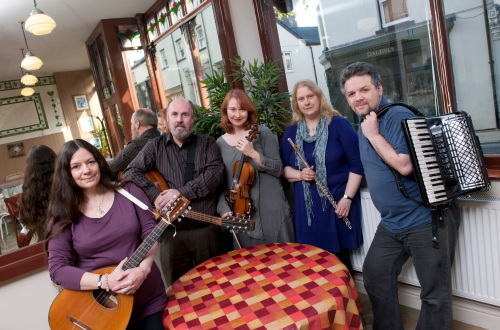 Allan yn y Fan: From left, Linda Simmonds, Geoff Cripps, Meriel Field,
Kate Strudwick and Chris Jones
by MICK TEMS
Four albums spanning 10 busy years, one EP collaborating with harper Delyth Jenkins, appearing twice at the prestigious Glasgow Celtic Connections, Welsh theatre tours, the gigantic Lorient Interceltique, concerts in Europe… life has definitely been good to Allan yn y Fan.
Like many a struggling Welsh learner, I literally translated in the Gwent five-piece's name as Out In The Van – a sensible monicker for a gigging band. But Geoff Cripps, guitarist, bouzouki and bass player and harmonising voice, knows a colleague who is working with Trac Arfon: "He told me that it also has a non-literal meaning of 'on the spot', which we also like!"
Allan yn y Fan started up as a twmpath band, and slowly metamorphosed into a touring concert act. But in case you're wondering if the five members will give up their day jobs, you can rest easy. All of the band have that rare honour to be holding down high-powered posts. Geoff is Artistic Director for Rhondda Cynon Tâf Theatres; Kate Strudwick (flute) is the Creative Project Manager for Head for Arts, a community arts organisation serving Blaenau Gwent, Torfaen, Caerphilly and Merthyr; Linda Simmonds (bodrhan and mandolin) is Senior Communications Officer for the Welsh Government; accordionist Chris Jones is Principal Implementation Engineer, implementing and configuring software for Optimized Systems & Solutions who are owned by Bristol-based Rolls-Royce Aircraft Engines, based in Bristol; and vocalist and fiddler Meriel Field is a peripatetic music teacher for voice and piano.
For Geoff, folk music and other forms of entertainment has been his life: "My involvement began during the folk scare of the 1960s with Pontllanfraith Grammar Technical School Folk Club – which was a very broad church! It continued when I ran a folk club while at university in Swansea. I stumbled upon Newbridge Folk Club when I returned to live back in Pont in 1974; I was very quickly voted in to become the club organiser when the original one emigrated to Australia."
Newbridge Folk Club changed its name to Islwyn Folk Club following a move to Ynysddu – and The Chartists, the band formed to commemorate the 140th anniversary of the Chartist rising and march on Newport, had major and long-lasting consequences. Geoff said: "We decided to set up the Steam Pie record label when every label we approached with that first album said they liked it a lot, but…
"We saw that if we didn't do it for ourselves, it wasn't going to appear - one of the best decisions we made! Huw and Tony Williams' first albums came out on that label, as did Icarus, my 1985 duo album with Louisa Rugg. The Folk On Monday BBC Radio Wales show came about directly as a result of BBC Wales producer Jack King stumbling upon Islwyn Folk Club and helping us get that first Chartists album onto vinyl. Jack took a gamble on me being able to become a radio presenter, and the first show was in November 1983 – I had a very good run until the summer of 1990, when the editor at Radio Wales changed.
"Throughout the 1980s – particularly with the help of Linda of the band – we were devoting most of our spare time to running the folk club and Islwyn Folk Festival. Via a stint at Garden Festival Wales and a brief period working for Actionaid, for whom I produced Giving People Choices, a charity folk album for their 21st anniversary, I eventually ended up as one of Wales' first Arts Development Officers for Blaenau Gwent in 1994. I remained there until April 2001 and, in the process, learning how to run and programme a venue – the Beaufort Theatre.
"From 2001 to 2003, I was proud to be entrusted with leading Trac as its first development director and gaining revenue funding. In the summer of 2003, I then jumped at the chance of the job at Rhondda Cynon Tâf. It will be a decade in that job this October!"
Allan yn y Fan started out as a four-piece twmpath band, and, says Geoff, they will be still pleased to play for the public's special occasions. They became a quintet in 2002 when fiddler Emma Trend joined: "We made our first album, Off The Map, through the winter of that year, releasing it 10 years ago in May 2003. Emma also recorded the second album, Belonging, in 2006 before she left the band in 2008, being replaced by Meriel. Meriel had already depped with us on a few occasions and so, when Emma left, she really was the ideal and obvious choice.
Meriel hails originally from near Mold in Flintshire but, says Geoff, she saw the light and moved a number of years ago to Abertridwr: "Meriel has really led to a big transformation in the band. She is a fabulous singer, a fiery fiddler and she has also, as the last album proves, got the ability to compose fine melody. She has encouraged all of us to discover our voices, and the introduction of songs into our repertoire has been the biggest change to the sound of the band over this decade for recording. We all think that she's up there with the very best of singers – and we all love crafting the accompaniments to her voice."
Off The Map was released ten years ago. Next came Belonging, in 2006, Trosnant (2009) the EP with Delyth, Lle Arall (2010), followed by Pwnco in April 2012.
The change from Twmpath band to concert act was gradual, as Geoff explains: "2003 saw saw us release our first album, and it led to us getting offers to play for concerts. As well as our touring in Ireland, it gave us the confidence that we really could take the concert stage – that we had something to offer for the listening audience. I think that those concert performances really allowed the band to showcase the fact that a large percentage of our material was being composed by band members, predominantly Kate and Chris.
"We played at Festival Interceltique Lorient in 2008, and the following year played a short tour in southern Germany. That tour and the reactions we were getting emboldened us to try and book a serious concert tour at home in Wales. We applied, and got, a modest grant from the Arts Council of Wales, which made the 2010 Home Ground Tour with Delyth Jenkins – 10 dates possible. We followed that with a shorter tour of Welsh theatres in 2011 and then last year, again with modest but essential support from ACW – undertook the Pwnco tour across Wales in April and May 2012.
"That year was a busy one, as we also played in the Czech Republic at Pisek, Caerphilly's twin town/district, and then in September a short tour in northern Germany – which was fantastic! There have also been various forays across the Irish Sea, cultural exchanges in Germany, the Czech Republic and France and a great little gig in Luxembourg. We made our second appearance at Celtic Connections in Glasgow earlier this year.
Which ones gave Allan yn y Fan the most pleasure? "Different concerts can give different satisfaction, and it isn't always dependent on there being large numbers present. For my own impression of recent concert tour gigs, I have most enjoyed Celtic Connections in 2009 – particularly having to follow on stage at the late night club Brian McNeill, Show Of Hands and Lau; Chichester Festival Theatre in 2011; Canolfan Ucheldre on Anglesey last May and St Peter's Church, Oyten in Germany, last September – great to see a packed church dancing in the aisles!
"Playing on the harbourside in Lorient was enormous fun, too. Closer to home, we love playing for the St David's Day parade. It's an amazing feeling playing to such a huge crowd that is so fired up with "hwyl" – even if it is generally freezing!"
Geoff still harbours the desire to give Welsh music a larger boost: "For me, the drive has always been that I am a populist – I always want to take the music as far as it can go! Not for personal egotistical reasons… but because of the roles I have been fortunate to have had, I have always been aware that Welsh music just didn't and still doesn't have the same profile as the music of our Celtic cousins – although I think there have been real strides over the past 10 years or so by the small number relatively of Welsh bands and musicians.
"I still would like to see traditional Welsh music get to a similar level of prominence as Scottish music and to see a course established for the music at our conservatoire in Cardiff – it's high time the Royal Welsh College of Music and Drama did as much for the indigenous music of Wales as they do for Jazz!
"Reluctantly, I have to admit that it is as hard now, possibly harder, that it was ten years ago to get decent audiences to come and see folk music in Rhondda Cynon Tâf theatres. That's a shame as – although I like a huge range of music – I think that those local audiences are missing out on great performers playing vital music. I haven't thrown in the towel yet, though!"