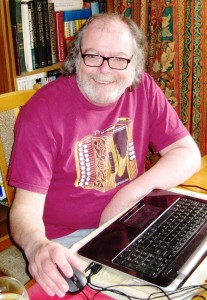 We are deliriously delighted and so very excited to present to you the all-singing, all-dancing NEW FolkWales Online Magazine – it's packed with posts concerning the Folk Scene that we love so much, centred on the Welsh Nation which is undergoing a cultural renaissance right now. Please have a good look at it and tell us what you think, via the email posts placed at your convenience. The beauty of FolkWales Online Magazine is that anyone can contribute – with judicious editing, of course! And we are still in the look-out for loads of reviews, both 'live' concerts and CD highlights.
We envisage FolkWales OM as a "rolling" updated magazine, with no edition deadline – and, in fact, with no editions. News, articles, information and opinions can be uploaded easily and instantly to create a new interest and keep the cauldron boiling and bubbling. Obviously, the emphasis will be on Llantrisant Folk Club. but we want to invite all Welsh performing centres – clubs, pubs, arts centres, theatres, festivals and the music world – to join the never-ending dance.
Wales is an exciting, rewarding and beautiful country to live in, and FolkWales OM will focus on events, topics and stories that matter; the movers and the shakers, folk development organisations, the traditional and the inspirational musicians living in Wales, an instant all-Wales and the borders Listings Diary of folk and roots events, CD and live reviews from concert halls down to the tiniest of folk clubs, dance and traditional drama in Wales, BBC radio folk personalities – the list is endless.
FolkWales OM is edited by Mick Tems, Llantrisant Folk Club co-founder and Life President, journalist and former Calennig musician, who says: "FolkWales Online Magazine is reaching around the world, to Australia, New Zealand, America, Canada, Europe – and Wales, too. I'm proud to be playing a part of this showcase for the Welsh tradition."
Special thanks and warm hugs must go to Llantrisant Folk Club membership secretary and committee member Olly Athelstan-Price, FolkWales OM's guru, and Creative Industries Manager David Lewis of Grew Media, Pontypridd. Our vision is to regard Cymraeg, the Welsh language, as an equal partner with English, and we will work towards this welcome outcome.