Click Here for Reviews Archive
Expand the Table of Contents (below) to find the review you want
JANUARY 2020
---
SETH LAKEMAN
A Pilgrim's Tale

BMG 19813
Now, this is a rip-roaring, salty, stonking album! Seth Lakeman traces the Plymouth pilgrims and their little ship, The Mayflower, in search of The New World and story and self-composed song. It's a time of rejoicing, known as Thanksgiving, which Americans across the globe celebrate on the last Thursday in November.
There's a dark history of The Mayflower voyage; English puritans, persecuted in the Reformation, fled to the Dutch city of Leiden, where they lived and worked for ten years. In 1620, 102 pilgrims, skilled carpenters and Leiden citizens hired The Mayflower, which set off from the port of Plymouth and sailed across the Atlantic to live a religious life, free from all restrictions. Many years ago, a young girl from the Wampanoag native American tribe dreamed of a floating island with tall trees; strangers, who were climbing these trees, landed on the Wampanoag lands which nowadays is named Plymouth and Cape Cod. The girl was an old woman now, but she dreamed this strange dream twice. The dream became true; the Europeans carried deadly diseases, and the Wampanoag tribe was decimated.
The actor Paul McGann narrates the gripping tale, and it's spiced with Seth's mighty songs which juggernauts to the final end, with the help of stellar musicians Benji Kirkpatrick, Ben Nicholls and Cara Dillon. Cara executes some lovely harmonies across the way, and Geoff Lakeman – Seth's dad, not to mention Sean's and Sam's – contributes his wonderful voice.
Seth and his chunky, biting fiddle bring a whole new lease of life to West Country tradition; for example, 'Sailing Time' tears a whole great chunk out of the familiar and well-loved 'Farewell Shanty', invigorating it, reviving it and giving the Cornwall sea song a shot in the arm. For God's sake, buy it!
---
DECEMBER 2019
---
MR H
It's Never Too Late

Barium Villa Records
A few years ago, a songwriter called Mr H packed his acoustic guitar, left his home in Mid-Wales and displayed his bourbon-and-cigars voice to an unsuspecting Llantrisant Folk Club, taking control of the stage and rocking, rolling and boogieing as if his tortured soul depended on it. Mr H is not his real name – born Andrew Robert Harris in Builth Wells in 1958, he grew up in the village of Beulah. He used to perform under the nom-de-plume of Harry Harris, until another Welsh songwriter called Harry Harris contributed to the confusion at a festival in his home town. When a promoter introduced him as "Mr H", he decided to carry on with his new-found monicker to avoid any misunderstanding.
Mr H is not only a songwriter but a producer as well, and he's best known for his musical collaborations with Hawkwind saxophonist Nik Turner and his recording sessions with John David, of Rockfield and Berryhill Studios fame. He's occasionally appeared in festivals such as The Green Man, The Acoustic Festival of Britain, Brecon Jazz, Aber Jazz, Tenby Blues and Hay-on-Wye's HowTheLightGetsIn.
It's Never Too Late is his eighth album, bar and one EP and a few singles; he walks a very fine line between constructive word imagery and all-out rock. His daughter Layla shines as she sings on 'War Game' and 'Leather Jacket', and his gritty vocals lead a tight little band through ten of his memorable songs – 'Come Back Annie', the title track's roaring chorus and the banner-waving anthem, 'Wales', just float my boat. It's not your average folkies' particular cup of tea, but I love it anyway!
---
NOVEMBER 2019
---
TWELFTH DAY
Face To Face

Orange Feather Records
Twelfth Day are based in Edinburgh and Glasgow and consist of vocalists and composers Catriona Price on violin and viola and Esther Swift, who plays pedal harp. Both are rooted in folk and schooled in classical education, and this musical marriage has resulted in a spellbinding, happy collision of soaring, startling harmonies and scintillating songwriting, laced with an inventive and go-ahead attitude. Drummer John Lowrie and double-bassist Andrew Robb add to the magical mix and help to create a no-holds-barred, red-hot offering.
This impressive recording is Catriona's and Esther's fifth release, including the EP Speak From The Start; Fiere, their first collaborative debut album with Gaelic singer Joy Dunlop, came out in 2012 and featured a collection of songs by female Scottish writers which explored the lives, loves and experiences of women in Scotland. In Face To Face, all twelve sizzling tracks are an absolute joy, from the inviting opener 'Keep Me', through the instrumental 'Oma's', the eerie 'At The Filling Station', the sassy 'Superwoman', the wonderful title track to the closing 'Reset Button', always the admirable finisher.
Catriona and Esther have thrown down the gauntlet and deconstructed folk into an edgy, bold new music which stands up proudly against the rat race of the commercial charts. More power to their elbows!
---
GWEN MÀIRI
Mentro

***** FIVE STAR CHOICE! *****
Recordiau Erwrydd ER004
Tornish – Gwen Màiri Yorke and Tim Orrell – came down to Llantrisant Folk Club a couple of years back, and they crafted an absolute shedload of sheer magic. That was the night when Storm Doris raged, and a goodly number of hardy souls braved the pelting rain and the violent wind. I was there, and I was very glad to see the clarsach harper and the flute and whistle player in full flow. What an consummate, delightful evening…
Gwen Màiri was born of a Welsh-speaking mother and a Scottish father, and is a graduate of the Royal Scottish Academy of Music and Drama. The Welsh called the lowlands of Scotland and Northern England 'Yr Hen Ogledd' – The Old North, a time when modern Welsh was derived from the ancient celtic language spoken there. The verb Mentro translates as 'to venture'; or the Welsh vernacular slang is "Paid a mentro!" – "Don't you dare!" Recorded at Sain Studios for Gwen's solo debut album, Aled Wyn Hughes has co-produced ten spectacular tracks for Recordiau Erwydd, the folk, acoustic and traditional offshoot of the Sbrigyn Ymborth company. Erwydd is only young, but the growing youngster has gained a considerable reputation for releasing a small clutch of stunningly beautiful albums; and Mentro can proudly hold its head high. This is one to treasure.
Gwen is accompanied by two award-winning musicians, Gwilym Bowen Rhys on guitar, mandolin, fiddle and shruti box and Jordan Price Williams on cello; both Gwilym, Jordan and Gwen's clarsach weave a glittering web of starkly delicate and intricate tunes and age-old verses, and her lovely voice floats and soars away. Gwen is rooted in the Welsh tradition, and her love of composing adds to her reputation; she contributes the melody to a poem written by her mother in 'Tawelwch' (Quietness) and her grandfather, who passed away in 2005 ('Hwyr' – Late in translation.) Mentro showcases a battery of wondrous ancient music and contemporary writing, including her traditional song which has become her mantra, 'Mentra Gwen' (Venture Gwen). From the starter 'Yr Wylan Gefnddu' (The Black-backed Gull) and the Old Testament verses of 'Rhosyn Saron' (Rose Of Sharon)  through 'Y Dydd Drwy'r Ffenest' (The Day Through The Window), 'Blewyn Glas Ar Ddole Teifi' (Green Blades On Teifi's Meadows) to Gwen's written finisher, 'Cyn Gwawr' (Before Dawn) this album flies the flag for rich Welsh culture and her heart-stopping, shimmering clarsach. Definitely an album to watch, hear and really appreciate!
---
LORRAINE JORDAN
Send My Soul

HZ013
Remember Lorraine Jordan, born in South Wales of Irish parents and making her name as a schoolgirl performing in the local folk clubs? Lorraine was steeped in the Irish tradition; her first band was the wonderful Mooncoin trio, with respected fiddler Mike Lease and uillean piper-cum-whistle player Theo Schuurmans. However, she moved to the Scottish capital Edinburgh several years ago, playing and touring with Scots-Irish outfit Malin Head before becoming a solo artist with her own band. This prolific songwriter with a must-hear, smoking-hot voice tours Scotland, Ireland and Europe; She's building her Australian and American audience, and her latest album stands up tall and demands to be listened and enjoyed.
Lorraine's Irish roots go back a long way. Her father was an All-Ireland flute champion and her uncle, Frank Jordan, is a well-respected flautist in County Roscommon. Lorraine's grandmother and her brothers all played the concertina, and her great-grandfather was a flute player of some renown. Lorraine's other influences, such as Cat Stephens, Joan Armatrading, Van Morrison and John Martyn, forge a happy collision which is mirrored in her utterly powerful and spellbinding volume of musical material.
All 12 tracks on Send My Soul are a sheer delight, from the opener 'The Secret To Everything', through the really impressive title track to the closing 'Major To Minor'. Lorraine contributes guitar and bouzouki, performs double-tracked harmony vocals to die for and presides over a glittering array of session musicians, from Steafan Hannigan's low whistle, Gill Hunter's accordion and bass to Cormac Byrne's bodhran and percussion. She's an eye-opening writer who deserves to recognised; if she could return for a South Wales mini-tour showcasing the new album, that would be really something.  
---
OCTOBER 2019
---
DEBRA COWAN
Greening The Dark (EP)

MHM 819
Oh, joy! Debra roars in with six stunning songs on this EP, shaped and formed by the cream of writers – and East Coast exile Dave Mattacks, former Fairport Convention drummer, can reap the plaudits for some brilliant and ear-bending arrangements and production at the Babyland Studios in Medford, Massachusetts. This American regularly commutes across the Atlantic, where she delights audiences by touring folk clubs and events around the UK; she will be promoting Greening The Dark in her next foray in October 2020. However, the EP will not be available on most websites, except Debra's own.
These five written songs (plus the traditional favourite 'Hills Of Greenmore', heralded by a crash of drums) blaze a trail and pinpoint the direction where the folk movement is heading. Emily Portman certainly scores with her mysterious, complicated but delightful 'Bones And Feathers', while Richard Thompson has inspired and encouraged a thousand folk club floor singers with 'The Old Changing Way', a 50-year-old composition which still amazes. The late Lal Waterson wrote 'Anna Dixie' and fashioned it to her own individual character, while Lester Simpson's 'Polly On The Shore' is a real hard-hitting chorus belter. John Tams' moving, beautiful 'Scarecrow' chooses words which he polishes like diamonds; all in all, it's a satisfying finisher.
Debra's clear cristaline voice rises above Dave's scores, and she duets with herself to produce snatches of heart-stopping harmony. Dave lends a hand with percussion and keyboards, and a number of session musicians accompany her, including fiddle, bowed bass and flugelhorn; Debra's friend John Roberts plays hurdy-gurdy on 'Hills Of Greenmore' and concertina on 'Scarecrow'. Just a brief EP, but perfectly formed!
---
KARINE POLWART
Karine Polwart's Scottish Songbook

Hegri Music (no catalogue number)
Well, well… Karine has just surprised and amazed everyone with her stunning solo show and CD, A Pocket Of Wind Resistance, and her follow-up album, the hard-hitting political and environmental rallying cry, Laws Of Motion; now she's done it again with a personal testimony of 50 years of Scottish songwriting artistry, both in the pop and folk scene – and her brilliance scores a resounding hit. Recorded at the Chem 19 studio in the Clydeside town of Blantyre, Karine Polwart's Scottish Songbook features regular touring mates, brother Steven Polwart and accordionist Inge Thomson, with bassist and keyboard player Graeme Smillie, percussionist Calum McIntyre and Louis Abbott, writer, singer, guitarist and leader of Scottish band Admiral Fallow.
Karine interprets Eighties classics like The Waterboys' lovely 'The Whole Of The Moon' – always a satisfying starter – Deacon Blue's 'Dignity' and Big Country's 'Chance', while nestling alongside them is the electro-pop of Chvrches ('The Mother We Share') and the balladry of Biffy Clyro's 'Machines'. However, this is not just a covers album, not by a long chalk; she is her own mistress of her destiny, and she shapes, carves and moulds the songs to her unique individual musical skill. Karine observes: "To me, these are songs of resilience and resistance, cries of despair and dreams of something better. They're pop songs, but also love songs to people and places we all recognise. They totally fill my heart up".
The album celebrates the living and salutes those who have gone before; Karine rubs shoulders with Gerry Rafferty's 'Whatever's Written On Your Heart' and the sombre darkness of John Martyn's 'Don't Want To Know', before signing off with the enigmatic Ivor Cutler's hypnotic piece 'Women Of The World'. The late John Peel always used to showcase Ivor's performances in his BBC radio broadcasts; this song consists of just a simple, brief line, but it repeats itself mantra-style, swelling and flowing and hammering home until Ivor's message just cannot be forgotten. Louis's voice takes over, and Karine's vocals can be heard, rising up in harmony – what a grand finisher, suitable for making the listener sit back and think.
---
SEPTEMBER 2019
---
MICK'S QUICKS
Gaelic-speaking accordionist and guitarist Calum Martin has just released his seventh album, Imrich (Leum Records LR005) in the 40 years since his original band, Island Express, recorded their debut in 1979. This lush album is dedicated to the brave Scots during the Highland Clearances who were forced to leave their native land and sailed for Canada; Quebecois accordionist Yves Lambert and his trio are featured in one track, recorded in New York, and Calum's friend Scott Neubert plays strings in Nashville. A host of musicians accompany Calum, including Cathy Anne McFee, Ross Ainslie, Lorne McDougall and Alasdair White. The superbly talented Mattie Foulds plays drums, as well as mixing and mastering; Here's one to watch and listen. FolkWales verdict: thumbs up!
The Estonian trio Oopus consists of Mari Meentalo (vocals, flutes, Estonian bagpipes, jew's harp), Johannes Ahun (synthesisers) and Aleksander Sprohgis (lights and visuals), and their debut album Nõidus (own release, no catalogue number) attempts a mix of Estonian folk culture and synthesised house music; sadly, there's too much wibbly-wobbly electronics and only a sniff of Estonian roots. FolkWales verdict: thumbs down
Welsh-born songwriter Harry Harris is living in Edinburgh now; his album, I Feel Drunk All The Time (HHCD 101) walks a very fine line between his soaring vocals, his impressive and penetrating poetry and his tendency to veer into hard rock. In these desperately depressing days, here's a word from Harry: "This album is a guide on how to stay calm whilst the world is ending" – I'll drink to that. FolkWales verdict: thumbs up!
Scottish singer-songwriter and keyboard player Beth Malcolm has released her second EP, Choose My Company (BAM 102), five tracks written in Glasgow, the city which has become her lyrical muse. Guitarist Dorian Cloudsley adds some sparkle, there's pleasant harmonies and tinkly piano, but her songs don't seem to go anywhere and lack a certain oomph. FolkWales verdict: thumbs down
 Award-winning Glasgow folk fivesome The Paul McKenna Band have released their fifth album, Breathe (PMB002CD), and it's very storming! The gritty voice of songwriter Paul lits the blue touch-paper and allows the four musicians – Ewan Baird (bodhran, percussion), Conor Markey (guitars, bouzouki, mandolin, tenor banjo), Robbie Greig (fiddle) and Conal McDonagh (uilleann pipes, flute, whistle) to swoop and soar sublimely. J P Cormier's 'The Molly May' is a nice touch. FolkWales verdict: thumbs up!
The heady, swirling mix of Armenian folk songs and the Swiss-based jazz-classical Authentic Light Orchestra dips and dives in the very impressive album The Sky Is Cloudy (Naxos NXW76112-2). Swiss multi-instrumentalist Valeri Tolstov, a composer with Armenian roots, instigated the project and plays ethnic Armenian instruments, joined by the lovely voice of Veronika Stolder. FolkWales verdict: thumbs up!
The soaring, haunting voice of East African/Kenyan artist Papillon heralds the spellbinding and utterly beautiful Moyo (Naxos NXW76114-2) – the album means 'heart' in Swahili and 'life' or 'spirit' in Mbeere, his mother tongue, but he composes his own music in several languages and designs his own traditional African instruments. The 14 tracks send a strong message of Mother Nature speaking; in 'Heart Of Africa', where Ayub Ogada, Papillon's mentor and teacher, pinpoints the alarming and worrying swathes of deforestation of most of the people's green land and the threatened Congo rainforest, from the tree's point of view. FolkWales verdict: thumbs up!
Sofia Talvik is a Swedish songwriter and folk singer with Americana roots, living in Nashville; she has released her eighth album, Paws Of A Bear (Makaki Music, MMSCD21) and her delicate-as-a-butterfly angelic Nordic voice creates a country-like dreamworld. FolkWales verdict: thumbs up!
Nashville-based songwriting collective The Orphan Brigade are influenced by musician Ben Glover's Antrim roots, but sadly it doesn't end there. Any Celtic traces are quickly suffocated on their album in third album, To The Edge Of The World (independent recording, no catalogue number) and it's just another Americana rock band. FolkWales verdict: thumbs down
British guitarist and enchanting singer Saskia Griffiths-Moore celebrates Woodstock's fiftieth anniversary with her album Baez, Dylan & Me (own recording, no catalogue number) with a host of session musicians including Kit Hawes (guitar and mandolin), bassist Thomas Holder, Thomas O'Keefe on violin, keyboard player Ali Petrie and Gareth Young on percussion. Actually, it's all Dylan covers; the only Baez hit, 'There But For Fortune', was written by Phil Ochs. Inexplicably, Saskia ends with The Beatles' 'Let It Be' -but for all its faults, it's very hummable and pleasant. FolkWales verdict: thumbs up!
Gathering Tides are four Royal Birmingham Conservatoire musicians costing of violinist, composer and producer Seth Bye, composer, artist and performer Dan Cippico, composer Sam Baldwin and percussionist Alexander Henshaw; their startling and inspiring six-track EP Floodgate (independently produced, no catalogue number) is bubbling over with eye-popping originality, heady ideas, sheer energy and brilliant playing. From American trad song 'Shady Grove' to the ambient contemporary 'Rise And Fall', they sail through the instrumental tracks with consummate ease with Flook-like agility. FolkWales verdict: thumbs up!
Live Miranda Solberg, AKA the nu-folk silver-voiced Louien, is one fourth of the Norwegian Americana band Silver Lining and now she's gaining attention as a solo artist in her own right. Her album None Of My Words (JANSEN109CD) is centred on her mourning and grief following the loss of her father; her writing takes you on a shimmery dreamworld, her acoustic guitar delicately finding the notes of the tune. Starkly beautiful, if the lyrics are a little bit inaudible. FolkWales verdict: thumbs up!
---
AUGUST 2019
---
YOUNG TRAD TOUR 2018
Young Trad Tour 2018

***** FIVE STAR CHOICE! *****
TMSA18
The Folk Tradition in these islands is simply soaring ahead and creating a mighty buzz of popularity with its inspiring and creative musicianship – The Nation of Wales, England, Cornwall, The Isle Of Man and the heady mastery of dear old Ireland are all positively on fire. It goes without saying that Scotland is leading the field; and the Young Trad Tour's sizzling, bubbling-with-joyous-energy new album is proudly waving the Saltire Flag.
Young Trad Tour 2018 weaves around the downright gorgeous voice of West Lothian singer Hannah Rarity, winner of the Radio Scotland Young Traditional Musician of the Year Competition 2018 and One To Watch In 2018 in The Scotsman daily newspaper; I listened to her debut album, Neath The Gloaming Star, released in September 2018, and the critics' reviews were overwhelming in their praise. Hannah is supported by six wonderful musicians – Perthshire fiddler and 2017 winner Charlie Stewart, Ross-shire whistler and piper Ali Levack, Sutherland pianist Rory Matheson, County Durham guitarist and vocalist Luc McNally and Glaswegian bagpiper David Sheddon. Amy Papiransky, from Keith, lends her voice, while the eighth contributor, spectacular guitarist, banjo player and fiddler Anna Massie, is musical director. All ten tracks were recorded and mixed by Angus Lyon at Gran's House in South Lanarkshire, and the whole album promises some very good things to savour.
The first track explodes with the traditional strathspey 'Back Of The Change House' (where fiddle, pipes and piano attack the tune with sheer gleeful abandon) and two written reels, Bruce Gandy's 'Steve and Diane of Cheltenham' and George S McLennan's 'Alick C McGregor'; then Hannah and Amy plunge in with delightful harmonies in 'Tae The Beggin'' and Brian McNeill's beautiful statement 'Strong Women Rule Us All'. The gay jig 'Sunnyside' was written and sung by Amy; however, writer Findlay Napier has gained a considerable reputation, and 'The Rothes Colliery' is one of his best, with an audience-friendly chorus which the punters roaring the refrain can only be imagined. The colliery was opened in June 1958, amid plans for a super-pit. Two huge concrete coal winding towers were constructed and became a landmark; Lord Forbes, Minister of State for Scotland, forecasted a life of 100 years. The new town Glenrothes, in the middle of Fifeshire, was specially created to house the miners. But geological problems and severe flooding sealed the pit's fortunes, and The Rothes colliery closed after only five years and became a political embarrassment and a gigantic and costly failure. The two towers were blown up in 1993.
The instrumental arrangements are exquisite in their originality; fiddler Luc leads 'The Dancers' Delight', while Rory tumbles and somersaults the keyboards in J Scott Skinner's giddy 'The Mathematician', following up with Ian Carr's switchback 'Baby Isle Of Ewe'. Charlie executes a mighty fiddle in the self-written 'Josie and Pablo's Reel' (with a nod of appreciation to Duncan and Lafuente!) and the whole glorious shebang is brought to an end with David's bagpipes in 'Sandy Trip To Glasgow', winding up with the Finlay McDonald-written reels 'Troy' and that wonderful Scottish multi-instrumentalist and composer Matheu Watson's 'Picnic In The Sky'. I treasure this album the most, not because of the stunning performance of the team but because their hearts and minds are absorbed in the fabulous Scottish tradition. Young Trad Tour 2018 will go a long, long way.
---
VICKI SWAN & JONNY DYER
Twelve Months & A Day

***** FIVE STAR CHOICE! *****
Wetfootmusic WFM190201
 No doubt about it – I could follow Vicki and Jonny's wonderful, exciting music to the ends of the earth and never tire of their friendly, uplifting magic. Twelve Months & A Day is their eleventh album, including their collaborations with mesmeric storyteller Nick Hennessy; however, they were in a quandary about searching for a theme for the next collection. Traditional songs, dance or even early music? Nevertheless, deciding on a theme would exclude them from their folk club repertoire and their lovely shows – and Vicki and Jonny quickly realised that the ultimate theme was just being themselves. To quote from the sleevenotes: "This is a snapshot of what we got up to in 2018 – and what, with a bit of luck, we will keep doing through 2019 and beyond."
The ultimate theme is their loving tribute to the folk scene, to the dear friends and companions, to the familiar faces that attend the clubs again and again, to the warm and supportive atmosphere that just keeps the musicians like Vicki and Jonny going and producing intelligent, inpiring albums like this. The two are absolutely spot-on harmonisers and masterful multi-instrumentalists, the but it is Vicki's links to Sweden and her quartet of oktav, standard, fiddle and Siena nyckelharpas that really seals the deal. The nyckelharpa is a traditional keyed Swedish violin, roughly related to a hurdy-gurdy, with a stringed drone or drones giving it a unique and shimmering sound; you can hear it on the opening track, 'Andy Clarke's', as the nyckelharpa joins in with Jonny's strident and impressive guitar in the beautiful 'Långsammapolskan' before breaking out in a whirlwind for mad tunes.
Vicki and Jonny dedicate 'Andy Clarke's' "for Andy and Ruth, who inspired two of the tunes", the shivery 'Gallows Tree' for their album cover designer Daria Kulesh; and the dreamy, romantic 'Dance All Night' for Sue and Stewart, "who always look so happy when they're dancing." In fact, they dedicate all 12 tracks to folk scene friends and families, both local and way on the other side of the world; the entrancing 'Midsommarn' for three Scandinavian musicians "for paving the way forwards whilst looking back", the traditional carol 'Mary Free', "for all families the world over in the holy pursuit of a stress free and magical Christmas", the sad American traditional ballad 'John Lover', learned from Kieron Means and Sara Grey, "who showed us the beauty and power of simplicity"; and the greatest tribute of all, 'Folk Club Song', "for Jim Shouler, and everyone" – where Jonny and Vicki affectionately salute the familiar faces as they constantly tour the music circuit, even nameless acquaintances who have disappeared and have gone to the heavenly singaround.
Vicki and Jonny have soaked up like a pair of sponges many a gleam, glint or worldwide musical knowhow that the wise old folk scene can impart to them, and the abundant harvest has certainly paid off tenfold. Scandinavian culture and Swedish folk music exert a steady and unerring pull, especially 'Calle Slips'; however, they ring the profound changes by delivering 'Palästinalied', the high German song of the crusades, and the 13th-century Occitan song 'Ai Vis Lo Lop', where Jonny blows the eerie cornu and carnyx in addition to his band of instruments, which includes the bouzouki, piano, harmonium and the citole. (The original Occitan song was 'Ai Vist Lo Lop', which roughly translates as: "I saw te wolf, the dancing fox and the hare; they were up in the tree.")
Vicki adds brilliant flute and double bass, and she unceasingly promotes her nyckelharpa family. I will always treasure this absorbing, must-hear album; and whenever they decide to come this way again, gigging from their home in Braintree in the county of Essex, I'll be in the queue cheering them on.
---
THE SPOOKY MEN'S CHORALE
Welcome To The Second Half

***** FIVE STAR CHOICE! *****
SPOOKY8
What a stunning, startling, seriously stonking album this is. The Spooky Men's Chorale are an approximate 16-men acapela choir – actually numbering 27 on this CD's production – who beguile, confuse and delight the listening crowds by wearing ridiculous headgear and delivering heart-stopping harmonies, devilish arrangements and a shed-full of deadpan humour. Originally based in the Australian state of New South Wales, one contingent are based in Western Australia now – and half a dozen UK singers have joined their ranks, going on the road with a touring offshoot that takes the name of A Fistful Of Spookies. The choir leader (or spookmeister) is Stephen Taberner, a New Zealander born in the South Island city of Christchurch; he devised The Spookies, and the chorale's whole sell-out popularity is down to his ingenious multi-layered composing, coupled with his inspiring flair for the confoundingly absurd.
Welcome To The Second Half is The Spookies' sixth album, and it marks a shift in musical direction. Taberner contributes no less than seven of the twelve tracks, and the first title track charts the chorale's whirlwind shooting to heady stardom, with the pay-off line: "we would not change a thing… the vast bittersweetness of knowing this life for what it is." The second track, 'What's Going To Happen Now?' symbolises the usual pre-concert uncertainty and nerves, but it sums up: "Actually it will be fine; surrender to the mystery, surrender to the time." Taberner's third song in the trilogy is 'Waiting For Our Things', which bleakly describes a stark air of resignation after a long and tiring flight when you're desperately hoping that the carousel might produce your luggage so you can get home at last. His switchback compositions dip and swoop to a vertiginous degree, and both he and the Spookies summon up an absolute sparkling shower of tinglingly dissonant and full-on, in-your-face harmonic singing. These are voices to die for.
Taberner takes The Spookies on a mad whirlwind of originality, from the polyphonic Georgian song 'Tshkenosnuri' through the folk-blues evergreen 'Pallet On Your Floor' to his striking masterpiece 'Pyramids', the men's vocals tumbling relentlessly over each other in a vivid sound-picture of the Pharaohs' slave labour. And what's more, the chorale poke fun in a merciless and loving parody of the supergroup Queen mixed with the yee-hah tradition in 'Rhapsody In Bluegrass' – 'Galileo' mixed with perfect yodelling is sheer brilliance!
The Spookies round off two tracks with 'Let's Dance' – a tribute to Bowie which effortlessly segues though the great man's hits, including 'Changes' and ending up with 'Starman' – and Brian Wilson's 'In My Room', from The Beach Boys memorable album Pet Sounds. I can honestly say that I have played Welcome To The Second Half time and time again, and I keep on discovering hidden wonders and delights that The Spookies uncover like delicious sound-like honey-traps. Again, quoting 'What's Going To Happen Now?': "Open your ears, open your eyes and never underestimate the value of surprise!"
---
GWILYM BOWEN RHYS
Arenig

***** FIVE STAR CHOICE! *****
Recordiau Erwydd Records ER003
Arenig Fawr is an imposing mountain in Snowdonia which rises to 854 metres (2,802 feet in old money) and gazes down on Llyn Tegid and the market town of Bala. Gwilym won the accolade for Best Solo Artist at the Welsh Folk Awards this year, and he's soundly topped this feat by releasing this exhilarating, eye-popping album – his third, after the impressive debut O Groth Y Ddaear (From The Womb Of The Earth) and the wholly absorbing collection of old Welsh ballads, Detholiad o Hen Faledi #1. His new collection is based on the beautiful poem which his late great uncle, Euros Bowen, wrote about the ever-changing colours of her craggy peaks which sparked such wonder; Gwilym's supercharged growling voice packs a real punch, and his razor-sharp vocals attack and challenge his audience before gently caressing them with impassioned love and undying respect for traditional song.
He summons up a spectacular session band to die for – harper Gwen Màiri; fiddler, viola and one-track trombonist Patrick Rimes, stalwart of Calan; Lâtmandola and fiddle player Marit Falt; clarinettist Tegid Roberts; and Cowbois Rhos Bottwnog members Aled Wyn Hughes on double bass and percussionist Dafydd Rhys Hughes. Apart from that, Gwilym expertly juggles with an amazing array of instruments – guitar, fiddle, mandolin, harmonica, shruti box, trumpet and percussion. In days of yore, I seem to remember that he played a mean set of Welsh bagpipes on one of trac's shows at the Roots Unearthed series in the L3 Lounge at St David's Hall, Cardiff – what a talented guy.
Gwilym really is on fire with the whole of his lovely, must-hear album. The first traditional track rises to expectations and doesn't disappoint at all – the saucy 'Yr Hosan Las' (The Blue Stocking'), with Gwen, Patrick and Marit absolutely flying and Gwilym soaring on white-hot guitar, with sizzling vocals forged with unbridled male testosterone. Arenig is a heady mix of strong, proud tradition, with Gwilym putting Welsh culture on a pedestal with his striking composing and songwriting. The beautiful tune 'Jac Yr Oil' is his tribute to his great-grandfather who was sent home from the trenches after suffering a gas attack and hit upon making his living by selling domestic oil from a horse and cart; and  'Jeri Bach Gogerddan' is his musical ode to the Welsh Romani gypsies and their invaluable contribution to the tradition. Meanwhile, 'Byta Dy Pres' (Eat Your Money) berates the selfish leaders who are more concerned with their financial interests and those of powerful corporations than the wellbeing of the fragile planet – you know who you are! 'Er Fy Ngwethaf' (Despite Myself) showcases the contemporary poet Elis Dafydd, while 'Lloer Dirion Lliw'r Dydd' (Gentle Moon The Colour Of Day' is hauntingly mysterious, and the celebratory May carol 'O Deuwch Deulu Mwynion' praises the coming of spring and is a perfect curtain-closer to this marvellous offering. Needless to say that it's Gwilym's fine tune-polishing that provides the musical spark.
Apart from 'Chychau'r Gog' (Blue Bells, Gwilym's tribute to spring) and 'Da Gennyf Air O Ganu' (I Enjoy A Little Singing, traditional lyrics to his composed tune), the stand-out has to be the title track, composed by Gwilym and arranged by him and Gwen Màiri, with the recorded voice of his great uncle ringing down the years. Gwilym possesses a mighty voice and he's an ace songwriter as well – but what is most heart-warming is his total regard and reverence for ageless Welsh musical tradition. It's such a proud heritage, and it deserves to be fostered and nurtured – and perhaps he might well be the man for the job…
---
 JULY 2019
---
THE CLUTHA
Live From Harvard

CLUTHA2019CD
www.birnamcd.com/birnam-pr/clutha/
One of my most pleasurable memories was when we, The Clutha and The Glasgow Police Pipe Band sailed with Britanny Ferries en route to the gigantic Lorient Interceltique Festival; a massive storm blew up, and the six-hour crossing took 13 hours as the ship wallowed off Roscoff Harbour, the captain calculating that it would be too dangerous to dock. We had a mighty session that day! Live From Harvard is taken from a long-lost recording, unearthed from a dusty cupboard, of The Clutha on a two-week USA tour in 1981, and the 17 tracks capture the five musicians at the height of their powers. The Clutha was one of the great bands who pioneered the Scottish revival, and this album is released following the sad news that stellar-voiced Gordeanna McCulloch passed away in March this year at the age of 73. Many regarded her as being the greatest of all traditional singers; the recording shows her wonderful, youthful voice delivering effortless performances, rich with the respect and love for the tradition and fuelled with the gallusness of the Glasgow lassie.
The birth of The Clutha was conceived in 1964, when three young librarians at the Mitchell Library in Glasgow shared an interest in Scottish traditional music. Erlend Voy, John Eaglesham and Don Martin got together with former colleague Ronnie Alexander to form The Clutha Folk Group. Two new members were recruited to fill in the guitar, fiddle and concertina sound; fiddler Callum Allan and an astonishingly talented young singer, Gordeanna McCulloch. Soon the expanded group was performing at Scottish folk clubs and festivals, with occasional forays south of the border; one of these was a trip to London's Cecil Sharp House to take part in a radio programme. The Clutha became famous for its sparkling approach to the Scottish tradition; nevertheless, the members continued to hold down day jobs, often arriving home in the wee small hours to catch very little sleep, steeling themselves to be up for work at 9am.
In 1981, The Clutha was invited to go to the USA to perform at The South Eastern Massachusetts University's Eisteddfod of traditional music. The committee wished to present the Eisteddfod's brainchild, eminent folklorist Professor Howard Glasser, with a surprise guest group, and The Clutha fitted the bill. Professor Glasser was aware of the band's existence for their important position in the Scottish revival. A tour was arranged from September 24 to October 9, and The Folksong Society of Greater Boston invited the members to perform at Harvard University's Lowell House.
All 13 tracks were recorded live at Harvard University; the other four tracks were taken at The Granite Theatre in Westerly, Rhode Island, before the end of the tour. The 1981 line-up consisted of Ronnie Alexander (guitar, vocals), Callum Allan (fiddle), new member Tom Johnstone (pipes, small pipes), Gordeanna McCulloch (vocals) and Erlend Voy (fiddle, concertina, vocals). Live From Harvard, expertly digitised and engineered by Andrea Gobbi and Sam Welch at Carrier Waves Studio in Glasgow, is a brilliant portrait of the band's exciting commitment in shaping the music of Scotland; Ronnie stokes up the atmosphere by taking the lead on the first song, 'Jock Hawk's Adventures In Glasgow', and Gordeanna blazes away with her rendering of 'The Spinner's Waddin''. Tom delights and amazes the audience with the pipe tunes 'The Saffron Kilt', 'Duncan Johnstone' 'Train Journey North' and 'Turf Lodge', and everybody pokes fun at 'The Deerness Ram', a ubiquitous Scottish whopper that seems to be doing the rounds in the UK and the Appalachian Mountains in America; it even had a local Mumbles version in South Wales!
The band spins an exhilarating stage show with a fascinating gamut of songs and pipe reels, airs and jigs; the lovely 'Tramps And Hawkers', Hamish Henderson's 'The 51st Highland Division's Farewell to Sicily' and 'Twa Recruiting Sergeants'. However, Gordeanna tops the lot with 'Peer Rovin' Lassie' – a satifying conclusion to end their appearance. This album is a fitting salutation to the passing of two members; Ronnie died in March, 2017, preceding Gordeanna's death this year. The sleeve notes pay this this tribute: "Two wonderful performers, forever remembered through song." The Clutha – laugh, cry, dance and sing…
---
JUNE 2019
---
HUW SIMMONDS & ROB PARRETT
The Boy from The Big Hill

Cool Fossil Music CFMCD 015
The Big Hill is the English translation for Brynmawr, the high, bleak town that nestles near to the Heads Of The Valleys trunk road in South Wales; The Boy From The Big Hill is a collaborative project which traces the history and development of Brynmawr, Abergavenny and the surrounding area through art, music, stories and poems. Huw is guitarist with a penchant for clever and emotional wordplay, and Rob is a prolific and creative music writer for TV, film and major record companies around the world – he's also a renowned solo artist. Both musicians will showcase their compositions on the album on Monday, June 28 at 7pm this year in Martins Framing and Gallery in Baker Street, Abergavenny.
The Boy From The Big Hill is the culmination of the project, which slowly developed when Martin Fletcher opened his picture framing business at the Old Police Station in the Gwent town in 2005, adding a small gallery for local professional artists to exhibit their work. One of the artists was Goff Danter, who has a studio in Beaufort Street, Brynmawr and is recognised as being amongst the most sought after and collectable painters in the contemporary art market. He and Martin became firm friends; Goff has a permanent display at the gallery, but for this special event he concentrated on paintings relating to the project – a combination art, music, stories and poems connecting the life, history and legends that bond the spirit and character of the area.
The album's cover is Goff's imposing artwork of Brynmawr; the intro is Huw's solo guitar on 'View from the Big Hill', a Parrett-Simmonds work following on to Rob's song, 'Brynmawr Town'. Huw leads, and several guest musicians contribute, including Yr Hwntws member Dan James on mandocello. Another guest is the wonderful songwriter Huw Williams, who plays guitar and sings his impressive penning 'Blaina Boys 1930'; this song was inspired by a photograph dating back to the Depression, which started in 1921 with the closure of several local collieries. Unemployed miners went to the South of England in search of work, and this image shows the men from the village of Blaina in Brighton beach in 1930.
The informative album notes show a timeline from the 17th century to the comings and goings of Brynmawr in the 1960s. There's a strong local rumour that William Shakespeare wrote A Midsummer Night's Dream after visiting Clydach Gorge and the romantic valley Cwm Pwca; it certainly provided the inspiration to 'From Shakespeare's Cave to Pucks Valley'. 'The Lonely Shepherd's Wife' is a limestone pillar above the Clydach Gorge; the legend goes that a farmer was so cruel to his wife that she threw herself into the river and drowned. For punishment, the farmer was turned into a pillar of stone. 'Push The Gambo' relates to the wooden carts used by the workers to haul limestone out of the quarries, and 'Farewell Rock' was a band of sandstone, nicknamed by ironstone miners who knew that digging deeper would yield no iron ore. On the last track, Frank Westall narrates 'The Old High Street', an absolute welter of the countless commodities that Brynmawr customers could buy in many small-town community shops.
The Boy From The Big Hill isn't just an album; it's a treasured souvenir of the rise and fall of the industrial revolution in the South Wales uplands, boosted by coal and iron and further enhanced by Goff Danter's striking, memorable artwork. I have already got my eye on one of his paintings – but I'm not telling you which one!
---
LYNNE HERAUD & PAT TURNER
Watching For Winkles

WildGoose Studios WGS430CD
No doubt about it – a Lynne and Pat performance just has to be one of my favourites. I love their startling, scintillating harmonies, rich voices that totally hit the nail right on the head and seriously capture my heart; their ever-changing repertoire skips lightly between ancient grand ballads, folk songs of desolate beauty, intelligent song-writing and their own wicked, near-the-knuckle material. Watching For Winkles is the latest and the sixth album; Lynne and Keith Kendrick recorded the original (Stars In My Crown, which came out in 2000) and Lynne and Pat will still flog you two of their song books.
Watching For Winkles is a delicious melêe of 15 varied tracks, including 'Brighton Belle', which Pat wrote for a Music Hall at the Broadstairs Folk Festival. The duo is well known and loved for their hilarious music hall performances, and this album has 'I Do Like A Bit Of Fried Fish' and 'Why Did I Ask Him To Tea?', written by Lynne. However, Lynne and Pat have many considerable talents; they set the bar very high with 'Fair Rosamund', the oldest of all known ballads, dating back to the 12th century, the 18th century tale 'The Brown Girl' and the sad 'The Two Brothers'. They showcase two songs from the wonderfully prolific American writer Mary Chapin Carpenter, who now resides in her remote farmhouse in Virginia; 'Only A Dream' comes from the Songs From The Movie CD, and the deeply personal and profoundly moving 'The Moon And St Christopher', which could only be sung by those of feminine qualities.
The duo have a keen ear for searching out folk songs from around the world; they interpret '(The Wrecking Of) The Nightingale', from the singing of Helen Schneyer, the American folk artist who was in born New York City and died in Vermont at the age of 84, and 'When I Was A Young Girl I Used To Seek Pleasure', a song collected by Alan and Elizabeth Lomax in 1941 from Mrs Texas Gladden of Salem, Virginia. 'I Will My Love An Apple', a version of 'The Riddle Song', was collected in nearby Essex in the 1900s. And apart from 'Brighton Belle,' Pat contributes three compositions – the lovely guitar-led 'North Wind', the gently funny 'Crafty Ladies', and 'Hertfordshire Lullaby', which redresses a long-standing complaint lamenting the paucity of Hertfordshire songs.
However, Lynne and Pat save the cutest until last – the title track 'Watching For Winkles At Westward Ho!', written by their late friend Hilary Bix. They write that she was "a wonderful singer, dancer, folk club and festival organiser and a spectacular artist. It's a pleasure to be able to perform this song." Memo to Llantrisant Folk Club Bookenführer: Let's invite them down again for a truly memorable and enjoyable night!
---
LISA HANNIGAN & S T A R G A Z E
Live In Dublin

HOOP Recordings PLASR1060CDP
www.lisahannigan.ie
Dublin-based Lisa Hannigan spent twelve years as a solo artist, recording three albums (her Mercury Prize-nominated debut Sea Saw, through Passenger of 2011 to her latest release, At Swim). She has cemented herself as one of Ireland's most important present-day songwriters, and with her roots in the folk scene, she is used to performing in stripped-back settings. However, her first live recording saw her collaborating with Andre de Ridder's magical contemporary classical chamber orchestra s t a r g a z e for a one-off concert at Dublin's National Concert Hall in October, 2018, and this wonderful 14-track spectrum of her work came out at the end of May this year.
The musicians of s t a r g a z e invited several composers, including Bryce Dessner, Timo Andres, Josephine Stephenson, Cormac Curran, Romain Bly and Aart Strootman, to compose arrangements and to give Lisa's writing a fresh, startling look. Lisa says: "Their gifts turned my musical Kansas into Oz. These songs have been bought to new life." She describes s t a r g a z e as "One of the most sickeningly talented groups of people I've ever met" – and with Lisa's favourite, drummer Ross Turner, and a trio of Irish women (Sallay Garnet, Karen Cowley and Rosie Garney) blending in on superb angelic harmonies, the live concert was about to be recorded.
The breath-taking scores of s t a r g a z e transcend Lisa's soaring, swooping and totally lovely voice; the overall effect is dreamlike, mysterious and ethereal. High points are 'Ora', 'Prayer For The Dying', 'Anahorish', 'We The Drowned' and 'Fall'. However, Lisa's diction is a little stifled by the swelling, restless sound, and it's difficult to decipher the meaning of her lyrics – a great shame, that. Anyway, it does not detract from what is a beautiful, unique album.
I listened to the CD, which costs £10; theirs is also a double vinyl album (£25) and a double vinyl album plus CD, which costs £30
---
OUT OF HAND
Too Young to Drive The Bus

WildGoose Studios WGS429CD
With an average age of just 21, the six-member Out of Hand are one of the youngest and freshest ceilidh bands on the English and Welsh folk circuit. An offshoot of the National Youth Folklore Troupe of England (NYFTE), the musicians are scattered all around the country. They have already played at UK folk festivals, including Sidmouth, Towersey, Chippenham and Shrewsbury; prominent stages like Cardiff, London, Cornwall and Manchester have experienced visits from the band, often tightly squeezed into a minibus, which none of them holds a licence to drive – in fact, the subtitle of this promising debut album is Too Young to Drive the Bus. Not to be outdone, the father of one of the band does the indispensable job of transporting every man-jack (or woman-jack) to the next gig.
Out of Hand comprise rhythm guitarist David Dailly, drummer and cajon percussionist Chris Campbell, fiddler Penny Kempson, bass and rhythm guitarist Richard Portlock, whistles and recorder player Stuart Duncan and mandolinist and citternist Will Sartin – in fact, Bellowhead ex-member Paul Sartin plays guest fiddle on the second track, 'The Late Lunch Set', and good friend John Wilde adds beautiful flute on pretty French piece 'La Petite Salopette'. The whole album is an inspiring, happy melange, overflowing with tunes by French writers, the Irish composer and concertina expert Niall Vallely, traditional melodies from America, Ireland and Scotland and sparkling compositions from wonderful fiddler John McCusker, spectacular flautist Mike McGoldrick and squeezebox phenomenon John Kirkpatrick. However, Penny holds the lion's share with no less than four of her impressive written tunes: ''Fiddles On Fire', 'QPB', which was written in France, 'Luke's Waltz' and the careering, topsy-turvy 'Canoer's Reel' – she's one to watch in the composing stakes.
This band are really special, and NYFTE have done a fabulous job in seriously cutting their teeth. All are fine musicians, and as ceilidh bands go, Out of Hand's enticing collection of jigs, waltzes and reels just can't be beat – a definite thumbs-up!
---
MAY 2019
---
BOB LESLIE
The Barren Fig

Big Red 4
The Barren Fig stands for Scotland, as songwriter Bob Leslie reveals in his very first track of his second album, 'Up, Carles, Dance!' Bob was Edinburgh-born but with chunks of Orcadian, Glaswegian and Irish heritage, plus a smidgen of French DNA. He started out playing and writing way back in The Folk Boom of the 1960s, but he says he was led astray "by friends of the electric persuasion" and spent next few decades making his living on the London rock scene. He was approached by The Kinks' managers – who put him in a studio and recorded demos of his songs – and Chrysalis Records, who were looking for someone to write something on the lines of Bonnie Tyler's 'Total Eclipse of the Heart'. These leads fizzled out, but the consolation was that Bob played with members of Camel, The Hank Wangford Band, The Sensational Alex Harvey Band and other great musicians.
Bob returned to full-time folk music in 2012. He was already settled in Glasgow, and he released his first album Land and Sea in 2017. The twelve tracks of The Barren Fig tell tales of supposed descendants of a crew of a Spanish Armada lifeboat that ran aground on Westray, an island in Orkney, and adopted Orkney names – for example, Hugo Pérez became Hugh Petrie ('The Westray Dons'.) In 'Lands O The Sioux An The Cree', the Hudson Bay Company recruited 95 per cent of their employees from Orkney. 'Beira', the last song, is based on the Celtic myth of a one-eyed blue giantess who rules over winter and becomes the summer goddess.
Bob plays guitar and bass; however, his dramatic, booming voice seems a little bit tethered to the 1960s, which was when he abandoned the folk scene for London's greater riches. Kate Kramer features once more on fiddle, with Annie Neville on accordion, while Pauline Vallance adds embellishments on clarsach and flute.
---
APRIL 2019
---
AMY GODDARD
Always A Dreamer

Independently released: no catalogue number
After three albums of self-written material, here's a change of direction for Merthyr Valley-born Amy, who married and moved away to Portsmouth on the Sussex coast. Always A Believer is her tribute to Californian singer-songwriter John Stewart, who was born in 1938 and died in 2008. John was a member of The Cumberland Three but joined The Kingston Trio; Amy's father, Alan Whitby, liked folk music and was a huge fan of The Kingstons, and says in the sleeve notes: "When John joined them, I was on a roll." Alan saw them at the Hammersmith Odeon on their one visit in 1962; when the group disbanded and John went solo, Alan writes: "It was a natural transfer for me."
Amy never saw John performing live; however, when Alan drove his daughter to school and later to work, she was exposed to the recordings which Alan had in his car. The exposure certainly worked; this album is all John's intelligent, flowing writing, bar Amy's last song and salute, 'Lonesome Picker's Last Hurrah'. Alan shares the vocals, and Amy's mother Lyn joins in the chorus in John's only million-selling hit, The Monkees' 'Daydream Believer'. Amy says: "This upbeat tune masks a song of disillusionment. For the Monkees' recording, 'funky' was changed to 'happy', because Davey Jones wasn't allowed to sing 'funky' – which rather changed the point of the song. John protested, but when the single hit number one, he told producer Chip Douglas: 'Happy's real fine now.'" John sometimes introduced his version: "I'd like to thank The Monkees and Anne Murray for recording this song – it enabled me to buy this coat."
For those supposing that John was a one-hit wonder, Amy and her rippling guitar admirably demonstrate that he was a folk songwriter of great worth and magnitude. 'Cody', Dreamers On The Rise', 'Bringing Down The Moon' and 'Queen of Hollywood High' are proud banner-wearers for his bulging suitcase of material. George Grove and Rick Dougherty were long-time members of The Kingston Trio, while Jerry Siggins joined them to form a new group, Folk Legacy; here, Amy performs the 1963 John Stewart song 'If You Don't Look Around', recorded with the voices of George, Rick and Jerry. Amy's intriguing album is further enhanced by her engineer and producer Brian Kutscher, of whom she says: "3,700 miles and the fact that we have never met in person have not got in the way of a brilliant working relationship." Good on her!
---
NICK DOW
The Dark Eyed Gypsy (CD/video)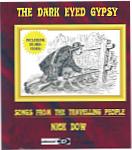 Independently released – no catalogue number
Email: Thetraditionbearer@hotmail.co.uk
This fascinating, absorbing audio CD and extremely watchable video of Gypsy folksong, life and culture was made as a direct result of several successful workshops at Sidmouth and Whitby Folk Weeks and Warwick and Tenterden Festivals. Londoner Nick married Mally a number of years ago; she was intensely proud of her Gypsy heritage and to her, home was a wooden horse-drawn Gypsy caravan or wagon, until the family settled in a house. She was the first child who went to school and become educated.
In the video interview, conducted by Lawrence Ingham from BBC Manchester, Mally says that she dreamed of becoming a student nurse but learned to stay silent about her Gypsy lineage; Gorgio prejudices – such as the horrible experiences she describes when she was urinated upon – would make sure she did not have a career. As a child, she slept in the 'bed spot', underneath her parent's bed: "It's lovely and comfy, very safe and secure." She describes the travellers' close community, when the place to stop and rest was called an atching tan, and the Gypsy folk would gather the wagons in a circle, swap stories, relax and make music. She learned to step-dance, courtesy of her great-uncle Charlie Ingram, who played the harmonica; however, cold and dark winter was a harsh season of dread, when snow, ice and biting wind seemed to last for ever.
Both Mally and Nick built a business of restoring Gypsy caravans; Nick has a wonderful story of a wife called Jo asking him to restore a caravan for her husband's sixtieth birthday. She said that money was no object – Jo's husband was Rolling Stone Ronnie Wood, who was absolutely over the moon with his surprise present and spent his leisure hours just sitting in the caravan with his family in the grounds of their imposing London house. With the Gypsy film archive, it really is a revealing and watchable video.
Nick's album, labelled Songs From The Travelling People, is an informative showcase about Gypsy life, leisure and age-old culture; his assured, assertive voice and masterful guitar are more that capable of holding the audience's attention, while his compulsive repertoire shows his regard and respect about the travellers' ways. 'Down By The Tanyard Side' and 'Her Mantle So Green' plus the title track 'The Dark Eyed Gypsy', all come from the Lee family of Blackpool; Nick says that Mary Lee has been his source to more than 50 songs and the family recordings of Bartley Wilson and Sam Gorman. 'Riding Down To Portsmouth' is based on the Mary Ann Haynes' version, and 'Uncle Charlie's Hornpipe' refers to Mally's great-uncle, wagon-builder, step-dancer and singer; this was his tune, and appears to be a version of 'Pigeon On A Gate'.
Nick says that 'Master McGrath' is very popular with the travelling community; he has sung it numerous camp fires, but hardly ever in folk clubs. 'Big' Roy Morris, who was the first Gypsy to sing the song to Nick, had some advice on Nick's rendition: "You're singing it like a folk singer – not our way!" Nick defends his performance by singing it "the other way", slower and unaccompanied, like Roy. A talk with Eddie Matthews triggered both 'Geordie' and 'Creeping Jane; and 'The Faithful Horse' is a true story, written by Tom Walsh, of a police raid on a gypsy camp which resulted in the death of a gypsy horse. According to Nick, it's his most requested song: "The travellers and folk audiences love it, and so do I." Several names from the showbiz world have latched onto it, including Dave Peacock of the late lamented Chas and Dave duo; according to Nick, Dave had heard Tom's version first. Finally, Nick collected the last verse of 'The Blacksmith' from an un-named singer at Stow Horse Fair camp fire several years ago.
Nick and Mally have created a loving relationship which is a sound and wise example between Gypsy-Gorgio understanding. Despite all the pressures, intolerances and ignorant bigotry, Gypsy culture and tradition is still the strongest and most resilient of all.
---
BOOK REVIEW

– HELEN ADAM
Tunelines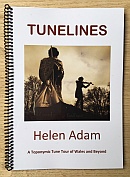 Abbey Bookbinding & Printing Ltd, Unit 3, Gabalfa Workshops, Clos Menter, Cardiff CF14 3AY – no ISDN number
Carmarthenshire fiddler Helen Adam is a member of the Fiddlebox duo with accordionist George Whitfield, who joined the loveable folk-rock band Pressgang in 1988 and finally left in 2014. Helen and George came together in 2002, and their long working relationship has spurred an absolute plethora of musical styles, including klezmer, rock, classical, celtic folk, Welsh dance music and song, blues and bluegrass. Helen is also well-known and respected in organising sessions and teaching Welsh tunes; CLERA – Cymdeithas Offerynau Traddodiadol Cymru, the Society for the Traditional Music Instruments of Wales – organised an outreach scheme in 2012, with the aim of establishing tune clubs throughout the land to promote the wider familiarity and playing of Welsh traditional music. Helen founded a tune club which was originally based in Llandeilo, where it met for a few years. When she moved to Llandovery in 2016, the club moved with her and became the Tywi Tune Club.
The CLERA project, funded by Arts Council Wales, branched out into far-reaching schemes in the developing story of traditional Welsh music. In 2013, Helen devised a book called Knotwork, which included twelve arrangements of traditional Welsh tunes. Based in Llandovery, she began composing more harmony parts to tunes – and Tunelines, labelled A Toponymic Tune Tour of Wales and Beyond, is the culmination. Published by Helen and Rob Bradshaw, an accordionist living in the Vale of Glamorgan village of Llanmaes and a member of Llanilltud Tune Club, based in Llantwit Major, this book is composed of 50-plus traditional and written Welsh melodies and tunes from outside Wales, which have a special significance for her. In Autumn 2027 and Spring 2018, Helen gave two workshops to Llanilltud Tune Club, and the idea for Tunelines sprang from those sessions.
The striking cover shows Helen playing 'Llanymddyfri' in Llandovery Castle, an image captured on video by Nick Swannell. The Tywi Tune Club are on the video, which is on the Tunelines website (www.tunelines.com/). Why 'Toponymic'? It's an adjective referring to tunes associated with different geographic places. As we look through many tunes of the book, 'Abaty Llantoni' (Llantony Abbey), 'Aberdaugleddau' (Milford Haven), Joseph Parry's hymn tune 'Aberystwyth' – which has entered the folk tradition – and 'Ar Ben Waun Tredegar' (On Top Of Tredegar Moor) just jump out – so does 'Bwlch Llanberis' (Llanberis Pass) and the beautiful waltz 'Cader Idris'.  There's the gay traditional dance called 'Dawns Flodau Nantgarw' (The Nantgarw Flower Dance), plus the light-fingered jig 'Deildy Aberteifi' (Cardigan's Leafy Bower) and a very descriptive 'Deryn y Bwn o'r Banna' (Bittern From The Beacons – now sadly extinct.) Helen arranges 'Ymdaith Caerfilli' (Caerphilly March) to an audacious harmony tune which she calls "a rather cheeky counter melody which you will love or hate."
Among his other musical interests, Rob is a member of Llantrisant Folk Club as well; however, I'm sorry to say that I am not by any means comfortable with computer etiquette and my constant battle with the keyboard is a permanent, puzzling nightmare. For those of us who are electronically challenged, the advice is to pay an expert to do it; however, Rob writes: "For the technically minded, Helen's music was converted via XML into ABC notation, and then edited and formatted on an Apple MacBook using EasyABC to produce a single PDF. This was then merged with the rest of the book." He also credits and thanks some other helpful suggestions, such as pointing them towards very useful software, using SVG rather than Postscript to enable the Welsh alphabet to be used and editing some of the tune titles in the music instead.
A number of composed tunes, such as Patrick Shuldham Shaw's 'Coleg y Brifysgol Abertawe' (Swansea University College) and organist John Hughes' 'Cwm Rhondda', have passed into the Welsh tradition, where they are busy being swallowed up and digested by hundreds of music students and seasoned session players. However, a healthy and vibrant tradition bursts out of the political boundaries and looks to no borders; in days gone by, musicians from Wales, especially the Welsh gypsy harpers, simply picked up their portable instruments and strode off to the next gig. Those musicians must have wandered a very long distance: the mystery is that a Welsh and a Northumberland tune, which had become separated by a couple of hundred miles, still sounded so completely identical. For example, the old Welsh hornpipe 'Y Gwr A'i Farch' (which isn't included in this book) is a dead ringer for the north-eastern 'Go To Berwick Johnny'; likewise, the light and delicate harp melody 'Pwt A'r Y Bys' (A Vamp On The Finger', again, not included here) is transformed into an English polka, roughly translated as 'Buttered Peas'. Fascinatingly, Helen includes the dancing minor-key jig 'Difyrrwch Gŵyr Dyfi' (Delight Of The Dyfi Men); however, this is just the same melody as a Devonshire song which was fashioned by writer, composer and wit Thomas d'Urfey, born in 1653 in Exeter and died in 1723. Difyrrwch Gŵyr Dyfi? d'Urfey's Delight? Who can tell? But, as she says: "It's worth including as it's such a gem to play."
Helen includes many copious notes about the history and the playing of the tunes; for instance, the tune of 'Dawns Flodau Nantgarw' dates back to the sixteenth century and is certainly earlier than the Welsh midwinter carol 'Nos Galan' or the later 'Deck The Halls With Boughs Of Holly'. Hughes composed 'Cwm Rhondda' for the Pontypridd Eisteddfod of 1904, and developed it in its present form for the 1907 inauguration of the new organ in Capel Rhondda, Hopkinstown; while the beautiful 'Llongau Caernarfon' was written by J. Glyn Davies, who set it to this haunting Norwegian melody – and 'Rheged' was not from Wales but was located in Cumbria, a Brittonic-speaking region with its own dialect in what is now Northern England and Southern Scotland. 'Ffoles Llantrisant' (The Foolish Lass of Llantrisant) was one of the glittering winners in the Wales Folk Awards in April, and Helen recommends this song as "a good one for beginner musicians as it uses only five notes, and they are the first five notes of a major scale."
Just a word about copyright: Helen and Rob hope that all musicians will enjoy playing her arrangements, and the music is free to use for the purposes of amateur music making, including music teaching – and please do credit her. If musicians wish to perform, record or broadcast in any medium, then they must obtain prior written consent from Helen. Please contact her on helenadamfiddle@gmail.com – you know it makes sense. Tunelines costs £12, plus postage and packing.
---
BOOK REVIEW

– DELYTH JENKINS
That Would Be Telyn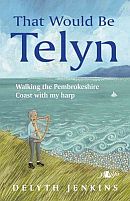 Y Lolfa, ISBN 978-1-78461-672-4
In the summer of 2012, Welsh musician Delyth Jenkins spent 17 days and nights walking the 186 miles of the Pembrokeshire Coast Path, from St Dogmaels in the north to Amroth in the south, carrying her diminutive harp with the intention of giving many open-air concerts along her way. Her daughter Angharad, fiddler with the Welsh supergroup Calan and her mother's musical partner in the the duo DnA, also known as Delyth and Angharad, describes her trek as "totally bonkers". She called the project Llais Yn Y Llwybr/ Voice On The Path – now Ceredigion publishers Y Lolfa have released this charming, thoroughly readable book about Delyth's utter determination to complete the scenic way, a feat which has defeated a plethora of hardened walkers.
However, That Would Be Telyn is by no means a dry travel itinerary, not by several long chalks – instead, Delyth uses her considerable writing art to magically transport us into the awe-inspiring, beautiful and sometimes lonely track which has spurred our imagination and the bulging history of misty figures who walked these shores and transformed the South-West Welsh coast with a thousand years of history, from maritime Vikings who settled there to battling Jemima Nicholas, who thwarted the French mini-invasion, armed with only her tall black Welsh hat and her red betgwn. Delyth's passionate love of Pembrokeshire and her numerous stops along the way, sometimes luring a couple of walkers with the traditional music from her harp – Telyn in the Welsh language – and sometimes playing to an appreciative (and not so appreciative) audience, provide a pile of tales, yarns and stories which she relishes. She's a magical storyteller and a seasoned historian, too; not only does she entertain the readers, but teaches and informs us, too.
This absorbing book is dotted with Delyth's appreciative words about the kind-hearted consideration shown by the Welsh coastal community, the offers to help which would take the drivers out of their way; the life-long friends who joined her and sent her on her with loving wishes of encouragement; the fascinating vignettes describing the human psyche; and the breath-taking grandeur of the National Park. Often, we find Delyth walking alone with only her thoughts to accompany her; she muses wistfully and affectionately for her estranged husband Nigel, the poet who deserted Delyth and her two young daughters so that he could write alone. In late 2013, the year after her madcap walk, she was able to spend some time with him, alone together, before his untimely death in January 2014. She writes: "The awkwardness and pain of the years of our being apart had dissolved and we had regained some of the ease and closeness of our early days together."
She had just started writing her experiences along the Pembrokeshire Coast Path; Roy Noble of BBC Radio Wales interviewed her, asking: "Why are you doing it? Are you depressed?" She recounted it to Nigel – who Delyth describes him as "an honest writer who left no stone unturned" – and Nigel replied: "Well, you'll have to answer that question." In the Afterword of the book, Delyth finds the answer: "It is with the rhythm of walking I think best. I can think creatively, of words that I will write, of tunes that I will compose, of plans and further adventures. And so this 17-day walk was a marvellous opportunity for me to assess my work, my creativity, my life."
---
THE MEADOWS
Force Of The Tide

Independently released – no catalogue number
After releasing their opening foray EP, Through The Fayre, Carmarthenshire's young family band have turned their debut full-length album into a pretty cute and pleasing collection which just lifts the listeners' spirits up with their quiet, youthful freshness and original innocence. Force Of The Tide explores and investigates the stirring story of the coastlines of these seafaring islands; the quartet pay homage and learn from many timeless traditional song carriers, and included amongst them are snatches and influences of The Gower Nightingale, Phil Tanner, Recordiau Sain creator Dafydd Iwan and our own local heroine Frankie Armstrong, who still conducts singing workshops from her home in Cardiff and is a resident singer at the monthly Riverside Acoustic Tuesday nights.
Meet the Meadows siblings: Melody (piano, flute, violin, whistles, guitar, recorder, vocals), Fantasia (piano, violin, whistles, vocals), Harvey (violin, guitar, piano, bodhrán, vocals) and the youngest member of the family, Titania, who is lead singer and plays piano, violin and percussion. Titania, Melody, Fantasia and Harvey were brought up in no ordinary house; every room was brimming with music, and their classical education played an important part. They have been trained under some of Britain's finest musicians, including a phalanx of BBC NOW orchestra leaders and principal players – and Harvey has designed the lightning-tinged album cover, which is really visual.
The album makes reference to recurring salty maritime themes (while the most threadbare link is 'Maid In Bedlam', where she's rescued from a fate worse than death by her true love, who just happens to come home from sea). First up is a shimmering, striking fragment with Harvey on violin and Fantasia on piano; this leads into 'Lovely On The Water', a haunting tale of two lovers who are forced to part by looming war. 'Henry Martin' is a Scottish ballad which tells the story of piracy on the high seas; Phil Tanner first recorded it on a 1937 Columbia label and named the song 'Young Henry Martin'. Henry Martin was actually Sir Andrew Barton, who with his brothers had been granted "letters of reprisal" by the Scottish king against the Portuguese, who plundered a rich Scottish ship owned by Barton's father. However, Barton not only plundered the Portuguese fleet but Flemish ships to boot; he then turned on the English as well. Titania makes a good job of what is a very gory story – and she coaxes The Meadows' individual sound into breathy, feminine vocals with flashes of striking harmony, courtesy of Melody and Fantasia, and Harvey joins in on the chorus of 'High Barbary'.
The beautiful melody of the song 'Maid Of Culmore' paints a picture of the Irish diaspora, where millions set sail to affluent London, to America and the world over, in search of a new life; and the beautiful Welsh lullaby 'Si Hei Lwli Mabi' (recorded by Dafydd Iwan, among many artists) blends in with the gently rocking ship. The girls' harmonies just cannot be beat. Fantasia summons up three fiddle tunes: 'Bedd Y Morwr' (The Sailor's Grave'), 'Heron On The Water' (which uncannily resembles the Irish reel 'The Swallow's Tail') and the rumbustious 'Dribbles Of Brandy'.
There are one or two glitches where a seasoned producer might have asked the band to go back and record again; for example, the lead voice stumbles over the verses on 'High Barbary', which is played just a tad too fast, and the band seem a little unsure of the majestic, mysterious 'Lowlands Away'. The late Stan Hugill, iconic author, prolific artist, language authority and the last shantyman, said this ballad was originally a pumping song but was later used as a windlass and capstan shanty. It was never too popular, as it was difficult to sing; however, sailors passed it on to African-American seamen and dock workers of the Gulf of Mexico ports in Mobile Bay, who loved the sentimental words. Poet and sea-song expert Cicely Fox-Smith strangely gave it as a halyard shanty, and said it was practically extinct by the 1880s; but American collector James Madison Carpenter recorded a completely different version from South Wales sailor William Fender, who lived in Barry Dock. Fender signed up on the tall ship Ingomar, learned the song in 1885 in the Chilean port of Valparaiso and brought it home to Wales again – and who knows, perhaps The Meadows might pounce upon it and perform 'Lowlands' as an important South Wales link. Here's hoping, anyway! By the way, the late folk collector and author A. L. Lloyd said that sailors around the Liverpool area and the North of England were called 'Johns' – therefore the chorus "Lowlands away, my John" makes sense.
This is a quietly relaxing album – and I look forward to the band's next one.
---
MARCH 2019
---
MICK RYAN & CAST
Here At The Fair (double CD)

WildGoose Records WGS428CD
Mick Ryan always holds the golden reputation of writing prolific and absolutely singable material, which is why his songs get sung and there's a lengthy queue of artists of artists just waiting to interpret them. His latest is his sixth 'folk opera', Here At The Fair, and he's assembled a glittering cast; the year is 1850, and the fiery zeal which fired the political reformist Chartist movement is still an undying memory. The folk opera is set at a country fair, where travelling showmen and women arrive to set out their stalls. Mick plays Vincent Crummles, a character from Dickens' novel Nicholas Nickleby and an actor manager, who has now fallen on hard times. The cast includes Alice Jones as Crummles' daughter, Ninnetta, 'The Infant Phenomenon'; Cohen Braithwaite-Kilcoyne (of Granny's Attic) plays reluctant clown Steven Starling, based on Sissy Jupe from Dickens' Hard Times; Pete Morton is Professor Sleary, another character from Hard Times, who now runs a flea circus; fortune teller Madam Lavengro is played by Heather Bradford; Geoff Lakeman plays snake-oil salesman Doctor Maldini; and the other members of Granny's Attic are in the cast as well; the strong, controlled voice of George Sansome plays ballad seller John Smith, and Lewis Wood is in perfect character as the itinerant fiddler.
The inspiring co-operation between Mick and WildGoose owner and recording engineer Doug Bailey deserves a whole heap of applause for pulling off his folk opera successfully; however, it must have been a careless slip of the keypad to announce in the notes that Chartism was an English movement for political reform. Wales and Scotland, too, marched together – in fact, Scotland had more than 20 Chartist churches. The Peterloo Massacre of August 19, 1819, saw 80,000 people hear radical speaker Henry Hunt address a political reform meeting at St Peter's Fields, Manchester, and 11 people were killed as the Yeomanry tied to seize revolutionary banners. However, this was completely overshadowed by The Newport Rising of November 4, 1839, where more than 10,000 coal-miners and many Chartist sympathisers – led by John Frost, Zephaniah Williams and William Jones – marched down the Gwent valleys to the town of Newport, determined to free their fellow Chartist prisoners from The Westgate Hotel; in the ensuing melee, about 22 demonstrators were killed by troops of the Nottinghamshire Regiment and 50 were wounded. Frost, Williams and Jones were arrested for treason and were sentenced to be hung, drawn and quartered; however, these sentences were commuted to transportation. Another Chartist leader, the notorious Welshman and druid Dr William Price, had serious doubts about the march on Newport and withdrew his support. He later escaped to France, disguised as a woman.
Mick depicts the middle of the 19th Century where the whole of the country was plunged into economic hardship and austerity, with the population having to scrape a living – those far-right Brexiteers should heed a deadly serious and totally inevitable warning. However, the whole of the cast really pulls together and comes out singing and shining with a double-CD of 22 tracks; Lewis plays the introductory tune, while Mick coaxes the punters with a calling-on song, 'Here At The Fair', with dancing tuba beckoning them on and persuading them to see the show and to stump up some money. The songs tumble out thick and fast; Cohen takes the lead with 'It'll Do', swelling into a chorus belter, while the sweet, lovely voice of Alice (described by fRoots as "a seriously impressive singer") caresses the lyrics in 'We Must Wander'. Mind you, Pete steals the show with his over-the-top rendition of Sleary's 'I Have Fleas!'
Act Two shows the darker side, with Geoff's tale of Peterloo, 'I Was There'; Heather, as Madam Lavengro, tells the last great Chartist meeting in 1848 ('Hope Was High'), and Alice pictures hard times on the road with 'I Can Remember'. Mick, as Crummles, finally admits to himself and to his daughter that his great days are long gone in 'The Turning Of The Years'. The folk opera finally bows out with a swaggering bow in 'People Must Be Amused'. The whole cast give their all in a tremendous show; Mick can certainly be assured that his latest work is his best yet, and WildGoose Studios deserves to be heartily slapped on the back.
---
SOLASTA
A Cure For The Curious

SLSTA18
Trailblazing trio Solasta played their young hearts out to capacity crowds at the Valley Folk Club and Llantrisant Folk Club this year, where they showcased their debut album; the band were already riding high, boosted by The Guardian's four-star review for A Cure For The Curious, which the newspaper hailed as: "Fizzingly bold new-generation folk". In fact, veteran editor Ian Anderson broadcast their album track 'Lost And Found' on the internet at fRoots Radio, where Solasta nestled comfortably among the likes of The Kimberleys, Ìmar, The Furrow Collective and the thrilling hurdy-gurdy and bagpipe dance sounds of Belgian band Cecilia.
The trio comprises Welsh cellist Hannah Thomas, daughter of Porthcawl residents and harmony singers Neil and Louise Thomas, a professional musician working in Wicked, other West End shows and classical Royal Albert Hall performances in the London area and all over the country; award-winning spectacular Scottish fiddler Elisabeth Flett, also based in London, who performs in many musical combinations; and guitarist Jamie Leeming, who has amassed a host of international tours and recordings to his name and has performed at venues such as the Hammersmith Apollo and BBC Music Big Weekend.
Dylan Fowler recorded the album at his Abergavenny-based Stiwdio Felin Fach, which has certainly gained an enviable reputation for unbeatable and inspiring productions; right from the start, Gavin Marwick's tune 'The Plate Smasher' conjures images of vivid raucous Greek weddings, followed by Gavin's composing brainstorm of frenzied, dissonant fiddling, 'cello and guitar in 'Upstairs At O'Neills'. 'The 5/8 Set' is a dizzy combination between a trio of prolific composers, wonderful accordionist Phil Cunningham, Elisabeth Flett herself and Gordon Duncan. Solasta happily mine many contemporary writers, with Hannah and Jamie at the forefront; 'The Pirate Set' includes Simon Owen's 'Morgawr', always a session favourite in Wales, Hannah's 'The Copper Pirate' and Sarah Taylor's 'The Maam', and 'Reels' contains two absolutely fizzing tunes by spectacular Scottish accordionist and bagpiper Mairearad Green, who – together with partner-in-crime Anna Massie – is coming to wow the audience at Llantrisant Folk Club on April 17.
Solasta throw down a big, bold uncompromising statement about new-generation folk, which is bubbling over and effervescing with inventive ideas concerning the tradition's past and its blazing future. They reinterpret and examine two well-known and well-loved songs, 'Bedlam Boys' (Boys Of Bedlam, from Thomas d'Urfey's 1720 text Pills to Purge Melancholy, where it had the title 'Mad Maudlin's Search for Her Tom of Bedlam'; it was set to music by Dave Moran, from the 1960s trio The Halliard, with some input by Nic Jones) and 'Terror Time', a no-holds-barred winter warning from Ewan McColl's 1964 radio ballad The Travelling People. Interesting fact: Steeleye Span's debut album Please To See The King had this note about Bedlam: "The priory of St. Mary of Bethlehem at Bishopsgate, founded in 1247, became the male lunatic asylum known as Bethlehem Hospital, or Bedlam, in 1547… The hospital of St. Mary Magdalen (pronounced Maudlin) was its female counterpart."
A Cure For The Curious is chock-a-block with inventive arrangements and really stunning, innovative playing; Hannah's parents, who were included as executive producers on the album, should be pretty proud and very impressed with this gorgeous production. Come their next album, Solasta can reach for the stars.
---
FEBRUARY 2019
---
MICK'S SICKS and QUICKS
In February 2019, I took to my bed with a nasty and incredibly painful dose of cellulitis, combined with a kidney infection; I endured the sheer hell of the Royal Glamorgan Hospital's A&E – twice – and I spent a long time lying flat on my back, unable to work on my computer or my cellphone. My partner, Olly, was an absolute angel; I cannot thank her enough for her selfless sacrifices, which put her in considerable danger. I'm slowly recovering now – touch wood – but the constant flood of CD reviews, vibrant and vital Welsh folk news, the administration involved in running FolkWales Online Magazine and monitoring, checking and finally loading the all-Wales Listings of Folk-Roots Events looks as though I'm endlessly cleaning out the Augean stables – figuratively speaking. In the meantime, my ears and mind have been forcibly and pleasantly inspired by a plethora of fabulous music-making from these islands and beyond, and these are my supine thoughts. I do apologise for these very brief reviews, but I'm making the best of a very trying and tiring affliction – so please bear with me.
MICK'S QUICKS – James and Sam are The Brothers Gillespie, based in the market town of Hexham, Northumberland; their second album, The Fell (TBGCD002) is mixed with strong Incredible String Band influences, flowing guitar, sparing fiddle and raw, bleak voices that captures the Border Country to a T, with stark original songs mixed with familiar Scottish trad. Strangely appealing. FolkWales verdict: Thumbs up!
Award-winning multi-instrumentalist and Glaswegian Innes Watson teaches at the Royal Conservatoire of Scotland, having graduated with a BA in Scottish Music; a plethora of stellar musicians, including Ali Hutton, Patsy Reid, Duncan Lyall and Mike Vass, all contribute to stun the collective listeners' minds with 14 fabulous and self-written tracks which make up his debut Innes Watson's Guitar Colloquium (Isle Music Scotland ILSE06CD). His masterful guitar-fingering flickers all over the place and is a total delight – highly recommended! FolkWales verdict: Thumbs up!
Alt-folk singer-songwriter Katie Spencer is 21 and based in the Yorkshire countryside; her strong, rippling guitar is an acoustic benchmark, but her original compositions on her independent release, Weather Beaten (GUK-PR002KRS) are a tad samey and disjointed, and do not really work for me. She changes the tune of the only trad song, the well-worn chestnut 'Spencer The Rover' – not for the better, in my humble opinion. FolkWales verdict: Thumbs down
The spectacular Outer Hebridean five-piece Eabhal formed on the island of South Uist and consists of lead vocalist Kaitlin Ross, accordionist Megan MacDonald, fiddler Jamie MacDonald, guitarist Nicky Kirk and bagpiper, flautist and whistler Hamish Hepburn. Their debut album, This Is How The Ladies Dance (EAB01) is a thrilling and sublime melange of Gaelic waulking and Hebridean songs, original compositions, Scottish reels and strathspeys, plus a sparkling touch of Irish culture and the inspiration of Michel Bordeleau (of French-Canadian La Bottine Souriante.) A simply superb offering! FolkWales verdict: Thumbs up!
Liverpudlian peoples' storyteller and left-wing songwriter Alun Parry roars back with his latest hard-hitting album, Whatever Your Struggle (independently released, no catalogue number), and the latest welcome news is that his promo show was a complete sell-out. Alun is an inspirational and educational songsmith, and he pulls every stop out to really entertain; not a track is wasted here, and he takes special care with his lyrics and verses to strike the nail right on the head. The shining light is the jaw-dropping, disturbing and completely unaccompanied ballad 'Come Join The Army, Son', which deserves to be learned and sung loud and long. FolkWales verdict: Thumbs up!
The deep, smoky voice of pianist and singer Katherine Campbell paints a lovely palette of ten songs of the famous Scottish bard in which the tunes have been lost, entitled Robert Burns: Tune Unknown (SCKCBU020CD), especially released on Burns Day this year. From 'In Tarbolton, Ye Ken' to 'The Night Was Still', she sets Burns' poems to her own composition, making it a welcome reference link in the Burns repertoire. FolkWales verdict: Thumbs up!
Many moons ago, Blyde Lassies (fiddler Claire White and concertina player Frances Wilkins) travelled down from Shetland and really captivated the Llantrisant Folk Club audience; Lerwick-born Claire, accompanied by guitarist Robbie Leask, has recorded an absolutely delightful album of written and traditional songs and tunes emphasising the Shetland female viewpoint and called Lassies Trust In Providence (QUARFF101) and enhanced by some elegant bowing. She skilfully weaves 'Da Fateful Tale O Marion Pardone', 'Da Hennie' and 'Betty Mouat's Sang', and there's even a Shetland dialect glossary for good measure. FolkWales verdict: Thumbs up!
Irish songwriter, singer and guitarist John Blek is based in County Cork; his fourth album, Thistle & Thorn (WARR010), was recorded in the West Cork town of Clonakilty and across the Atlantic in Louisville, Kentucky, and it's filled with his strong and mesmerising voice and his haunting songs. He's played in South Wales before; the folk club world might shy away from his individual style, but he's found new punters who are willing to listen. FolkWales verdict: Thumbs up!
Good-time quintet The Jake Leg Jug Band have an absolute ball serving up the authentic sounds of 1920s and 1930s America in droves in their remarkable and very enjoyable album Fifth Avenue (Green Bullet Records GB1802-1). The excellent line-up is guitarists Duncan Wilcox and Neil Hulse, Toby Wilson (banjo and dobro) washboard player Bryony-Rose and Liam Ward (harmonica and jug, who is also a member of Swansea-based The Rumblestrutters). All five take the lead at vocalising in the 17 standout tracks, with Bryony-Rose's voice making grown men's knees turn to quivering jelly. FolkWales verdict: Thumbs up!
Scottish songwriter, singer and playwright Karine Polwart follows up her outstanding touring show and album A Pocket Of Wind Resistance with her hard-hitting and totally mesmerising Laws Of Motion (Hudson Records HUD014PR), the latest in an evolving series of collaborative projects across which she has combined music and storytelling with politics and environmental-societal issues, with accordionist Inge Thompson and brother Steven Polwart accompanying. Her poetic storytelling shines out with 'Suitcase', the tale of thousands of Jewish children fleeing the Nazis, and her grandfather's influence in 'Young Man On The Mountain', where she traces his life from a forester in the Trossachs to his World War II experiences in Italy. However, the standout piece is 'I Burn But I Am Not Consumed', her devastating put-down of Trump. FolkWales verdict: Thumbs up!
Award-winning singer-songwriter Katie Docherty hails from Teesside and was based in Newcastle, before she was spirited away to a Durham hill by her by her sheep-farming husband; she spent six years recording and touring in Germany and Europe with Broom Bezzums, fiddler Andrew Cadie and guitarist Mark Bloomer. And Then (Steeplejack Records SJCD023), her first album with The Navigators, fiddler Shona Mooney and melodeonist David Gray, constitutes 10 tracks of exquisite and original word-play, drifting harmonies and fabulous arrangements; It's fair to say that Katie is one of the quiet revolution which has been evolving in Folk Music is all these years. A truly lovely album… FolkWales verdict: Thumbs up!
Tinc y Tannau are artists and composers Ailsa Mair Hughes and Sioned Jones, who play bass viola da gamba and sing jarring, dissonant harmonies in their own original way; Dylan Fowler recorded and mixed their debut CD, Galw (independently released, no catalogue number) that leads listeners on a celtic dreamworld of a scattering of Welsh folk songs, poems by Taliesyn, Welsh contemporary Christine Watkins and Federico Garcia Lorca, the Spanish poet, playwright and theatre director who was executed by Franco's Nationalist forces in 1936. Punters who hoped for a night of easy listening might run away in fright, but the duo definitely falls in the Marmite category; however, I have a strange fascination for the sticky brown stuff. FolkWales verdict: Thumbs up!
American folk singer, songwriter, banjo player and icon Hedy West was born in 1938 in Barlow County, Georgia and died of cancer at the hospital of the University of Pennsylvania in July 3, 2005; many notable artists, including Bert Lloyd and Martin Simpson, fell under her entrancing influence. Unreleased until now, Untitled (Fledg'ling Records FLED3110) was recorded in the late 1970s in Germany, where Hedy settled; it's an 11-track time capsule that shows her, at Lloyd put it, as being "the best of the lot". FolkWales verdict: Thumbs up!
In the wake of Karine Polwart's stunning Wind Resistance, Aberdeenshire songwriter Jenny Sturgeon and accordionist Inge Thompson, who was born in the remote Fair Isle in the Shetland archipelago, have produced their latest show and album on the similar subject of man's relation to birds, Northern Flyway (Hudson Records HUD013PR). The twelve tracks, with titles such as 'Rosefinch', 'The Gannets', 'Curlew' and 'Lost Lapwing', recorded conversations and bird calls, are just a tad inferior to Polwart's storming performance; nevertheless, they have succeeded in capturing the bleak, lonely shores and the seabirds' soaring flight. FolkWales verdict: Thumbs up!
Last but not least, Topic Records have released an exhilarating and fascinating history on the best-loved and most utterly respected traditional singers in An Introduction To Norma Waterson (TICD013). From 'Seven Virgins (The Leaves Of Life)' from The Watersons' 1965 debut album Frost And Fire, to 'Bunch Of Thyme', taken from Norma and her daughter Eliza Carthy's 2010 CD Gift, the 15 tracks seem to radiate and glow. Norma's husband, the great Martin Carthy, has an important hand in the compilation; the late Lal Waterson, plus other stellar musicians including Tim Van Eyken, Saul Rose, Ben Ivitsky, Chris Parkinson, Mary MacMaster, Rod Stradling, Peta Webb and Tony Engle, all contribute to this a stunning showpiece. FolkWales verdict: Thumbs up!
---
JANUARY 2019
---
MICK'S QUICKS
I have to declare an interest here – in the days of yore, I booked up-and-coming Caldicot-based band One String Loose for Tredegar House Folk Festival. One String Loose metamorphosed into the butt-kicking South Wales indie-roots band Rusty Shackle, and the original members – amazing fiddler and banjoist Scott McKeon and bassist Baz Barwick – are still firing on all cylinders and creating enjoyment and mayhem wherever they go. The band have released a red-hot single, 'Sam Hall', as a storming prelude to their forthcoming album, The Raven, The Thief And The Hangman, which will be out in February; the old familiar ballad gets shocked alive with crazy bowing, crashing drums and howling guitars. The band will do The Album Tour in Clwb Ifor Bach, Cardiff (February 8) and The Exchange, Bristol (February 15) – It's folk, Jim, but not as we know it! FolkWales verdict: Thumbs up!
Norwegian vocalist Anne Marie Almedal creates her own magical dream-world on the third album, Lightshadow (i+47 18/012 CD); her lovely, flowing voice inhabits 10 ambient folk-pop songs, which she co-wrote with acoustic guitarist, keyboards player and co-producer Nicholas Sillitoe, and the whole album was recorded at the southern Norwegian town of Kristiansand. This is music to float serenely by… FolkWales verdict: Thumbs up!
Me And My Friends are an English quintet consisting of the West African guitar and elegant vocals of Nick Rasle, cellist and vocalist Emma Coleman, five-string bassist James Grumwell, clarinettist and vocalist Sam Murray and percussionist Fred Harper; they joyfully combine the heady sound of English folk colliding head-on with the golden-era music of 1970s West Africa and the Caribbean in the album Look Up (Split Shift Records MAMFCD001). Gloriously danceable! FolkWales verdict:  Thumbs up!
What and where are the SnowRoads? the answer lies in the Cairngorms National Park, located in the North East of Scotland; composer, singer and guitarist Calum Wood has created an EP called She Wynds On (Magic Park Records SRCM1018), including many noted musicians such as fiddler Charlie McKerron, bagpiper Ross Ainslie and Scottish accordion champion Robert Black – Calum spent six months playing alongside him and other accordion champion Matthew MacLennan at The Taste Of Scotland show. The project was commissioned by Visit Cairngorms to promote a new must-do scenic tourist route, and it leads you on spectacular journeys from Blairgowrie and Braemar, from Breamar to Ballater, from Ballater to Tomintoul and then on to Grantown-on-Spey. Like the Cairngorms, it's grand and it's beautiful. FolkWales verdict: Thumbs up!
The Scottish trio Birichen consists of vocalist Catriona Sutherland, fiddler and guitarist Iain-Gordon Macfarlane and dobro player Robert McDonald; their EP Hush (CLS786BIR, independent release) is a heart-warming and varied quintet of written songs, composed by Robert ('Hold On To Each Moment'), Gillian Welch and David Hawkridge ('Scarlet Town'), Catriona herself ('Gonnae Get Good'), Guy Charles Clark ('LA Freeway') and Jim McLean ('Smile In Your Sleep', stark verses and a beautiful tune about the Highland Clearances.) An EP to savour. FolkWales verdict: Thumbs up!
London duo Dave Ellis and Boo Howard have been together since 1979, and Great Pleasure (Doghouse Records DGHCD529) is the ninth album they have recorded; 14 faultless tracks, masterful guitar and harmonious voices that are bang on target; however, they tend to align themselves with the commercial cabaret-style scene. This is one for the easy-listening crowds, who will be bound to snap up the product in droves; others will make out that the songs and the performance are just too sweetly saccharine. FolkWales verdict: Thumbs so-so…
The golden-voiced and pretty wonderful Jim Causley has released a Special Commissions EP (Hrôc Music, no catalogue number) in which he records seven one-off written projects based in Devon and Cornwall, accompanying himself solo on accordion and piano. 'City of Trees' is for Common Ground's Exeter Tree Tales project, 'Diamond On The Moor', 'Green Lanes' and 'On The Border' was written for Tony Deane, Valerie Belsey and the Charles Causley Trust and 'Pride Of The Moor' was for Simon Pope's Dartmoor Stannary project. 'Glorious Devon Morning' was for Martin Rooney and 'Unearthed Theme' was written for Villages In Action; all in all, it's a gloriously satisfying feat and very well worth it. FolkWales verdict: Thumbs up!
The excellent fiddler Alastair Savage, born and raised in Ayrshire and still a Scottish Symphony Orchestra member, has released a marvellous compendium of self-composed tunes and the classic fiddle repertoire including the legendary James Scott Skinner, Neil Gow and William Marshall called When Barley Reaches Shore (Woodland Records SAV005CD). The album features 'Islay Wedding Music': part 1, commissioned by friends for a 2013 wedding on that island and Part 2, which includes tunes written by Alastair for his 2016 wedding on the same island. Ewan Drysdale (piano and guitar) and double-bassist Iain Crawford accompany him to perfection. FolkWales verdict: Thumbs up!
---