Expand the Table of Contents (below) to find the review you want
DECEMBER 2021
---
CHRISTY MOORE
Flying Into Mystery

Sony Records LC00162
***** FIVE STAR CHOICE! *****
My admiration for Christy Moore knows no bounds – and that's really saying something. From the musician with the wonderfully innovative Irish quartet Planxty, he progressed to the stunning mega-band Moving Hearts – including the founder Donal Lunny, guitarist Declan Sinnott and uilleann piper Davy Spillane – before branching out solo and appearing in a plethora of sell-out concerts. He's a veritable mighty showman and star – but his welcoming personality and his calm, deep-brown voice would transform a vast auditorium into a cosy kitchen music session for his friends. He is that unique and so very, very special.
Christy's latest 12-track album is his tribute to the songwriters who have carried several torches and really put Ireland on the musical map, combined with his own take on two traditional songs and two gems that he has written (or co-penned). First up is 'Johnny Boy', penned by the late Thin Lizzy guitarist Gary Moore, and Christy whispers his way through a delicate, pretty song which is steeped in memories; next is 'Clock Winds Down', Jim Page's grim one-minute-to-midnight global warming warning, and Paul Doran's beautiful work 'Greenland'. The title track, 'Flying Into Mystery', is Wally Page and Tom Boylan's razor-sharp cameo on the fishing trade, and 'Gasún' is Tom Tuohy and Ciaran Connaughton at their writing best. Mick Hanly's 'All I Remember' is his gentle put-down on the Catholic education and establishment, while Ricky Lynch's 'December 1942' is a sombre portrait of life under the Nazi occupation.
Christy plays guitar, and the six session musicians include James Blennerhassett (double bass), Mark Redmond (uilleann pipes) and Seamie O'Dowd on a variety of instruments such as guitars, harmonica, bouzouki, mandolin, fiddle and banjo. However, Christy maintains the most minimal sound – a wisp of banjo here, a trace of mandolin there. He even breaks out in a traditional 'diddly' mouth music – pure bliss. It all adds up to taking in the singer and the song; and when he delivers 'Bord na Mόna Man', the fantastic poetry takes brilliant flight – it's so very Irish, very Christy in the first degree.
Christy is a magnetic storyteller, and he's at the top of his trade, too. For instance, he combines with Wally Page to write 'Zozimus & Zimmerman', a true account of him and his partner witnessing the great American legend Bob Dylan, "the king of vaudeville",  performing live at a Dublin concert. It's respectful, sincere and quietly funny in an intelligent, entertaining way that only Christy could imply: "Some old singers rest upon their laurels / Some old hoofers hang up their dancing shoes / But when kings and queens and laureates came calling / Zimmerman still had lots of gigs to do…"
The last track is Christy's final tribute to Dylan's writing, 'I Pity The Poor Immigrant' – a gravely topical and vitally important set of words which focus on the upheavals of Afghanistan and the cruel world, where tens of thousands are desperately seeking shelter and the inflexible, uncaring methods of the Westminster Home Office. What a thought-proving, uplifting album; I'll treasure Christy's performance always.
---
NOVEMBER 2021
---
MARTYN JOSEPH
1960

Pipe Records PRCD034
***** FIVE STAR CHOICE! *****
At the age of 61, Martin Joseph can look back with pride and satisfaction on a glittering performing career spanning four decades. 1960 is his 23rd album, and suddenly he is transported back into a 10-year-old Penarth boy who is learning the guitar; Martyn's musical trail soon leads him to Glenn Campbell's version of the Jimmy Webb-penned 'Wichita Lineman', before he discovers the wonderful world of Crosby, Stills and Nash, Joni Mitchell and Bruce Springsteen. In the meantime, Martyn's father shadow-boxed his son in the forlorn hope that he would toughen up and learn to stand on his own two feet; nowadays, Dad is in his eighties and a nursing home resident in the hazy mist of Altzheimer's, a shadow of his younger self. It's time to take stock – just as in the stunning opener, 'Born Too Late', Martyn questions: "How long does it take for a man to know himself?"
'Born Too Late' is full of regrets and missed chances. He toured with Art Garfunkel in 1994, and Art persuaded him to relocate to Nashville, where so many great songs and tunes in what was called 'New Country' were being made. Martyn never got there – and he never got to Laurel Canyon and Los Angeles to hang out with Joni, Steven, David, Graham and Neil Young either. As he says: "I was born too late, but the defining question suggesting that life is about whether we're born out of our time but what we do with our time. What would have happened if I'd lived a different life, for example lived a little earlier, in the days when some of my favourite songs were being written".
1960 is a deeply soul-searching and personal album. He doesn't mention it, but there's a strong suspicion that the covid lockdown has heavily influenced his writing; he recorded, engineered and mixed the album at his own place in Wales, and on the majority of songs, Martyn multi-tracks himself on vocals, backing harmonies and a variety of instruments including acoustic, electric and bass guitars, piano, harmonica and programming; he even sorts out the hand-claps.
The second song, 'Felt So Much', paints a vivid 1965 picture of his faraway teenager days, that Renault and Dad at the wheel, window open and elbows out; Janis Ian (remember 'Society's Child' and 'At Seventeen'?) joins him on harmony vocals and piano in 'House', which he co-wrote with BBC radio presenter and author Simon Mayo. Massachusetts musician and songwriter Antje Duvekot lends her lovely echoing voice in the shimmeringly beautiful 'We Are Made Of Stars'; and Martyn raises a joyful ruckus on the spiritual-sounding 'Down To The Well', fellow Welshman Andrew 'Wal' Coughlan accompanying him on bass guitar. The guitarist-songwriter solos on 'Trying To Grow', and writes the immortal lines: "I got stuck like a rabbit, rigid with fear / but there's moments in those headlights when the path is so near…" That just about sums the concise feeling up.
Martyn picks and chooses the session musicians quite sparingly, like sprinkling gold dust. The dependable Andrew is there on 'Under Every Smile', as is The Haar's percussionist Cormac Byrne and trumpeter Rupert Cobb; Scottish contingent Duncan Chisholm and Innes Watson play viola and violin on 'In Your Arms'. However, Martyn is completely alone when writes his affectionate letter to his Dad in the highlight song of them all, 'Shadow Boxing': "The bottom line is love, my Father / The bottom line is love."
The bonus track is solo Martyn with his simple guitar singing 'Wichita Lineman', tracing  back to his boyhood, the early years and fleeting memories of that Renault and his Dad shadow-boxing. It's profoundly moving and stunning; it couldn't possibly be a covers hit, but the artist develops and shapes the song and really comes to terms with himself. There's no doubt about it –1960 is a very fine album indeed.
---
MICK'S QUICKS
Scott Murray is well known for his 50 years of folk music, his time in Scottish group Sangsters and his 2012 album, Evenin's Fa; his new offering of self-composed songs and tunes, There Was A Love (Independent release, PARTAN02CD) was made just after his 75th birthday, and Karine Polwart described it as "A thing of great beauty." Murray's gritty voice and eight musicians, including harpist and harmony singer Corrina Hewat, Lau accordionist Martin Green and pianist, arranger and producer Dave Milligan, share the bewitching accompaniment. FolkWales verdict: Thumbs up!
Geronimo is the solo recording project of Jeroen Geerlinck, impressive musician of Belgian bands Snaarmaarwaar, Hot Griselda and Spilar; he's a producer and studio engineer who is very active on the Belgian folk scene. His new album is Run High (Trad Records, TRAD015), on which he plays acoustic and electric guitars, electric bass, synths and drum programming; first off is an acoustic guitar solo, then his compositions gloriously build up to a heady bandwagon of intelligent progressive rock. It's folk, Jim, but not as we know it – but what's not to like? FolkWales verdict: Thumbs up!
Aberdeenshire-born Iona Fyfe is steadily gaining a reputation as one of the best young folksingers around; this time she's written a lost-love song single in the Scots language, 'The Cauld' (streaming release, Bandcamp). Pianist Michael Biggins is featured, and the musicians are guitarists Graham Rorie and Jack McRobbie and electric bassist Charlie Stewart. FolkWales verdict: Thumbs up!
The Last Inklings are ex-Kadia musicians Leonardo Mackenzie and David Hoyland; beautiful 'cello, percussion, synth and crystal-clear harmonies abound in their debut album The Impossible Wild (Gillywhisky Records, GWR0002), which explores nature, myth and superstition in the modern world. Irish poet Robert Perceval Graves, born in Dublin and died near Harlech, Gwynedd, influenced them in 'Hunter's Folly', and their lyrics are soul-searching and profound. FolkWales verdict: Thumbs up!
New York City-based Caesar Pacifici & Brian Brooks have recorded their third album, Brigands (independent release, no catalogue number) with pleasant guitar work in the Irish reels and jigs, but the whole thing crumbles apart with some pretty limp performing and singing. Fiddlers Kevin Burke and Tony Fitzgibbon accompany the tunes; however, the last traditional song, 'The Beauty Of Kashmir' (real title, 'Cadgwith Anthem') just peters out and falls flat on its face – very disappointing. They could learn so much from the uplifting, spirited voices of the Cornish fisherfolk. FolkWales verdict: Thumbs down
 Ken Pomeroy is a Cherokee singer-songwriter from Moore, Oklahoma; she performs the lyrics of a writer well beyond her years, and she has been compared to Joni Mitchell and Patti Griffin. Christmas Lights In April (Horton Records, no catalogue number) finds her and her acoustic guitar completely solo and alone; she weaves songs like a true artist. Check her out. FolkWales verdict: Thumbs up!
The gruff, mid-western drawl of Mr Alec Bowman_Clarke makes you suppose that he's American, but he's not; this singer-songwriter, guitarist, photographer and filmmaker comes from Glasgow, and he co-owns Corduroy Punk Records with his partner, Josienne Clarke. His debut 'lockdown' EP, A Place Like Home (CPR06CD) contains five hard-hitting articulate songs, with Josienne on clarinet, saxophone and vocals; Lukas Drinkwater engineered and played guitar, bass and keys. Fine and intelligent stuff indeed. FolkWales verdict: Thumbs up!
---
OCTOBER 2021
---
REG MEUROSS, HARBOTTLE & JONAS
Songs Of Love & Death

HAT 024
Here's yet another collaborative collection from the fallout of the covid pandemic of 2020 and 2021! Reg Meuross is a pretty marvellous songsmith – in fact, it was the great Martin Carthy, MBE, who described him as "a mighty songwriter". He has been a constant presence in the devolved nations' folk clubs and music venues throughout his 30-year career, with 13 solo albums to his name; however, he has never delved into the traditional songs that have so influenced his writing. He says: "Over the years I have played with some of the finest folk musicians – but during lockdown I began to look more closely at the songs of these islands, songs that were ever-present at the clubs where I played."
When David Harbottle and Freya Jonas, Devon-based husband and wife, enquired if he was interested in a meeting of musical minds, Reg's first thought was one of his favourite folk songs, 'Lord Franklin'. The 1850 broadside ballad had been fondly remembered since the teenage Reg – who was just learning the guitar – heard John Renbourn's version: "I loved what we did together so much that we decided to continue work of all ten songs." And that song has been included now as the third track on this album.
It's easy to dismiss Songs Of Love & Death as just another collection of familiar folk fodder, but that's really not the case; the album just tugs at your sleeve and urges you to delve into the familiar folk canon, discover what their history is and what makes them tick. The songs are absolutely brimming with Reg's persuasive, appealing voice and his flowing guitar, added to David and Freya's lush, melodic sounds. Subtle, beautiful harmonies abound, and cittern, concertina and harmonium swell the imposing production. Engineer Josh Best-Shaw recorded this fine display of the best-loved folksongs in the 1,000-year-old St Petroc's church at the Devon community of South Brent.
First up is the Irish song 'She Moved Through The Fair', and already a lot of unanswered questions are piling up. Did his young love die? Did she come to him in the flesh, or was it his lover's ghost? What happened to their wedding? There are so many queries which have been buried in an age-old folksong's myriads of variations. The second track is the lovely English song 'As I Roved Out', which is popular in Ireland, Scotland and a slightly bawdier Irish version; all ten songs, from 'Adieu Sweet Lovely Nancy' to 'I Wish The Wars Were All Over', cannot be faulted.
The eighth track is Reg's interpretation of 'Anachie Gordon', a ballad from the North-East of Scotland which tells of the Gordons of Elgin, the Frasers of Saltoun and the forced marriage of a young girl and a rich suitor. It rose in popularity and became the favourite song of June Tabor and the Oysterband, The Unthanks, Jackie Oates and Belinda O'Hooley, Loreena McKennitt and Jon Boden amongst other folk literati. The folk process makes very interesting reading: Nic Jones recorded the ballad on his 1977 album, The Noah's Ark Trap, and Mary Black learned it from him – however, she misheard the first verse "Buchan is bonny" and interpreted it as "Harking is bonny". In actual fact, the ballad is titled 'Achnachie Gordon'; Joe Rae sung it on the 2001 Musical Traditions album The Broom Blooms Bonnie, and has said: "I have been singing this for more years than I care to remember, certainly in public since the 1950s… could Mr Jones have heard a recording of this ballad? I doubt this and as I have never heard him singing this, I leave it to the musically gifted among you to compare the traditional tune, as sung by me, to that composed by him. I use the term traditional as it is now well over a hundred years since my gutcher learned it." Dr Sheila Douglas commented:  "The pronunciation of Auchanachie has to be seen in the context of Gaelic, from which it comes. A broad vowel must be followed by a broad vowel in the spelling of a word (and a narrow vowel by a narrow) and these extra vowels are not pronounced. The pronunciation today is Annachie – often aspirated consonants disappear in spoken Gaelic."
As I said – delve into the old songs, and you have pull out certain juicy, earthy hidden roots. And it's all because our Reg followed Mary Black's mispronounced place-name…
---
DEUX SANS FRONTIÈRES
Deux Sans Frontières

Stoneridge Records Stone181
This is a truly lovely debut album which, I have to confess, slipped through the FolkWales net – my sincere apologies for that. Deux Sans Frontières are fiddler Mark Prescott and octave mandola player and guitarist Mike Gulston, occasional musicians at the Pentreffest European dance club based in Rudry Parish Hall, near Cardiff, and familiar and well-loved sonneurs at the famous Grand Bal de L'Europe in the community of Gennetines, Auvergne, plus forays in The Netherlands, Belgium, Germany and England.
In recent times, Mark has focused on his fiddle accompaniment of singer songwriters and in his instrumental work on the music of France and Brittany. In Wales, he established his reputation for an enthusiastically infectious teaching style. Mark and his friend Steve Hyde used to run an evening music class in Llantwit Major, the Vale of Glamorgan, which evolved into The Thingumijigs community ceilidh band, and he has been a teacher at Pentreffest. Mike's involvement with French and Breton music began as a dancer with the London French dance club On Bouge, and he is highly regarded as a dance teacher as well as a performer. He began playing French and Breton dance music with two bands, Boa and later Pach Pi; then he joined GIG CB! (the George Inn Giant Ceilidh Band, who play at Gennetines) which brought him into contact with Mark. He has recorded two albums with singer Blanche Rowen – company manager for trac Cymru, the folk development organisation for Wales – and one solo album, Barking.
Deux Sans Frontières translates from the Gallic tongue as two players who know no borders, and they perform in a select circuit inhabited by Eurodance enthusiasts and boundary-breaking musicians. The album consists of traditional and contemporary dances, plus Mike and Mark's original tunes; they create an appealing sound, hypnotic music that just tugs at your sleeve and makes you want to fall in love with your partner and get up on the dance floor. The first track, 'Suite de Maraîchines', transports everyone to Brittany and the joyous fest noz; prancing, strutting fiddle and powerful guitar invite and cajole one and all to move your feet. The two salute their Euro-colleagues with some mighty fine compositions; Dave Shepherd, fiddler with Eurodance band Blowzabella, wrote the beautiful mazurka 'The Rose Of Raby' and Cliff Stapleton (ex-member of Blowzabella) had a hand in 'The Dream' waltz, while Mark and Mike do magnificent justice to the two tunes. The purposeful guitar starts off in a solo Breton-spiced 'Suite An Dro', and Mark falls into the compulsive rhythm with some snakey, weaving playing; Breton guitarist Soig Siberil wrote 'The Road To Kerrigouarc'h', and Deux Sans Frontières doff their collective caps to the Welsh tradition by performing 'Dacw Ngariad' and 'Hen Ferchetan', two tunes that blend in smoothly with the An Dro.
'Rossignolet' is a traditional eight-time waltz; and fiddler and hurdy-gurdy player Ravi Sawney penned the pretty mazurka 'Benjamin's', matched with Mark's mazurka 'Stoneridge'. The wild 'Auvergne Bourrées' capture images of dancers throwing themselves with crazy abandon; On Bouge and La Chavannée (the wonderful dance band from Central France) are credited with the inspiration behind Mark and Mike's set. Thierry Mirebeau wrote the waltz 'Humeurs', and Anne Marie Summers composed the gorgeous mazurka 'The Wrong Turn'; and Mark and Mike pay tribute to Frères de Sac – bagpipe and recorder player Christophe Sachettini and his younger brother Jean-Loup, who plays the diatonic accordion – for their brilliant arrangement of the complicated Breton dance 'Kost Ar C'hoat', which inspired Deux Sans Frontières. (Christophe is a member of Grenoble-based supergroup Dedale; Jean-Loup learned the diatonic accordion from Dedale's leader, the brilliant Norbert Pignol. Frères de Sac have transformed into Frères de Sac 4tet, with woodwind players Marie Mazille – who plays nyckelharpa – and Marie Mercier.)
The last track is the busy, fierce 'Plinn DSF', which Mark and Mike wrote; it's a return to their beloved Brittany, after a whirlwind tour which has taken them and the audience on a grand tour of France. There's a final thank-you: "Dedicated with love to the dancers… our constant inspiration". Or maybe it's Deux Sans Frontières, who inspire and excite everybody in the dance halls everywhere?
---
DAMIAN CLARKE
Covered 4 Cancer

Vox Pop VOX031
Folk-rock Pressgang band-member Damian Clarke and his hammered dulcimer spent the painfully-long covid lockdowns by putting together this charity album and helping to raise funds for Cancer Research and The Stroke Association. Damian, who also plays hurdy-gurdy and makes his living as an artist, was one of the many people who encountered a stroke. He says: "I lost the use of my left arm and hand for a few weeks in 2019 and had to re-learn the fine motor skills necessary for music and Art. Most of my paintings were drawn and composed using my left hand."
During the lockdowns, Damian decided that as he was unable to perform live, he would like to use the time in a positive way. He took the unusual step of recording ten well-known commercial songs that he felt could be re-interpreted using his favourite instrument, the hammered dulcimer: "I'm not usually known for covering pop songs", he admits. "There are some songs that I played when I learned the guitar in the late 1960s, or we sang in harmony in my father's car, or that I had enjoyed dancing to."
If you suppose that I'm banging on about a covers album, then think again. The hammered dulcimer has a precise knack for fitting snugly into pop material. There's a Lindisfarne smash, 'Meet Me On The Corner', with a fabulous chorus which everybody can sing along; a Prince hit, 'Manic Monday', and one of Steeleye Span's lovely chart-toppers, the unaccompanied 'Gaudete'; Damian's voice is multi-tracked here! The Beach Boys performed the traditional 'Sloop John B', and the hammered dulcimer is a perfect match for the jangly guitar introduction; while Joni Mitchell watched 'Both Sides Now' shoot up The Top Ten. Christy Moore recorded Jimmy McCarthy's 'Ride On', and Tom Petty composed 'Freefalling'.
In complete contrast, 'Bella Ciao' is a 19th-century Italian protest song which was written to rail against harsh working conditions in the rice fields in Northern Italy, and 'Nkosi Sikelela' is the South African National Anthem – again, Damian harmonises with himself, or selves. Labi Siffre, who was a member of the Pontypridd Writers, wrote 'Something Inside So Strong'. A bonus track is a nice surprise: The fiery Welsh tune 'Hoffed Ap Hywel' is performed on an accordion – is it by George Whitfield, by any chance? – and segues into the hammered dulcimer, which plays out the Irish jig 'The Rakes Of Kildare'. Remember, all proceeds go towards these two deserving charities. Please give generously…
---
SARAH MCQUAID
The St Buryan Sessions

Shovel And A Spade Records SAASCD002
This album is a direct consequence of the covid lockdown; it was conceived in the spring of 2020, when Sarah's gigs and tours were cancelled and postponed because of the pandemic. Thanks to a successful crowdfunding campaign, she was able to finance a live solo recording in the lovely 1,000-year-old church of St Buryan in the western tip of Cornwall – not far from her home. Covid regulations meant that the church was entirely empty, without an audience – but the multi-instrumentalist and singer-songwriter's performance is her most emotive and powerful yet.
This is the sixth offering that Sarah has recorded, and it really is something of a stunner. Martin Stansbury, her longtime sound engineer and manager, placed ambient microphones throughout the church's acoustic space to capture her breathtakingly beautiful sounds encompassed in her 24-year career – from 'Charlie's Going Home', recorded in her first album, When Two Lovers Meet, to her Ibanez electric guitar riffs from her recent collection If We Did Any Deeper It Could Get Dangerous.
Sarah revisits the 15 songs in The St Buryan Sessions, starting with the lovely a capella 'Sweetness And Pain' as her deep, rich voice reverberates around the church. She picks up her DADGAD acoustic guitar and performs 'The Sun Goes On Rising', a mother's heartbreak, then switches to the Ibanez for 'If We Dig Any Deeper…', making intelligent use of the echo box – Sarahs in perfect harmony! She switches to piano for 'The Silence Above Us', then to menacing drum for 'One Sparrow Down'. Her subtle mastery and captivating songwriting reached parts which other singers long for – she has the rare knack of opening the gateway to her heart and mind, letting the listener feel and touch  a true innovator's soul.
The layered chords and the pretty progression masks the warning lyrics and the deadly menace of 'Yellowstone', when it looks like all humankind will be pretty much snuffed out in a cataclysmic volcanic eruption; the time estimate must be – two thousand years? Two hundred years? Gulp – now? The 1945 jazz classic 'The Autumn Leaves' takes on a whole new meaning in Sarah's slowed-down passionate interpretation and touch – and she doffs her cap in reverence to Jacques Prevert's original French lyric. 'In Derby Cathedral' is absolutely gorgeous, with her echo box being kicked in for the second time and a flood of angelic voices surging and ever-flowing. She moves over to the piano and performs the late songwriter Michael Chapman's 'Rabbit Hills', who sadly died this year in his eighth  decade; and Sarah wraps up the virtual concert with her acoustic guitar and her 'Last Song', which extends for over six minutes.
There's no applause in these strange and disconcerting times, because no-one's listening – covid regulations means the church must bar the door to all and sundry. But Sarah has made something magical happen; and Martin has recorded her entrancing and hypnotic set. It all goes to show that in the awful, terrible pandemic, some artistic brilliance can shine a light somewhere. Sarah – we salute you.
---
JASON ROUSE
Fieldish Recording

Independent release: no catalogue number
Jason Rouse is a contemporary artist who comes from the rugged, spectacular west of Ireland and now has emigrated to South Wales; he's a pure exponent of the Irish uilleann pipes and his playing is detailed, expressive and typical of the style found in this region. He is the custodian of several sets of uilleann pipes and has taught and played internationally. He co-chairs the South Wales Uilleann Pipers Club and is organising concerts, classes and festivals, with the aim of promoting Irish music in Wales.
The uilleann pipes is the national bagpipe of Ireland; the bag is inflated by means of bellows strapped to the musician's right arm, the chanter and the ingenious regulators – each regulator key sounds a different note when opened. Jason plays a set of pipes pitched between C and B, made by Geoff Wooff at his workshop in Miltown Malbay in County Clare, and he's influenced by the artistic performing of a host of great pipers – including Seamus Ennis and Leo Rowsome – who have stamped their mark on the traditional history and culture of Ireland.
Fieldish Recording is for the fans of all the old Irish field recordings. Tapes such as these were passed between musicians like sacred relics, sometimes finding their way onto a commercial release, but more often than not locked away within the closed circles. Jason taped himself on an old Awia cassette recorder, the one that he has kept in his pipes case since taking up the instrument all of 21 years ago. It has captured many concerts, recitals, lessons and pipers over the years. The selection of tunes on this album reflects a long-time graduation and the influences of different pipers over the course of this journey.
There's a hand-written warning on the CD: "Crackling noises OK – do not correct!" The album launches off to a sizzling trio of reels ('The Silver Spear', 'Speed The Plough' and 'Mrs McLeod's Reel'), the beautiful air 'Buachaill Ón Éirne' and the jig 'Wallop The Spot'. There's a set dance, 'Rodney's Glory', and then Jason picks up a John Sindt whistle – still making whistles at the age of 78 – for a brace of polkas. Jason returns to the pipes for two lovely mazurkas: 'The Irish Mazurka' and 'Shoe The Donkey'.
He runs through a gamut of pipe tunes, from the fiery jigs 'The Lark In The Morning' and 'The Atholl Highlanders', through 'The Spanish Cloak' waltz to his last cracking finisher, the cheeky fake-minstrel song 'Oh Susanna', written by Steven Foster. Jason is on the road to enhancing the reputation and the wonderment of the uilleann pipes by releasing this fine album; I've already made a mental note of preserving it in the Favourite Sounds file!
---
SEPTEMBER 2021
---
VARIOUS ARTISTS
Sense Of The Place

Independent release: SFC001
Stonehaven Folk Club, founded on the North-East Scottish coast in 1987 by a small group of enthusiasts who were passionate about folk music, has twice been voted the BBC Alba Folk Club Of The Year and has received several accolades for its work in support of the living tradition. Recently, the club set up Folk-in-Crisis Fund, in conjunction with Hands UP for Trad, to provide financial relief for performing artists who were seriously impacted by the covid-19 pandemic crisis. The club commissioned ten artists to create a legacy of original songs rooted in the North East of Scotland, in particular the coastal communities – and a grant from Aberdeenshire Council made this happen.
The ten artists are Iona Fife, deeply rooted in the North-East tradition and Scots Singer of the Year at the Alba Scots Music Award; Claire Hastings, winner of the BBC Young Musician of the Year; Orcadian guitarist Kris Drever, Lau member and winner of seven BBC folk awards; singer Mike Blackburn; Jenny Sturgeon, writer and featured artist for Travelling Folk and BBC Radio; singer-songwriter Findlay Napier, teaching artist and master storyteller; Bob Knight, well-known and well-loved around the North-East folk clubs; Steve Byrne, Malinky band member and writer in his native Scots tongue; Irene Watt, singer, clarsach player, ethnomusicologist and teacher who runs three choirs; and Paul McKenna, featured in BBC Scotland's Transatlantic Sessions. Joining them are very accomplished musicians Aaron Jones (vocals, cittern, guitar), Mhairi Hall (piano, harmonium, whistles) double bassist Emma Smith, pianist Jen Austen and Malinky member Mike Vass, who plays fiddle, tenor guitar, mandolin and baritone ukulele; he's also a top producer, who lends his expertise in Sense Of The Place.
The album fires off to a mighty kick-start with Iona's elegant song-crafting in her bloody ballad 'Lady Finella' – born in 950AD, she assassinated King Kenneth II to avenge the killing of her son. Strathfinella Hill and Den Of Finella, near the coastal village of St Cyrus, are said to have taken their names from the Lady. Claire's 'Keeper Of The Light' was inspired by the lonely Todhead Lighthouse and a keeper who was swept away by powerful waves in 1917; and Kris paints a vivid picture of the artist Joan Eardley, who did much of her elemental and formative work in portraits and vistas of Catterline Bay. Mike writes 'Boat Memories' about the decline of the fishing industry and its effect on families and communities, and Jenny's 'Violet Rae' describes a Mearns woman emigrating to America; she was "leaving the red clay earth" to embark on an uncertain life. Findlay writes of the amazingly true story of 'The Snowdrop', where the selfless Alex Ritchie survived a Greenland wreck; and Bob fashions a song about the celebrated clipper ship 'Cutty Sark', whose designer was Hercules Linton, born in the coastal village of Inverbervie, just south of Stonehaven.
In 'The Sands O St Cyrus', Steve traces his family history through his great-great-grandmother, Eliza Gordon, who was born in the village of Benholm; she married James Gordon of Tarland and they settled in Montrose. Eliza died in her 40s, and several of her six children succumbed to TB in their late teens. One child who survived was Steve's great-grandfather; he moved down to Arbroath, where Steve's grandmother, his mother and Steve were born. Irene comes from a long line of fisherfolk, and in 'Calloused Hands', she tells the story of the menfolk all going to the North Sea to earn a living. The last song – and a perfect finisher – is 'Far From Home', in which Paul researches the life of Helen Milne, born in Stonehaven; in the Great War, she volunteered to head for India where she bravely saved hundreds of wounded men. She died at the very young age of 31, never to see her birthplace any more.
Sense Of The Place is a thoroughly attractive album, and it emphasises the importance of the long line of the writing tradition in the North-East coast of Scotland. Stonehaven Folk Club and Aberdeenshire Council deserve to be congratulated for bringing the idea into being and helping the artists financially in the covid pandemic – but praises go to the ten artists, who contributed such stunning efforts and brought this collection to the launching pad. Well done, each and all.
---
NARAGONIA
The Guesthouse Sessions: Naragonia invites

Trad Records TRAD016
***** FIVE STAR CHOICE! *****
Spectacular Belgian diatonic accordion virtuosos Pascale Rubens and Toon Van Meirlo formed the duo Naragonia in 2003; she also plays violin and lends her voice, and he plays bagpipes, bombarde, flutes and soprano saxophone. Together, they make such breathtaking and inspiring sounds; Pascale and Toon compose strong, infectious melodies of utter quirkiness, meshed with gorgeous simplicity and crossed with eye-popping complicated mastery. They have performed throughout Europe and the USA, including the marvellous Dranouter Festival in Belgium, and their November workshop weekend at Halsway Manor, near the village of Crowcombe in Somerset, is a total sell-out. Their last offering for the Belgian Trad Records was Silentski, released in 2020; however, the covid pandemic took hold and absolutely destroyed concerts, gigs and theatre life. During this long period with no work and no income, Pascale and Toon took it upon themselves to organise seven livestream virtual sessions, with Naragonia collaborating with different musicians and writing 14 exhilarating compositions; and this winning album is the triumphant outcome.
The Guesthouse Sessions combines a series of tracks where Pascale and Toon invite one or two musicians, including percussionist Jo Sanders, soprano saxophonist Philippe Laloy, pianist Veronique Rubens, Simon Leleux on percussion, ud player Tristan Driessens, guitarist Maarten Decombel, vocalist Guy Swinnen and guitarist and pianist Jeroen Geerinck. Toon and Pascale's children, Charlotte and Mathijs, contribute voices on Pascale's pretty track, 'The Swallow', and Mathijs also plays trumpet. Jo accompanies Naragonia in the opener, Toon's delightfully switchbacked 'Gooik', named after the Belgian village where an annual festival is held every July. Pascale and Toon deftly juggle a shower of lovely notes with their diatonic accordions, leaving the virtual audience panting their tongues and wanting more. Simon's gentle booming percussion and Tristan's restless ud form a backdrop for Pascale's beautiful composition, the minor-key 'Alio'; and Guy's rock-pop voice is utterly perfect for two of Reineke Van Hoorweghe's lyrics, 'Songlines' and 'We Map The Stars', for which Pascale writes the dreamlike melodies.
Toon and Pascale have a solid track record of playing together with other musicians from different countries, including the lovely diatonic accordionist Andy Cutting, our own Fernhill, Paulo Lameiro and Gregory Jolivet, Blowzabella band member and superb hurdy-gurdy wizard. They make a brave and courageous stand for forging inter-European new music; in the very dark days when our so-called Philistine leaders seem hell-bent on building ugly walls which separate these islands still further from our neighbours, Naragonia's explorative philosophy and intelligent attitude is a shining beacon from the impending Brexit storm.
The two writers enjoy an equal number of tracks – seven, to be precise. Toon composes some sizzling, dazzling music in which the two diatonic accordions are absolutely soaring and swooping, tumbling and cartwheeling over each other; Pascale, on the other hand, chooses her own path and ventures down a different, delicate road. Her voice features on the graceful, memorable waltz 'Tout La Temps', and she caresses the accordion keys on the absolutely gorgeous instrumental 'FC Burns'.
Their style of performing is refreshingly unique, and it's tantalisingly reminiscent of some of the great classical works. There's no doubt about it – Pascale and Toon are at the top of their tree in the Euro-music stakes. Five stars!
---
THE MAGPIES
Tidings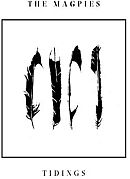 Independently released; no catalogue number
The Magpies are an impressive high-energy all-woman trio from Yorkshire, and since they burst onto the scene in 2018 they have been creating excitement wherever they have played with their own original interpretation of transatlantic folk. The slimmed-down version is Celtic Connections Danny Kyle Award-winning guitarist, banjo-player and singer Bella Gaffney, amazing clawhammer banjo player and singer Kate Griffin and acclaimed fiddle-player and tunesmith Holly Brandon; They have appeared in several festivals, including the mighty Cambridge, and they took on a hectic Wales, England and Scotland tour in September, launching off at the Acapela Studios in Pentyrch and finishing with Downend Folk Club in Bristol.
The original Magpies was a quartet made up of Polly Bolton (vocals, mandolin, banjo and bouzouki), Holly, Bella and cellist and singer Sarah Smout; engineer Dave Boothroyd recorded this line-up for Tidings. Impatient mandolin and stomp-box herald the impressive 'Two Magicians', with some heart-stopping harmonies in the chorus lines; and the band is off again in the breathless, switchback 'Catharthis', written by the wonderful Liz Carroll. Bella explores some deep female experiences in the touching 'Run River Run' and 'No More Tears' – and the summery banjo salutes Gillian Welch with the Appalachian-sounding 'Rock Of Ages'. The lovely, familiar 'Galway Shawl' suddenly redefines itself with a really inspiring arrangement as well, and a breathy, beautiful voice drawing the audience in with its developing denouement.
Holly's instrumental 'Foss Island' is serene and spectacular, with fiddle, mandolin and 'cello cartwheeling over themselves in a jig-time fantasy, while Polly's mandolin fires off a sparkling shower of exhilarating notes in 'Shuffle Set'. Polly, too, is the writer of 'Golden Girl', a weird little story-song with harmony voices dipping and diving; and she christens the final track 'Balls To The Wall', a mandolin-led melting-pot with crazy time signatures and complicated scores that would make other timid bands just give up in frustration. What a very fine finish – and Bella, Kate and Holly should have no problem about winning themselves a horde of new fans as well with their effervescent musicianship and pioneering attitude. Go, girls!
---
BAGGYRINKLE
Shaking Plaster From The Wall

Independent release: ORRCD03
What is a baggyrinkle? It's is a soft covering for cables – or any other obstructions – to guard against chafing the sails. Baggyrinkle is also the name of the Swansea shantymen, who were brought together by Dave Robinson and Terri Kennedy, officially the business manager; the shanty choir is still singing together in their 27th year, and past roles include a doctor, medical scientist, nurse, headmaster, jewellery maker, businessman and NHS manager. The crew is Terri, Tony Beddow, Ken Bond, Alan Clifford, Dave James (Dave the younger), Andy Baker, Kevin Howcroft and Gareth Cornfield. The elder Dave – now in his venerable eighth decade – has bowed out and retired, well satisfied with the hundreds of sea songs that Baggyrinkle have dusted over and revived. They've been several times to Ireland, sung in England, The Netherlands, Germany, The Baltic and many appearances in Wales, where the elder Dave and his men organised the successful Swansea Shanty Festival – an wonderful achievement.
Shaking Plaster From The Wall is their fourth album, and this time they ring the changes; out of a generous batch of 20 chorus, mining, fairground and sea songs, there's only one shanty left – and that's the Welsh-language 'Codi Angor' (Weighing Anchor). Baggyrinkle's track notes are very informative and helpful, but the research slightly differs here. J. Glyn Davies, friend of shantyman Stan Hugill and head of Celtic Studies at Liverpool University, worked in the Liverpool-based Cambrian Line from 1892 to 1896 and says that the Welsh language was commonplace; however, as Davies writes in his books – Cerddi Huw Puw (1923), Cerddi Robin Goch (1935) and Cerddi Portinllaen (1936) – there were no Welsh tall-ship shanties. He wrote shanties for Welsh children, so they could feel the excitement and hŵyl of the sea – and this was one of them, sung to the shanty 'Across The Western Ocean'. As with many fine Davies sea songs, 'Codi Angor' was absorbed into the Welsh culture – and the Swansea lads give it their all.
Sailors working on The Cambrian Line had a natural sense of harmony, and Baggyrinkle are stoutly maintaining the four-part tradition with a proud swagger. Nick James recorded the album at the Barham Centre, a community building based at Mount Pisgah chapel in the Gower village of Parkmill. Andy takes the lead to the Keith Scowcroft/Derek Gifford belter 'When All Men Sing' – a welcome opener. Next up is the traditional Welsh love song, 'Ar Lan Y Môr' (Beside The Sea), with flowers describing a man's true love: lilies for purity, thyme for virginity and rosemary for faithfulness. Cicely Fox Smith's poem 'Copper Ore' illustrates the Jane Price ship from Swansea, heavy laden and helplessly sinking; and Gareth takes up the melody in the mining song 'I Can Hew', written by David Dodds. Dave (the younger) wrote 'Nights Are Eternity', about the woman's feelings when her maritime lover sails away, and Tony joins him. North Eastern songwriter Jez Lowe penned 'Black Diamonds' after a famous pub in his hometown; meanwhile, Ken makes a good job of the Colin Wilkie song 'You Won't Get Me Down In Your Mine', and he contributes an extra verse as well.
Alan's voice tells the tragic account of the Hull-based trawler Gaul H243, which went down in the Barents Sea in 1997 with the loss of all 36 crew; Richard Grainger, from the fishing town of Whitby, wrote this gripping story of the 'Trawler Gaul'. Pitman's son Alex Glasgow wrote 'Close The Coalhouse Door' for a radio programme; he added the 'bairns' verse after hearing about the terrible Aberfan disaster of 1966, where tons of black slurry engulfed Pantglas School. These are the black years scarred by South Wales mining history – Baggyrinkle mark the Welsh miners' fight with the 'Sliding Scale' coal strike of 1898, where Valleys coal owner William Lewis and the other coal magnates instigated a cruel scale based on the miners' wages and the price coal fetched in the open market. However, the folk process is very powerful – and it could be that the Northumberland influence smothers the hymns of Wales.
Baggyrinkle doff their collective caps to the great writers of the folk scene, including Steeleye Span's Rick Kemp, the awe-inspiring John Tams, Dave Webber and their own Dave James. Shaking Plaster From The Wall ends with a reprise of the title track, and a loving tribute to the late Johnny Collins, who coined this phrase. Johnny accompanied the lads as a distinguished Baggyrinkle member on a tall-ship tour of the Baltic. I can just imagine Johnny's rip-roaring bass rumble and the chorus rounds as they disappear from view…
---
AUGUST 2021
---
STEVE ASHLEY
Steve Ashley's Family Album Revisited

Talking Elephant TECD465
The Steve Ashley Family Show, with Steve singing his unusual and wondrous songs, was first performed in Cheltenham in January, 1979; the cast featured Fairport Conventioners Chris Leslie, Dave Pegg and Simon Nicol, Martin Brinsford from The Old Swan Band, a couple of dancers and a slapstick pastry cook. Steve repeated the show a few times with the addition of the late and sadly-missed Bruce Rowland and the harmony group Capes; he says that the most memorable performances were fundraisers for Help The Aged and The International Year Of The Child.
Steve had hoped that an album of the show would be released in 1980; however, the record companies were unwilling to take the risk. Come 1981, Steve was busy playing for festivals and benefits for CND, and his previous songs were left on ice. The Family Album was eventually released on Dave and Carole Pegg's Woodworm label in 1982 – and Peggy, who produced the album, says: "It was one of our first releases and to my ears, still stands up today with the quality of songwriting and the 'vibe' of all the musicians involved. It was great fun to do and I still love listening to it. It's lovely to know it's being made available again."
Who's releasing it? Take a bow, Talking Elephant Records, who have re-titled it Steve Ashley's Family Album Revisited. One track has been reinstated from the previous album, and Steve has included a poignant a capella solo memorial to his friend Bruce. Also included are the Albion Band's Trevor Foster on drums, Mark Powell on keyboards, Capes, copious sleeve notes and an article by Simon Jones of Spiral Earth. The well-loved songs are here – from 'Family Love, 'Born To Rule' and 'Pancake Day' to 'Once In A While', 'I'm A Radio' or 'The Rough With The Smooth." Steve is totally on his crazy own when he impersonates a confused  stray dog in 'Lost And Found' – in fact, the pooch is pictured in a gatefold sleeve of the 1979 company, which includes a very young Steve and Fairport surrounded by babies, toddlers, children and friends. A worthy souvenir!
---
SPIERS & BODEN
Fallow Ground

Hudson Records HUD024CD
***** FIVE STAR CHOICE! *****
It was 1999 when 'Squeezy' John Spiers and Chicago-born Jon Boden first went on the road and really pricked up the public's ears by several degrees; by the time they called it a day as a duo in 1914, they had recorded six amazing albums, won many folk awards and planned a ten-member band called Bellowhead, which rocketed to popularity and played to an absolute host of sell-out concerts. Jon and John explored various new solo projects for many years until the revived Bellowhead released their Reassembled CD – and the very good news is that they are back together now, and this excellent new collection is pretty well bound to chalk them another accolade.
Breaking away from the dazzling orchestral arrangements so typical of Bellowhead, Fallow Ground is Spiers and Boden completely on their own; just vocals, melodeon, fiddle and stomp box, nothing else. However, they create a unique, magic sound which grabs the crowd by its collective shirtsleeves and compels them to listen – soaring, crazy bow, powerhouse squeezebox and Boden's tortured, beautiful voice introducing the opening track 'Bluey Brink', a dark Australian ballad from the late Peter Bellamy which tells of drinking sulphuric acid and a beard catching fire. Next up is 'Butter and Cheese and All', a Bellamy version of Sam Larner's 'The Greasy Cook', which keeps the pot boiling and bubbling, and syncopated instruments plus dancing boots build it up to a satisfying climax. The swaggering fiddle cuts in with 'Cuckoo's Nest', an extremely unusual Morris dance tune from the village of Filkins in the Cotswolds; 'Saltash' and a pace-quickening 'William Irwin's Modal Hornpipe' brings the trilogy of melodies to a triumphant end.
John composed 'The Fog' after experiencing the desperate hopelessness of the thick winter mist that never goes away; 'Giant's Waltz' was written by Jon after a visit to the majestic Giant's Causeway in the North of Ireland; and 'The Ironing Board Hornpipe' was named in an attempt to remind John to use it more often. The most pleasing aspect is that Spiers and Boden mix and match a fine clutch of traditional material with their written repertoire and other contemporary songs – Graham Miles' 'Yonder Banks' is a prime example. It all goes into this wonderful global community called The Folk Scene, and Squeezy and Jon are top of the tree with their inspiring and exciting musicianship.
Each and every one of the 11 tracks is to die for. 'Hind Horn' is mostly from the North of Scotland and the tune is French-Canadian. 'Goddesses' and the minor-key 'The Red House' are taken from Playford's Dancing Master of 1651; musicians in Wales play a popular major version of 'The Red House' called 'Tŷ Coch Caerdydd' (The Red House in Cardiff). The album title, 'Fallow Ground', is usually named 'As I Stood Under My Love's Window' or 'The Cock'. 'Funny Eye' is an incomplete tune from the 19th-century manuscript of John Henry Gilpin of Bampton, so John finished it; and 'Cheshire Hornpipe' was learned from John Kirkpatrick, who found it in Daniel Wright's An Extraordinary Collection of Pleasant and Merry Humours Never Before Published, Containing Hornpipes, Jigs, North Country Frisks, Morris's, Bagpipes and Rounds, with Several Additional Fancies Added. Fit For All Those That Play Public. The sombre 'Reynardine', with its dark, malevolent poetry, serves as a warning to all maidens everywhere: beware the werewolf or some evil force that will get you pregnant.  John plays the last track – 'Bailey Hill' and 'Whittingham Clumps' with its see-sawing shower of notes – with a one-row-four-stop D melodeon, made in Welshpool by the remarkable Rees Wesson; John admiringly describes it as "an absolute doozy of an instrument!"
This is a precious little gem of an album; the more I play it, the more I love it. In other words, Fallow Ground will serve as one of the eight discs that I'll take with me when I get wrecked on a desert island…
---
CHRIS NEWMAN
Breaking Bach

Old Bridge Music OBMCD23
***** FIVE STAR CHOICE! *****
I consider that I'm not a religious guy, but I definitely make an exception of bowing down and worshipping Chris Newman's fabulous musicianship and his golden guitar artistry with the wonderful Irish harper Máire Ní Chathasaigh. But in March 2020, along with just about every other artist everywhere, Chris found himself completely without live work due to the global covid pandemic. He writes in the album sleeve notes: "Regular gigs in arts centres, village halls, folk clubs, music societies, churches and festivals, as well as every overseas tour, simply vanished overnight. With zero warning we all had completely empty diaries with no prospect of knowing when things might return to normal."
After a brief period of wondering "what on earth do we do now?" it occurred to Chris that this would be an ideal time to work on a scheme that had been on his mind for some time. He went into the Old Bridge studio – which he and Máire own – to make a recording and interpret twelve pieces written by Johann Sebastian Bach on a flatpicked steel-strung guitar – and this is the commendable result.
Bach, born in Eisenach, Germany in 1685 and died in 1650, is regarded as one of the greatest composers of the late Baroque period. He is revered for his instrumental compositions such as the Cello Suites and Brandenburg Concertos, keyboard works such as the Goldberg Variations, The Well-Tempered Clavier and the Toccata and Fugue in D minor and vocal music such as the St Matthew Passion and the Mass in B minor. However, Chris rises above Bach's substantial works with stupendous ability and masterful empathy; and the first track is the dazzling 'Allegro', the nearly seven-minute shower-of-notes excerpt from the Violin Sonata No 3 in C Major, BWV 1005, which is utterly breathtaking and something of a tour de force to learn. Chris totally commands and coaxes his guitar to new heights; Bach never composed for the flatpick, but Chris's sheer mastery makes the listener believe that the venerable composer was missing out somewhere. This piece is the more remarkable; Chris admits that he doesn't read music, and that "memorising these tunes has been something of a challenge." Challenge? It's a major triumph!
The excerpts from the 'Cello Suite No 1 in G Major, BWV 1007, form three tunes which have been transcribed from G major to D major – the sedate 'Prelude', the gay 'Courante' and the tripping 'Gigue'. The Flute Partita in A Minor, BWV 1013, consists of four outstanding tracks; 'Allemande', 'Corrente', 'Sarabande' and the pretty 'Bourée Anglaise'. Chris leads the virtual audience through three excerpts from the Violin Partita No. 2 in D Minor – 'Allemande', 'Corrente' and 'Gigue' – with impeccable alacrity and considerable skill.
'Allegro', the excerpt from the Violin Sonata No 2 in A Minor, brings to a satisfying and scintillating end what has been a completely fascinating and demanding project; Bach's intricate switchback compositions would surely tax musicians' minds and the courage, but Chris has proudly shown that he's the first – and the only – flatpick guitarist to record the works of the German master with an impressive album. Five stars to him!
---
OMAR SOSA & SECKOU KEITA
Suba

Bendigedig BEND18-1
This remarkable album is the second from the collaboration between Senegalese kora maestro Seckou Keita and Omar Sosa, one of Cuba's most prolific artists and seven-times Grammy-nominated jazz pianist. Their pairing unites Cuba and Senegal across the Atlantic's vast expanse; their debut offering, Transparent Water, has toured worldwide since 2017 to enormous critical acclaim, and once again they are accompanied by Venezuelan percussionist Gustavo Ovalles.
Seckou is lauded and respected for his brilliant musical pairing with Welsh harpist Catrin Finch, and the duo have produced a brace of breathtaking albums, Clychau Dibon and Soar. Suba is Sunrise in Mandinka, Seckou's native tongue; and according to Omar, the connection was ancestral. Born and raised in Camaguey, Cuba's oldest and most sophisticated city, Omar has always considered his homeland to be a province of Africa. Seckou grew up in Casamance, the southernmost province of Senegal; his mother's family have been griots – hereditary bards – and kora players for three centuries. His father was a descendant of the great Sunjata Keita, founder of the medieval empire of Mali.
All the basic tracks were recorded at Fattoria Musica in the German city of Osnabrück, and Omar and Seckuo offer a rare type of magic. Suba is where world music collides brilliantly with world jazz, and Seckou's voice and his wonderful kora take the lead on the first track, 'Kharit'; gradually, Gustavo joins in on gentle rhythmic percussion, and Omar's piano blends and waltzes gracefully with Seckou's dancing, swirling instrument. It's completely radiant and rhapsodic, an extraordinary musical statement of Omar and Seckou joining hands of friendship across thousands of miles of ocean. The mystic, drifting 'Allah Leno' is punctuated by the staccato piano, and Jacques Morelenbaum's drifting 'cello paves the way for the starkly beautiful 'Korason'. Seckou's vocal on 'Drops Of Sunrise' is a sheer delight, and 'Voices On The Sea' is a drama in sound, where Dramane Dembélé's flute weaves in and out among the water percussion and the shimmering instruments.
Incidentally, Omar, Gustavo and Seckou are armed with all kinds of percussion, including marimba, talking drum, maracas, bongos, cowbell and calabash; indeed, Seckou and Gustavo experiment with brightly-coloured boomwhackers – musical plastic tubes which can be played by children, teachers and highly-professional musicians alike. Seckou's soaring voice swoops and flies on 'Maam', with the powerhouse piano taking the lead; Omar comes to the fore again on the lovely instrumental 'Floating Boat', with Jacques' sedate 'cello dropping in; and 'No One Knows' is brought to a entrancing end as the piano, kora, 'cello and lazy, summery percussion float off into the night – what a finish! Omar and Seckou's musicianship and empathetic connection with their respective nations is a refreshing breath of pure air – and I look forward very much to their next album.
---
MEL BIGGS
From Darkness Comes Light

Talking Cat Recordings TCCD2103
***** FIVE STAR CHOICE! *****
Mel Biggs is a Derbyshire-based musician, a performer and a highly regarded teacher of the diatonic accordion – in common parlance, a melodeon or squeezebox. She has recorded three exciting albums with the Anglo-European trio Moirai, with Jo Freya and Sarah Matthews, but her latest debut solo has spent an incredible 15 years brewing until she felt confident enough to undertake her own particular project and to go into the studio.
However, she need not have worried – it's a beautiful production, and it has brought admiring compliments from her fellow masters Andy Cutting and Simon Care. Andy has showered praise on her: "For several years I have watched Mel develop and grow as a box player and musician, and listening to her first solo record gives me great pleasure. A strong body of work, beautifully crafted and recorded." Simon nails it: "The overwhelming feeling is of someone who has carefully created, nurtured and delivered a complete musical journey from start to finish." Glittering pearls of wisdom, indeed – and Mel certainly deserves it.
She is well known as a singer, but From Darkness Comes Light is entirely her own spellbinding instrumental compositions; there's only one traditional track, the graceful May Morris dances 'Mounthills' and the skipping-and-striding 'Coleford Jig', in addition to a swelling heavenly choir of her multi-tracked voices ('High Places'.) First up is 'A New Day Dawns', where she coaxes the trembling squeezebox to new heights, and segues into a glorious crescendo which she titles 'Dream Big'. Mel is graced by a wonderful quartet of session musicians: piano accordionist Kat Biggs, guitarist and cittern player Jon Loomes, fiddler Bridget Slater and mandolinist and octave mandola player David Squirrell. Jon recorded, mixed and mastered this lockdown album in September, 2020 and March, 2021 – and David's parts were recorded at home by Peter Millson, who ran sound from David's patio to uphold social distancing regulations.
Mel's fresh and sparking compositions are all the remarkable when you listen to her teaching method that she gives to her squeezebox pupils. The golden rule is: learn to play by ear, "because it enables the pupil to build a stronger connection between you, your instrument and the people around you." Mel teaches students how to listen to music with analytical ears to understand the layers of which it is made up – and listening repetitively allows the students' brains to build a mental blueprint from which they can then build a tune. She says: "The most important skill in making music is listening. Through patient guidance, you'll learn how to let your ear guide your fingers."
Sound advice, indeed – and her inspiring melodies create the satisfying template for sheer and boundless enjoyment. The poet Gerald Manley Hopkins invented the word 'shivelight', and 'Shivelight In Spring' engenders a new hope and optimism; and 'Oppland Upland' is a lovely cameo for a breathtaking view of the Norwegian Oppland mountains. 'Shimmer' is the heat haze in high summer, and 'Long Shadows' is reminiscent of the fading summer and the falling sun. 'Catching Flies' is her tribute to cats everywhere; and 'Winter Weather Warning' is the story of the Malvern Hills, a big storm blowing in and extreme weather warnings all over the news. Mel didn't stop – "a good thing really, because I found this tune up there." 'Silver Linings' describes a depressing Black Dog day, despite Mel's philosophy: but every cloud…
Her expressive diatonic accordion playing is really quite delightful, and she can stand up proudly with the folk world's great composers. The final track is 'Katy's Theme', a swirling, waltzing melody which acknowledges the thriving French tradition and the welcome effect it has had on discerning musicians like Mel. Her solo squeezebox clearly traces out her own entrancing tune, one which – as she says: "had lived with me during my darkest time… I thought at first that Katy was an invisible friend, someone who was watching over me." As Mel reflects in what this piece has done to her now, she realises that Katy has become her aspirational alter ego: Why I'm in no way the finished article, she is all the things I struggle to embrace in myself. Katy is confident, Katy speaks for herself, Katy takes no crap. Be more Katy. This track is a statement of where I am now, where I've come from, but most importantly – where I'm going next…"
Dear Mel, you're overtaking Katy and leaving her behind with this precious and fabulous album. The world is your oyster…
---
CHARLOTTE PETERS ROCK
The Human Condition – 1

Manatee Press MP07
https://charlottepetersrock.blogspot.com/
Birmingham-born Charlotte Peters Rock is a poet-songwriter and a singer who performs regularly at Chester Folk Festival, Northwich and other folk clubs, around Europe and Russia. She completed her project The Peaceful Weavers Of Peterloo and has sewn up a series of 72 songs and four CDs about lifeboat rescues from the coasts of North Wales and England; now she is embarking on another album which tells the story of the history of these islands and the way people are – their foibles, their angers, their sadnesses, their pleasures and their work.
Her deep vibrato voice and excellent a capella verses just capture and ensnare the audience. An ardent Labour supporter, Charlotte swings the sword against greed, selfishness, corruption and cronyism; her opening track, 'For Times To Come', is her six-and-a-half-minute juggernaut demolition job on the lies, charlatanism and attacks on civil liberties which the rich, the privileged and the far right employ to keep the population subdued.
The Human Condition – 1 is a volume of poetic snapshots of industrial unrest and life in the northern counties, encapsulated by 140 years from 'Jackson The Busker' in the 1920s, the pre- and inter-war cameo 'John Jem an Willie an Winnie'; 'Captain Swing' is a vivid account of the 1830s resistance movement, when labourers rose up over the introduction of new threshing machines and the loss of their livelihoods; 'Barnardos Girl – Dilys' is based on the shocking history of Empire and the overseas removal of the children, and the closing song is the poignant life-or-death piece 'Can I Hold Your Hand'. Food for thought – and a considerable amount to chew over.
---
KHASI-CYMRU COLLECTIVE
'Sai-thaiñ ki Sur – The Weaving Of Voices

Naxos NXW76155-2
***** FIVE STAR CHOICE! *****
In the 1840s, Welsh Calvinistic Methodists launched overseas missions to the Khasi and Jaiñtia hills in Meghalaya, a state in North East India which borders Assam and parts of Bangladesh. The missions lasted until 1969 and had a profound effect on Khasi culture and society, the consequences of which still being played out today – a coincidental example is 'Ri Khasi', the Khasi anthem, which is strikingly identical to 'Hen Wlad fy Nhadau', the Welsh National Anthem. The Methodists were more concerned with evangelisation rather than colonisation, and they focused on improving literacy, education and healthcare. In the process, they suppressed many elements of Khasi culture and would have been viewed by many Khasis as colonisers; subsequently, the Seng Khasi movement was formed in 1899 to counter the efforts of the region's missionaries and to protect traditional Khasi culture. But as a cultural and linguistic minority within the British state, the Welsh were more sympathetic to the threat that British imperialism could pose on a small nation. They were dedicated to the Khasi language and printed ancient Khasi literature – and some Welsh missionaries represented Khasi interests against the exploitative practices of the East India Company and the British Empire.
In May 2016, Welsh writer and multi-instrumentalist Gareth Bonello – aka The Gentle Good – began studying for a PhD in music and performance under the supervision of Professor Lisa Lewis at the University of South Wales. His doctorate was part of a larger study that explored the connection between Wales and the Khasi Hills through artistic collaboration. The project produced a theatre piece called Performing Journeys with a mixed Welsh and Khasi cast, Gareth being musical director. He became a regular visitor to Meghalaya and embarked on a three-year session with Khasi musicians – and 'Sai-thaiñ ki Sur is the proud result.
Recorded in the city of Shillong and in villages around Meghalaya, this album explores folk songs, poetry, missionary hymns, folklore and historical and contemporary issues affecting both societies. Gareth plays a duitara – a four-string plucked Khasi instrument – as well as his guitar and 'cello; Khasi musicians include Risingbor Kurkalang (duitara), Rani Maring (maryngod, tangmuri), Jewel Singkli (duitara), Prit Makri (muiñ – a thin piece of carved bamboo attached to a cord and placed on the mouth), and Mebanlamphang Lyngdoh, who plays duitara, ksing, ka bom and kynshaw. Risingbor Kurkalang, Rani Maring and Maban Dingdoh are the keepers of a tradition passed on for generations. During his stay in Shillong, Gareth would improvise with poet and performer Lapdang Syiem and her musical collaborator Apkyrmenskhem Tangsong; her impassioned words: 'To The Men With Hate Speech On Their Lips', with a percussion backing, is a defiant banner of femininity, with the 'cellos sounding in drone and in harmony. Gareth also met the Khasi songwriter, DJ and vocalist Desmond Sunn; they both composed the track 'Kam Pher' in a forest outside Shillong, racing the sunset to finish writing before the cold set in. Gareth would meet superb musician Benedict Hinniewta to jam and compose with duitara, guitar and a bamboo flute called a besli; 'Hediad Ka Likai' is a thing of sheer beauty, with fingerstyle guitar and besli weaving and circulating.
'Sai-thaiñ ki Sur kicks off with Risingbor Kurkalang's sparkling composition 'Mei Mariang', played on duitara; Gareth follows up with the 19th-century writer Daniel Protheroe's hymn 'Pererin Wyf' (A Pilgrim Am I), and an exotic cuckoo heralds the thundery afternoon in Gareth's duitara melody 'Bryniau Cassia' (The Hills Of Khasia). By contrast, Shemphang Thangkhiew's shimmery song-tune 'Ka Sit Tula' is utterly spellbinding. 'Wel, Bachgen Ifanc Ydwyf' (Well, A Young Boy Am I) has Gareth's warm, quiet voice, blended with duitara; 'The English-language 'Soso & Waldo' drifts and floats into its very own gorgeous chord progressions and magical lyrics; and the final track, 'Alawon Cenhaty' is the ubiquitous duitara playing a medley of traditional and age-old Welsh tunes – 'Erddygan y Pibydd Coch' (The Red Piper's Air), 'Tri a Chwech' (Three and Six) and 'Marwnad yr Heliwr' (The Hunter's Elegy).
It's all breathtaking, gripping, wondrous stuff – and Gareth's 'cello, gorgeous harmonies and elegant, eloquent songwriting certainly scores as well. It's taken him and the Khasia musicians three years to achieve the recordings and the true story of how the Welsh missions resisted The East India Company and the British Empire and stoutly preserved Khasi culture, language and traditional music; Gareth, and the entire Khasi tradition, deserve a doctorate on this one.
---
JULY 2021
---
TEYR
Estren

Sleight Of Hand Records SOHR2104CD
***** FIVE STAR CHOICE! *****
TEYR are an excellent and charismatic London-based trio, consisting of uilleann piper, low whistler and percussionist Dominic Henderson, accordionist and keyboards player Tommie Black-Roff, hailing from the far west of Cornwall, and guitarist James Patrick Gavin, who plays violin and viola. Many ears pricked up when they released the acclaimed debut album, Far From The Tree; James kept the pot boiling when he recorded the absolutely beautiful and pretty marvellous solo collection, Chewing The Fat, which featured Dominic, Tommie and other guest musicians as well as exploring the lay lines between the London Irish and Fermanagh. Now Estren is here, and it defies anyone and anybody who feels disappointed. Estren – a Cornish noun that translates as 'Stranger' – a cracking, fizzing collection, totally bubbling over with brilliant scores, masterful instruments and inspiring arrangements – in fact, I'm just about falling in love with it.
Ten musicians lend their helping hand, dropping in and out of the tracks – including Holly Harman, violinist and owner of Penny Fiddle Records, cellist, composer and vocalist Abel Selaocoe (born in South Africa and 'spotlighted' in a full-page article in the August-September issue of Songlines magazine), Synth-player and vocalist Ruth Corey, violinist Flora Curzon, concertina player and vocalist Sid Goldsmith and viola player Amy-Jane Fisher. Co-producer Ian Stevenson works wonders with the album; he recorded and mixed the tracks, and he also played bass, electric guitar and percussion.
Estren gets off to a bounding, punching start with 'Shannon Frisk (Arrivals and Departures', two stunning tunes which developed and blossomed while James was waiting in the lounge at Shannon Airport; he mentally wrote the first few notes, and the whole caboodle just takes off and flies. Uilleann pipes, accordion and guitar rise, fall and somersault with wild abandon and with eye-popping dexterity – a helluva tonic for jaded ears.
TEYR learned the fine ballad 'Estren / Stranger' from Hilary Coleman – derived from East Cornwall singer Mary Treese in 1891 – and the verses eventually became the seed of the album. It tells the story of emigrating Cornish folk – 'Cousin Jacks' – and is still sung in the South West. Hilary takes the lead here, and her clear and confident voice is a delight. Dominic, Tommie and James break into a wonderful dreamlike variation, and Sid lends his voice and his concertina for a pretty corking song.
'Threshold' is somewhere between a slip-jig and triolipolska, and is "a melody for summer nights of music and dance" – while Dominic's song 'Gone Is The Traveller' has Ruth voicing the three stanzas as Flora, Amy-Jane, Holly and double-bass player Nina Harries make up a string section. 'La Bestia' is a strangely hypnotic bayou waltz; violinist Alastair Caplin and vocalist and cellist Abel are guesting here. Well-known traditional song 'The Drummer' is an absolute stormer, with Ruth's lovely diction ringing out the story and TEYR providing slinky, artful accompaniment; and the trio's composed 'Flower Of The Sun' and 'Kuusilta' draws the listener to The Basque Country and Finland, inspired by the Eguzkilore, the plant in Basque culture was a gift from Amalur, goddess of the earth, and is used to protect families.
Estren builds to a climax with the Cornish-language 'An Tros (The Noise)' and the TEYR-composed 'Little Giants' victory march: "Our tribute to the little giants of this world, the brave souls who carry on and show us there is a better tomorrow." It's an amazing album, worthy of all that Dominic, Tommie and James have really put into it and contributed their hopes, dreams and their ideas. In the immortal words of the delectable Janice: "Oi'll give it foive…"
---
THE MEADOWS
Dreamless Days

Pokey Cupboard Records POKEYCD03
The Meadows are four Carmarthenshire siblings, three sisters and a brother – Titania, the youngest, is lead voice and she also plays piano and chimes; Melody plays flute, whistles and tambourine; Fantasia is a pianist and violinist and Harvey is adept at violin, guitar and bodhrán). Father James Meadows manages and promotes the family, who have been classically trained by some of the greatest of British and Welsh musicians. Their debut five-track EP, Through The Fair, was released; and many ears pricked up when they recorded their first album, The Force Of The Tide, which included a number of traditional songs. Dreamless Days is their second 'lockdown' album, and this time they have broken away from the tradition by writing fresh original material – the only exception is a single wonderful song composed by Swansea legend, Jesus Christ Superstar leading actor and friend Steve Balsamo.
The Meadows' sound is alluringly unique, with angelic female voices tumbling over like a bright sparkling waterfall and Harvey's violin creating a soothing, succulent foundation. The stark, unhurried piano serves as a steady musical metronome; the keys and the chords keep time, and the whole atmosphere is one of pastoral peace and simple beauty. However, the band can spark up some rousing tunes and songs – for example 'Merlin's Oak', written by Fantasia and Titania and encompassing the rich Welsh folk-tales including the bwbach, the Welsh goblin, the Gwillgi, the mythical black dog that haunts lonely Welsh roads, the lady of the lake from Llyn y Fan Fach, the fierce warrior princess Gwenllian who led an army against the Normans, and the sad tale of unhappily married Branwen and her giant brother Brân who came to rescue her, wading across the Irish Sea.
Fantasia composed the jig-tune 'Castell Dryslwyn', one of the family's favourite haunts with the ruined castle overlooking the magnificent Tywi Valley with its rolling farmland and winding river; and the band put their heads together to come up with the lovely 'Gelli Aur', the 60-acre wooded parkland and arboretum surrounding Golden Grove mansion, once the home of the Vaughan and Cawdor families which was a cherished childhood playground. The Meadows spent many happy hours wandering through the woodland, catching butterflies or admiring the imposing manor house.
The album's main subject is on sleep and dreams, and I want to declare an interest here; I brought a wonderful Native American dreamcatcher, decorated with birds' feathers, from a park rangers' shop in Colorado, and the delicate web is supposed to channel dreams and guide them to the house. The dreamcatcher proved an absolute bargain; I installed it in the window, and every night without fail, vivid and really pleasant dreams come flooding back! Anyway, I digress – the opening track is 'Lullaby', which Titania wrote: "Lay your head on the pillow / Let your eyes rest in sleep." The theme continues with 'Elusive Dreams', composed by Fantasia and inspired by a recurring dream since she had since was a child. She says: "It's about change, faith, memories, uncertainty and the curious way these play out in dreams."
Fantasia has been the principal writer of Dreamless Days; 'Dried White Rose' was taken from her dream, and her piano takes the lead in Titania's song, the album's title. 'There's You' is gorgeously pretty and provides the lyrics: "I never saw you coming / I never saw my dreams come true" – and Steve certainly helps by penning 'Dream You Into Life'. Fantasia completes the cycle by writing 'Spin Me A Dream', but on the last track, she returns to the band's favourite coastline by composing 'The Tide' – a very fitting finishing song. The Meadows style themselves as a Celtic crossover band; this album proves that these siblings are very much in a rural field of their own.
---
CHRIS CLEVERLEY
Live From The Glass Isle

Independent release: no catalogue number
Chris Cleverley describes himself has "a UK Altfolk guitarist and songwriter" – which is a little bit matter-of-fact and much too modest. A striking and individual fingerstyle musician who creates his dreamy magical world with powerful, haunting songs, Chris is inspired by the age-old tradition; wisps of well-known folk melodies seem to drift in and out of his repertoire, but he uses his knowledge as a springboard where his new music takes off and flies.
He's been based in Birmingham for the last 11 years, and the city is where he cut his teeth – but, he says, it's time to go now: "This was my base from where I got my music career off the ground. So many great times with inspiring musicians on the scene over the years; Dan Whitehouse, Amit Dattani, Ruthie, Michelle, Katie and the Bonfire Radicals crew, all the city's promoters who have done me solids; Moseley Folk & Arts Festival, Hare & Hounds Kings Heath, Tower of Song and of course the amazing people who've come out to so many countless shows. But I'm looking forward to getting stuck into the South East scene."
Chris returns to the Birmingham area to the Dark Horse in Moseley on August 5 for the launch of his mini-album, Live From The Glass Isle; the seven tracks, plus a bonus song, were recorded live at Glastonbury Tor on August 1, 2020 – Lughnasadh – after he had walked up the spiral path at dawn. 'The Scarlet Letter' is an impressive opening track which produces a sparkling shower of notes as he fastens onto the story; and the well-known and well-loved shanty takes a whole new meaning as Chris interprets 'Shenandoah or The Blood Red River'. 'The Low Light Low' has teasing but fleeting traces of the maritime song 'Lowlands Low', while 'The Arrows And The Armour' shows his songwriting maturity, as does the beautifully mysterious 'Madame Moonshine'. The bonus track is called 'Rachael', and it's a perfect finisher.
Many pundits are singing Chris's praises – including Folk Radio UK, which has called him: "One of the most vital voices of his folk generation". The thrilling combination of his soaring tenor and his liquid rippling strings, not to speak of his absorbing, probing songsmithery, will have a warm and a welcome impact.
---
JUNE 2021
---
MICK'S QUICKS
On VE Day 2021, Reg Meuross digitally released the single The Bevin Boys (Bill Pettinger's Lament) to acknowledge the contribution made by 48,000 young male conscripts who were chosen by lot to work down the mines. Bevin Boys carried out vital and very dangerous mining; they were targets of abuse from the public, who viewed them as draft dodgers or cowards, and the police frequently stopped them as possible deserters. The War ended in 1945, but the final conscripts were not released from service until March 1948. Their contribution to the war effort was not recognised until 1995 when the Queen mentioned them, and they were allowed to take part at Remembrance Day at London's Cenotaph. Reg's hard-hitting verses and thoroughly memorable chorus was commissioned by Martin Pettinger, the son of Bevin Boy Bill Pettinger, to acknowledge the great contribution made by these young men. Phil Beer adds fiddle. Folkwales verdict: thumbs up!
Excellent troubadour and easy-flowing guitarist Tom Clelland, dubbed "The Van Gogh of songwriting" by the Glasgow Festival of Songwriting, has released a glittering gem of a double CD entitled Handpicked & Collected (MODESTINE002). He chooses 23 items from his four albums, Little Stories, Next Time, Life Goes On and A Garden Of Songs; the only exceptions are 'The Grassmarket Butchers', a Lanarkshire Songwriters' project about the Covenanters, 'The Ghost With The Squeaky Wheel' from the tribute album Have A Nice Life, and an unreleased song 'Berries', the story about the fruitgrowers in the Clyde Valley. Tip-top quality. Folkwales verdict: thumbs up!
Whyte is Gaelic-language duo Alasdair C. Whyte (vocalisation) and Ross Whyte (piano and electronics); the double-CD Maim (Independently released, WN0030) was born out of a partnership with Theatre Gu Leòr, which saw a run of sold-out shows at the Tron Theatre in Glasgow, prior to the Mid-March lockdown. The production and album explore the panic and horror a generation experiences when time is running out, coupled with a desire to take a strong stand against language and climate extinction. Very dark, etherial and disturbingly weird. Folkwales verdict: thumbs up!
Flook musician, whistler, flautist and Armagh resident Brian Finnegan absolutely triumphs in Hunger Of The Skin (Brian Finnegan Music, no catalogue number), the remarkable nine-track album which jazz, rock, inspiring Irish innovation and spoken voices brilliantly collide. Stunning compositions mix with beautiful airs; more than a score of notable guests also feature, including all the Flook members, Patsy Reid, bassist Ian Stevens, Colum Sands and guitarist Jenn Butterworth. Producer Seán Óg Graham also sessions with a plethora of instruments, including keyboards, bouzouki, button accordion and ukulele – quite amazing. Folkwales verdict: thumbs up!
Leveret – Sam Sweeney, Andy Cutting and Rob Harbron – release a delightful double album of their concert performance work, Variations Live (LEV CD05), which contains 15 scintillating dance tunes and airs from France, Belgium and England. Recorded before audiences at King's Place in London, The Sage in Gateshead and St George's in Bristol, violin, diatonic accordion and concertina ebb and flow like an endless tide and bring complete contentment and elation. A warning: the CD is limited to a thousand copies, so order early. Folkwales verdict: thumbs up!
Michael McGovern is a 25-year-old singer-songwriter-guitarist from Glasgow, and he releases his impressive debut mini-album, Highfield Suite (Cauldron Music CMCD004). Eight high-quality songs with startling harmonies, mature lyrics and memorable melodies; this one will go far. Folkwales verdict: thumbs up!
---
CHRISTINA ALDEN & ALEX PATTERSON
Hunter

Independent release: no catalogue number
www.christinaaldenandalexpatterson.com/
The 2020/2021 covid pandemic tore at thousands, perhaps millions, of folk, jazz and classical musicians' daily bread. The Norwich songwriting trio Alden, Patterson and Dashwood were exactly in the same boat, struggling to survive when there were no income and no gigs. They say: "This came as a big shock, and was initially very hard to come by in terms of losing our work and our sense of identity." Undeterred, Christina Alden and Alex Patterson recorded this delightful, home-made album at home in The Folk House on King Street, Norwich; their house is in the middle of the city centre, but covid had made the streets eerily quiet and they were able to record everything. Hunter comes with an eco-friendly cardboard package; Christina designed the CD, which contains the beautiful artwork of a lone fox and a flock of birds in the front sleeve and themselves playing the guitar and fiddle.
Christina and Alex are firmly on the side of conservation and rebuilding natural sources; first up is the album theme tune, which tells of an unusual friendship and companionship, inspired by Finnish photographer Lassi Rautiainen. In Finland's northern forests, a grey wolf and a brown bear – two solitary animals – were found to have formed a magical bond, playing, eating and hunting together. 'My Boy' is a true story of Indonesian Aldi Novel Adilang, who was swept out to sea when a storm knocked his wooden hut off its moorings; he survived 49 days at sea before being rescued by a vessel. The lovely 'New Year Waltz' was spent huddled between two microphones on a cold winter's day; and 'Brooklyn' is about the uncertainties of migration and hopes of a new life.
With all their gentle pastoral songs and tunes, Christina and Alex set the scene and stamp themselves firmly in the contemporary folk circle. Christina's lovely voice and tinkling, rippling guitar go hand in hand with Alex's soothing fiddle and soaring harmonies; her gentle banjo and his range of viola, 'cello, tenor guitar and shruti box are a breath of sheer originality. Having said that, 'My Flower, My Companion And Me' is the one single traditional song about love and loss; Christina and Alex heard it from Greg Russell, who learned it from Jackie Oates, who learned it from Norma Waterson, who in turn learned it from New York and Vermont tradition bearer Helen Schneyer – that's the folk process for you.
'The Fox Song' is an Arctic Fox's incredible 2,000-mile journey, taking it from Norway to Canada in 76 days. The tune 'March' was recorded back in 2020, and 'Land Corridors' is a warning about greedy human nature; the land between woodland and field is essential for wildlife to move between habitats, but most of these safe ecosystems have been destroyed. 'The Greenland Shark' is another warning about fragile strands that are in danger; and the closing 'Reed Cutting' centers on Alex, who used to work with a wonderful man named John while they were carrying out conservation in Suffolk. John had a strict method of doing tasks in multiples of nine – nine habitat piles, nine drops of rain before stopping work and paying wages in multiples of nine.
What a warm, peaceful album – and Christina and Alex should be roundly applauded for delivering their performance in such a wise and professional manner. Maybe these strange times will be over in future, and Noel can join them again. There is always hope…
---
HUW DYLAN
O Feirion … i Dreforys

Independently produced: no catalogue number
Huw Dylan Owen was born in the Meirionydd town of Dolgellau, in the shadow of the soaring crags of Cader Idris, and now lives in the Swansea suburb of Morriston. This extraordinary debut album is a musical scrapbook connecting his birthplace to the industrial south; it's a heady mixture of familiar folk tunes interspersed with rock themes, hypnotic Welsh-language poetry, intonation and what he calls: "Rap traddodiadol" – weird, wonderfully raw and very appealing.
He has been involved over the years with the Welsh musical scene, including Gwerinos – instigators of the popular Dolgellau folk festival Sesiwn Fawr, which has been storming on for many years – Yr Alltud and Mari Lwyd. He's a poet and an author of a book about Welsh folk sessions; indeed, the album sleeve has one of Huw Dylan's verses: "Ar hyd heol hudolus / am ennyd dymunaf eich tywys / O fro i fro dewch ar frys / O Feirion i Dreforys" (Along the enchanting road, I wish to lead you – from area to area, come quickly from Meirionydd to Morriston.)
O Feirion… I Dreforys focuses on Huw Dylan's work, however he graciously gives way to other poets. First up is 'Cyflafan' (Outrage), a cywydd curated by the late bard Dafydd Wyn Jones, with nice backing harmonies from sisters Heledd and Mirain Owen; the second is englynion composed by teacher, publisher and bard Gerallt Lloyd Owen, who was born in the parish of Llandderfel, Merionethshire in 1944 and passed away on July 15, 2014. 'Llwydwyll Gwareiddiad Llydaw' (Dusk of the Breton Civilisation) tells of a lonely old woman in Brittany and Breton culture's eclipse. Huw Dylan's 'Cau'r Hen Le' (Shutting the Old Place) is a desolate, sad comment; and 'Mudo' (Migrating) depicts a bird and its long flight from Soweto, across the Sahara to journey's end in a Welsh house – and 'Gwenllian' shows a very dark shadow in the history of Wales. She was the baby daughter of Llywelyn ap Gruffudd, the last native prince of Wales, who was tricked and killed by the English army at Irfon Bridge, Cilmeri, in 1282. Gwenllian, heiress to the royal family at Aberffraw, was taken prisoner and sent to the remote Sempringham Priory in Lincolnshire. She died after 54 years, confined to the priory. Mirain Owen takes the lead in Huw Dylan's song, which commemorates a forgotten lady and a terrible injustice. England tried to suppress and sweep under the carpet, for hundreds of years and for this day now.
'Uchder Cader Idris' (Cader Idris's Heights), 'Gregennan' (a cameo of the lakes, the great mountain providing an imposing backdrop) and 'Ymdaith Dolgellau' (Dolgellau March) are three of the rocked-up tunes; other traditional melodies keep popping up in Huw Dylan's poems. Catrin Rowlands sings 'Gorchuddia Fi' (Cover Me) and Heledd Owen is the backing vocal on 'Llwybrau' (Paths). The final track is 'Eirth' (Bears), which Huw Dylan's band played over ten years ago for an audience at the Waterside Museum, Swansea, Once the dust settles, the verdict is that he shapes O Feirion… I Dreforus in his own, unique bard's way – and the very best of luck to him.
---
BETHAN NIA
Ffiniau

Pili Pala 01
***** FIVE STAR CHOICE! *****
Pontypridd harpist Bethan Nia has finally recorded her elegantly beautiful debut album, released on her own label – and she could dine out many times with the wonderful story that not even Terry Pratchett or JK Rowling could have imagined. A struggling Welsh musician boarded a train and found a man in her seat – which turned out be Michael Eavis, organiser of the mega-gigantic Glastonbury Festival. Eavis moved as soon as he realised his mistake, sat opposite her and soon they got to talking. He discovered that she played the harp for a living and asked her to perform at the opening of his village hall, which he had donated funds for its renovation. All this led to an appearance at Glasto's Avalon Stage, when she wowed the crowds – including The Levellers' singer and guitarist Mark Chadwick – with her songs and tunes that would appear on this album. Chadwick invited her to join the band, which was playing on stage that very night. She said at the time: "It was sensational. I couldn't believe my luck that a giant gig had fallen into my lap."
Bethan went on to win the Danny Kyle Award at Glasgow's Celtic Connections and entertained thousands at the Lorient Interceltique Festival in Brittany – however, she started a family, and the flurry of gigs had to be shunted into the sidings. Now she is back with Ffiniau, which translates as Borders or Boundaries, and the 13 fine and wonderful tracks are just ready to captivate audiences. It's all thanks to Charlie Francis, for several years the trusted album producer and live mixer with American rock band R.E.M. Charlie relocated to Cardiff, and he produced, recorded and mixed Bethan's album. Charlie plays keyboards for Ffiniau, and he also dips into ebow, acoustic and bass guitars and piano and supplies the vocal harmony.
Notable session musicians come and go, including viola player Sally Greenwell, fiddler Oli Wilson-Dickson, percussionist Jack Egglestone, Gareth Bonello (acoustic guitar, vocal harmony and 'cello) and crwth-player Gillian Stevens. Charlie waves his magic wand to create a serene, peaceful, feel-good atmosphere, with Bethan's lovely and enchanting voice ringing clear; it's quietly hypnotic and so subtle, and the gorgeous production tugs at the listeners' hearts and minds and persuades them to play the album again and again.
Bethan divides her album into several well-known and well-loved traditional songs and tunes, a clutch of self-written material and a trio of contemporary composers' pieces. Let's start with the revered familiar Welsh cultural repertoire, which has been covered and recorded many times by a legion of Welsh, English and American artists – entirely understandable, when you consider the stunning quality of the music and lyrics. She opens with the 18th-century 'Bugeilio'r Gwenith Gwyn' (Watching The White Wheat), the tragic true story of Wil Hopcyn, Ann Thomas (The Maid Of Cefn Ydfa) and squire's son Anthony Maddocks, but she rises above the crowd with her celtic harp absolutely shining and her beautiful echoing vocals leading the way – and just listen to those arrangements. The follow-up, 'Ym Mhontypridd Mae 'Nghariad' (My Love's In Pontypridd) is truly magical in its fragile femininity, while the record holder with the most covers – 'Ar Lan Y Mor' (On The Sea Shore) – enhances greatly with Jake's gorgeous, lazy percussion and Sally's summery viola. Jake kick-starts the desolate minor-key 'Beth Yw'r Haf I Mi?' (What Is Summer To Me?), and Bethan voices a single, heart-stopping vocal harmony; it's deliciously spine-shivering and invitingly slinky. By the way, her partner, Richard Reast, translates all the lyrics.
Charlie's inspired imagination has Bethan's echoed voice bent and fractured to the nth degree on 'Cân Yr Ychen' (Song Of The Oxen); it's all alluringly mysterious. She records a brace of traditional airs – 'Tŷ Fy Nhad' (My Father's House) and 'Diferion Y Gerwyn' (The Droppings Of The Mash Tub) – live in Price's Bakery in Pontypridd; chatty, cheerful voices can just be heard. 'Balad Sgêr', written by W. Rhys Nicholas with Brychan Jones contributing the third verse, describes the lonely isolation of the crashing sea and Skêr Farmhouse in the approaching storm; and Gareth and Bethan share the loveliest harmony in the plygain carol, 'Gwêl Yr Adeiliad' (Behold Creation). The tumbling melody 'Kananaskis' describes the spectacular Rocky Mountain land to the west of Alberta, Canada; it was composed by James O'Grady, and Welsh harper Harriet Earis taught Bethan the tune.
Bethan adds a little exciting spice to Ffiniau on her quartet of self-composed songs; the freeform 'Between Land And Sea', 'Outside' and 'Winter's Song' show her original writing maturity, while 'Between The Lines' is the perfect finisher; her fabulous vocals and swelling accompaniment just keep on soaring to the end. This is a memorable album and a winning one to boot; let's have another one, please!
---
MÀIRI MACMILLAN
Gu Deas

Independent release MMM1CD
Màiri MacMillan was brought up in Milton, a tack or tenant farm on the Hebridean island of South Uist; it takes its name from the Scottish Gaelic of Geàrraidh Bhailteas, and it was on this tack that 18-century Jacobite heroine Flora MacDonald was born and spent her childhood. Màiri has spent her life surrounded by the Gaelic language, culture, music and song, and she comes from a family the a strong Gaelic background. Gaelic is her first language and Gaelic songs and traditions are always an important part of family life.
This is the long-awaited album from her; Gu Deas translates as South or Southern, and Màiri deftly and expertly displays eleven songs from South Uist tradition bearers. Joining Màiri are four wonderful and talented musicians: Mhairi Hall, (harmonium, piano, flute and whistle), Megan Henderson (fiddle and voice), Ali Hutton (bodhràn, guitar, whistle and great highland bagpipes) and Rachel Newton (clàrsach, electric harp and voice).     She sets the atmosphere just right with the brisk and dancing opener 'Mairead nan Cuiread' (Wily Margaret), a trippingly hypnotic waulking song; Mairi, who learned the song with Kate Nicholson leading the verses, describes "The energy and the spirit, the women coming together to waulk the cloth is magnificent." In contrast, 'O Phiuthrag Ole O Phiuthar' (Oh Wicked Confidant O Sister) tells the story of a woman who falls in love with a mythical creature who is half-man, half-horse; she is betrayed by her sister.
Màiri's sweet and lovely voice runs the gamut of Hebridean culture, from 'B' Feàrr Leam nan Tigeadh Mo Robairneach Gaolach' (I Wish The Return Of My Clever Darling), which she learned at school, to 'Mo Rùn Geal Òg (Cumha Uilleim Shiosalaich)' (My Fair Young Love (William Chisholm's Lament) – a really fine closer. Mhairi, Megan, Ali and Rachel do such precise wonders with the accompaniment; combined with Mairi's confident, must-listen-again vocals, it's a strong advertisement for South Uist.
---
MAY 2021
---
RÃO KYAO
Gandi

Galileo Music GMC093
www.discogs.com/artist/196064-Rão-Kyao
Mahatma Gandhi was one of the greatest spiritual and political leaders of the 20th century; he was born in 1869 and assassinated on January 30, 1948 by Nathuram Godse, an advocate of Hindu nationalism. An Indian lawyer and an anti-colonial nationalist, Gandhi led the successful campaign for India's independence from British rule. He employed Satyagraha – resistance to tyranny through mass non-violent civil disobedience. What started as a relatively small-scale peaceful walk to protest against British salt pans in Dandi, Gujarat ended with thousands of protesters joining in the march. Gandhi reached down and picked up the salt grains in his hands, claiming the salt for India.
Portuguese bamboo flute master Rão Kyao – real name João Maria Centeno Gorjão Jorge – recorded six albums in the course of many years, and his seventh honours the great man. He produced Gandhi using traditional and modern instruments, including Portuguese guitar, accordion, harmonium and the viola braguesa, from Braga in north-west Portugal; Rao's warm, lovely bamboo flute blends in with the proud and peaceful music, including Gandhi's favourite devotional song or bhajan, 'Vaishnav Jan To Tene Kahiye Je', written in the 15th century the Indian poet and composer, Narsinh Mehta. Originally written for the devotees of Vaishnavism, the song is known for its profound teachings about human conduct.
'Marcha Do Sal' (Salt March) celebrates the march on the Dandi salt pans, and Rão Kyao performs so many tunes which form Gandhi's views on life: 'Respeito Pela Naturanza' (Respect for Nature), 'Deus É Amor' (God Is Love), 'Paz E O Caminho' (Peace Is The Way), 'Misericórdia' (Mercy), 'Sathya Graha', 'Independência' (Independence) and the closing coda 'Mahatma' create a beautiful, permanent work. He says: "Gandhi was always ahead of his time, a futurist. His philosophy is exactly what we need nowadays."
---
APRIL 2021
---
TRANSGLOBAL UNDERGROUND
A Gathering Of Strangers 2021

Mule Satellite MULE20
www.transglobalunderground.net
The highly commendable European Union Erasmus scheme was established in 1987 to allow students from EU member states to study abroad for a part of their degree; however, the English Tory prime minister Boris Johnson plumbed the depths of philistinism by scrapping all grants in Wales, Scotland, The North Of Ireland and England in his Brexit frenzy. Before that, Transglobal Underground musicians and core members Hamilton Lee (alias Hamid Mantu) and Tim Whelan (alias Alex Kasiek) used their money by journeying across the continent and collaborating mainly in Prague, Budapest and Sofia, searching in unexpected corners for traditional songs of emigration, immigration and travel across Europe – and their findings enabled TGU to create an ear-popping patchwork array of Balkan, English and Irish voices together with traditional Balkan kaval flutes, hurdy-gurdies, violins, hip-hop, pounding drum and bass dub, spacey synths and electronic bubbling farts in far-reaching, experimental cross-over folk-mix.
TGU are a group of London-based collaborationists with many floating members, past and present – including storyteller and lead singer TUUP, percussionist and lyricist (an acronym for The Unorthodox Unprecedented Preacher, real name Godfrey Duncan), Natacha Atlas on vocals, bassist Count Dubulah (real name Nick Page), Johnny Kalsi (dhol) and Larry Whelan (saxophone, clarinet, ney, shenai and string arrangements). A Gathering Of Strangers 2021 starts off finely with stunning open-throated Eastern European singing from Nóri Kovács in 'I Left My Sweet Homeland', accompanied by Iván Barvics on kaval and hypnotic percussion; and the follow-up, 'Hey You Shepherd', scores even better with a jaw-dropping trio of female voices (Eugenia Georgieva, Jazmina Stosic and Dessislava Vasileva) mixed in with Hungarian and Bulgarian kavals (Iván Barvics and Alexander Todorov), Eastern European gaida bagpipe (Apostol Georgieva), violinist Gundula Gruen, davul drummer Juan Pino, beats programmer Christopher Juul and hurdy-gurdy player Seren Hammerlund.
All the tracks are arranged and mixed by TGU; English folk singer and multi-instrumentalist Jim Moray swaps voices with Nóri Kováks in 'Lisbon / Soldier Song from Ӧrdöngösfüzes', and Eugenia Georgieva's incredibly beautiful vocals shine through the kaval, violin and lap steel guitar on 'When You Hear Me Sing'. However, Stuart Staples' histrionic tortured expressions in 'The Miner's Dream Of Home' does not float my boat – and the album goes downhill after that, with a plethora of annoying synthetic beeps and burbles. Martin Furey, son Finbarr Furey, performs 'Van Dieman's Land' to Bourama Badji's Mandika rap, and Weronika Grozdew-Kotaci interprets 'I Have Sold My Field' to hammered dulcimer accompaniment. 'Hudci' is one big noise, and the closing tune – the Irish traditional song 'Farewell My Dear Own Native Land', made famous by the late Cork-born traveller Margaret Barry – is a messy dog's dinner of production, with banjo, whistle and kaval fighting to be heard above the mayhem. The album is a bit of a curate's egg, with absolutely inspiring voices and wonderful ancient instruments sparring with DJs' electronics. TGU have come very close – but, regretfully, no cigar.
---
CATH & PHIL TYLER
Some Heavy Hand

Ferric Mordant Records FE12
Cath and Phil are a raw, stripped-bare Anglo-American folk duo, combining guitar, banjo, fiddle and voices with the thrilling sounds of Sacred Harp, the New England shape-note tradition which has lasted more than 200 years, Stephen Foster's plantation melodies, a Bellamy-Kipling song-poem and ultra-rare versions of country material. They tied the knot in 2003; before that, Cath lived in Massachusetts where she played bass guitar as part of the American folk-punk band Cordelia's Dad and was a member of shape-note singing quartet Northampton Harmony. Phil comes from Newcastle upon Tyne and has been a mainstay of the North-East folk scene for years. Before lockdown, they hosted a weekly night in Newcastle, while Cath is a respected Sacred Harp teacher.
Since they recorded Dumb Supper, their first album in 2008, they have gathered a collection of unreleased and rarely-heard tracks – including the follow-up CD The Hind Wheels of Bad Luck. The opening shouter 'Palms Of Victory' was their first recording in 2005 at Brancepeth Castle, about five miles south-west from the city of Durham; the last offering is 'Love's Old Sweet Song', composed in 1884 by G. Clifton Bingham and James Lynam Malloy and recorded at Cath and Phil's home for a Resonance FM Bloomsday programme. If you don't recognise the name, you will when Cath sings the familiar chorus: "Just a song at twilight…" 'Angeline' was adapted from Stephen Foster, who called it 'Angelina Baker'; they say their version owes a lot to Dwight Miller, who interprets the song slower than most. The James Rowe and R.H. Cornelius 1925 composition 'Give Me The Roses' was recorded at home for the 2014 Leigh Festival competition, and William Farrington's 1848 Methodist hymn, 'Dying Boy', is given the full hairs-on-the-spine a capella shape-note style. The album's title derives from Farrington's verses: "Mother, I'm dying now / There's a deep suffocation in my breast / As if some heavy hand my bosom pressed…"
The whole album is spiced with their no-holds-barred, stark and simple material; the well-known folk chestnut 'The Water Is Wide', recorded for a NARC magazine 2009 compilation, takes on a new meaning when it's given their down-home treatment, and 'Sunshine' – recorded from The Ox And The Axe 2018 sessions – develops a bleak and beautiful quality which is completely different from the usual show-biz vaudeville style. 'Our Fathers of Old', written by Rudyard Kipling and embellished with a Peter Bellamy melody, is a fresh departure from the American tradition; and 'Amazing Grace', John Newton's well-known hymn, dons a freshly made-up face enhanced with an unusual tune.
Only one thing is missing – and that is Cath's fiddle. That's a shame; perhaps in choosing the album's tracks, the fiddle got left out. Memo to myself: must investigate Cath and Phil's strange, wonderful repertoire…
---
HARBOTTLE & JONAS
The Beacon

Brook View Records BVR002
Devon duo David Harbottle and Freya Jonas combine a love of the richness of traditional folk with the compelling sound of their own dreamy songwriting; The Beacon is the fifth album under their belts, and the mixture of concertina, harmonium, banjo, acoustic guitar and cittern married to their beautiful and closely intertwined harmonies produce a fresh and original texture. Collaborator Annie Bayliss joins them on violin, accordion and three-part vocals.
The album is named after Ugborough Beacon, the ancient site that looms over South Brent, the Dartmoor village that David and Freya call home – the home to which they hurriedly returned from a cancelled tour of Germany, rushing to make it back to Devon before the UK entered lockdown in mid-March last year. The Beacon is their attempt to break away from the confines of the folk scene and sail ahead in the commercial pop industry wave; engineer and producer Josh Best-Shaw creates some very lush layers, with David multi-tracking, loads of echo and shimmering, drifting voices. What is more, they wrote and recorded the collection entirely in their living room during the 2020 covid pandemic.
The title track, where Harbottle and Jonas salute the site, is truly impressive; pounding percussion and sweeping violin heralds the coda. The pretty 'Edith Cavell' tells a sombre Great War story of how she was murdered by German troops, and Freya's 'I Make A Nest' is simply demurringly gentle. 'Whenever You See A Robin' is mindbogglingly complicated to an exhilarating degree, and 'Every Creature Is A Book' is really feelgood pop. Annie delivers some gorgeous viola in the instrumental interlude; and Freya's lovely voice shines through to the last traditional track, 'Black Is The Colour', which is utterly breathtaking.
What a fine album, but it's linked to a cautious comment: in trying to appeal to large audiences, the production is tending to drown out the words and the meaning. The average pop fan doesn't give two hoots about the lyrics, but the average folk fan certainly does. Let's sincerely hope that David and Freya don't fall between the commercial and folk stools.
---
MICK'S QUICKS
Reg Meuross is a prolifically industrial and very entertaining singer-songwriter; in fact, he's just one of my favourite contemporary guitarist-troubadours right now. He has just released an incredible seven albums, which speak volumes of the history of the man and his music. The Goodbye Hat (Hat Records, HAT014) is the 1996 introduction to the young Reg, with an array of session musicians – the title song has a unforgettable  'earworm' mighty chorus. Short Stories (HAT015, 2004), Still (HAT016, 2006), Dragonfly (HAT017, 2008), All This Longing (HAT018, 2010) and Leaves & Feathers (HAT017, 2013) provide oodles of marvelous material; Songs About A Train (HAT012, 2017) is a collection of unreleased songs, recorded between 2013 and 2017. What utter quality!
Edinburgh-born singer-songwriter Bob Leslie started off in the 1960s folk boom but found himself in the pop industry, courted by Kinks managers and Chrysalis Records; Back in Glasgow, he returned to folk and released Land And Sea (2017), The Barren Fig (2019) and his latest album, In Praise Of Crows (Big Red 5). Bob's booming voice eloquently explores the 12 tracks plus a bonus 'Bess Millie' – he plays electric, acoustic and bass guitars, and his talented daughter provides proves vocals on two songs. Verdict: a razor-sharp comment on life in Scotland today.
Aberdeenshire-born Iona Fife has released her new digital single, Scotland Yet, a preview of her forthcoming crowdfunding album. Written by the late lamented Davey Steele, it's a proud anthem which addresses to all Scots on the question of independence: "The choice will be upon us soon tae set oor destiny / I'll drink a toast tae Scotland yet whatever yet may be." A trio of musicians sets the tone: guitarist Jack McRobbie, double bassist Charlie Stewart and Graham Rorie (mandolin, fiddle, electric tenor guitar).
The beautiful Scottish song 'Black Is The Colour Of My True Love's Hair' found its way over the Atlantic to the Appalachian hills; Dartmoor duo Harbottle & Jonas hit the target with their promising digital preview single Black Is The Colour (Brook View Records), a foretaste of the just-released album The Beacon. Freya Jonas takes solo lead and plays harmonium, David Harbottle supports with guitar and cittern and Annie Bayliss adds violin to the lush arrangement.
Fruzsina Zsofia Rakoczy is an Anglo-Hungarian singer and concertina, recorder and bagpipe player, born in Budapest and now based in Manchester; her debut album Frontrunner (Talking Cat Records TCCD2002) is a mad whirl of traditional and pop themes concerning the mysterious horse, backed by The Horror Show (musicians Heather Sirrell, Edwin Beasant, Jon Loomes and Forbes Legato). Bagpipe, hurdy-gurdy and Rakoczy's stark voice combine to conjure an intoxicating upbeat sound.
Where The Wind Blows (EP Records EPR002) is the second album for Sardinian Elena Piras; She moved to London at the age of 18, and then to Scotland in 2006 to study at the Royal Scottish Academy of Art. it's a compelling mix of well-known and well-loved folk material and beautiful Scottish and Gaelic songs, including Robert Burns' 'Ae Fond Kiss' and the traditional 'Soraidh Leis An Áit', which local Borders radio have aired for her. Session musicians include pianist and mixer Angus Lyon and fiddler Seonaid Aitken.
The Daughters Of The Dessert's six-track EP Sorrow Soothe (New Cat, no catalogue number) is so left-field that it drops off and vanishes into space. It's the latest project that was born at the London Musicians' Collective Renaissance FM, comprising composer and producer Esbe, writer presenter Jude Cowan Montague and studio engineer Mia Kutathasan. Lots of pulsating synth and dissonant harmonies – disturbingly weird.
Jerry Akehurst spent this project building, insulating and equipping a studio on the isle of Iona in the Scottish Hebrides, harvesting 50 years of his best written songs. The result is An Old Man's Folly (JA2021, independently released), 13 heartwarming, feelgood tracks which are really generous, time-wise; the shortest song, 'Last Boat', is a mere four minutes and 15 seconds, while 'Heaven's Bounty' is a shade under five minutes, the folk-influenced 'Atlantic Charter' is six minutes and the magnificent 'Remembrance Day' lasts nine-and-a-half minutes – and time really does fly by when he packs in a plethora of enjoyable and must-hear material.
---
INTARSIA
Sistere

Coth Records COTHCD
***** FIVE STAR CHOICE! *****
Intarsia is spellbinding percussionist Jo May and innovative fiddler Sarah Matthews, who have worked together since 2018. The name of this remarkable duo derives from a blend of textures in textiles and woodcraft, similar to marquetry; but Jo and Sarah like to think of it as "an intricate blend patterned musical sounds using a variety of wooden instruments and voice – an acoustic intarsia." Jo has worked for different bands, including Against The Grain, Xoox and Token Women, while Sarah is a member of Cupola, Moirai and Derby band Cross o'th Hands – and Sistere is a latin verb meaning 'to stand still' or 'to take a stand.'
Sarah executes some pretty neat fiddle, viola and octave violin; Jo maintains a plethora of percussion instruments, including a tan tan, cajon, conga, pandeiro, spoons, bodhràn, assorted foot pedals and drums. However, the balafon takes the lion's share – it's a type of gourd-resonated West African xylophone which is spreading from Guinea across to Mali. Its recognisable and thrillingly exotic sound can be heard in the opening track, Jo's composition 'Mam Tor'; meanwhile, Jo and Sarah certainly ring the changes with their very tasty follow-up, 'Les Doigts De Carmen/ Round The Corner' – two gutsy, kicking tunes from the highly-respected hurdy-gurdy player Evelyne Girardon and the celebrated and well-loved diatonic accordionist Andy Cutting.
Sarah's beautiful and lusciously-low voice heralds the traditional song 'Once I Had A Spring Of Thyme', blended with the gloriously complicated tune 'Playing For Time' by ex-Cross o'th Hands member Doug Eunson, who engineered and mastered the album at Derby's Old Farm Studios. Jo and Sarah are absolutely brimming over with inspirational and exciting material; Jo conjures up her mind-boggling melody 'Double Figures', and Sarah is so stunning on the late Bill Caddick's 'The Barmaid's Song' – her a capella singing, accompanied by Jo's empathetic, quiet-but-insistent percussion, can move mountains.
The tracks come thick and fast; Jo's 'Always A Smile' is a dear tribute to her sister, who passed away in hospital, and 'Le Bandeau Perdu' is Sarah's lovely but sad story of the lost hairband at the St Chartier festival. Jo's 'Lost At Dusk' was composed at a scary time when she and a friend got thoroughly misplaced, just as the setting sun threw long, dark shadows. Sarah's dizzy jig, 'Amber's Great Adventures', celebrates one of her chickens who escaped many times; Jo adds some magical stuff on the balafon, and throws in 'Somewhere In Between' – a whimsical melody whose 7/8 time is guaranteed to have dancers tripping over themselves.
One remarkable and very noticeable impression is that Jo and Sarah play the tunes and the songs completely on their own; Doug touches up one or two subtle double-tracks for good measure. However, Sarah names the final track 'Sol Sistere', which praises  the wonders of our universe and the summer solstice – and Jo and Sarah join over a goodly score of singers, recorded remotely in the 2020 lockdown, as the chorus swells: "Let the sun stand still…" Buy it, I implore you!
---
MARCH 2021
---
JIM CAUSLEY
Devonshire Roses

Hröc Music HROC05
Here's one in the eye for those glitzy million-pound commercial productions! Jim returns to his roots for his lockdown home-produced album on his own label, proudly strutting his stuff and displaying 20 traditional, written and supremely local songs from Devon. What a magnificent collection it is – and he has already recorded 30 more down-home melodies and verses for his planned Devon trilogy. Born 40 years ago in Exeter, he lives in his home village of Whimple, in the heart of cider country and the wassailing culture. In these covid times, all the Devonshire Roses musicians recorded themselves at home – Jim is playing a battery of instruments including his piano accordion, button accordion, accordina and piano, Matt Norman is on his mandolin, banjo and mandola and Nick Wyke contributes his violin, viola, guitar, glockenspiel, ukulele and voice. Josephine and Ross, from the Causley family, supply vocals; and the Mariners Away Shanty Crew add luscious and lusty unison singing. Last, but not least, is artist Karen Cater's lovely painting, which serves as an impressive CD cover – the Welsh-language 'Dyfnaint' proper noun really leaps out!
First off is 'The Bell Ringing'; Jim adopts a jaunty swing and a bucolic accent, and the sound of church peals adds to the atmosphere. He stamps the ubiquitous 'The Rounding Of Cape Horn' as a true Devon song, and Brendon Valley farmer Margaret Palmer sang the gay 'Bampton Fair', which is still held every last Thursday in October.
'Childe The Hunter' is a true story, and Childe's Tomb marks the spot where Tavistock Abbey monks discovered his frozen body. In pre-covid days, Jim used to host Jan Stewer nights; Jan Stewer was the nom-de-plume of John Albert Coles, an author, teacher, journalist, performer and TV personality who wrote humorous letters and stories in the Devon and Exeter Gazette. Coles wrote 'What About A Little Drop Of Cider', which Jim and company take to the limit. In contrast, a navvy working on the Barrator Reservoir sang the beautiful 'Queen Of Hearts', taken down by the Reverend Sabine Baring Gould – who, despite all his faults, certainly made his mark on Devon tradition.
The Dartmoor ghost song 'My Lady's Coach' was one that Baring Gould learned from his nurse, Mary Bickle of Bratton Clovelly. Jim sings a bevy of the reverend's work, including the sombre murder ballad 'Ockington', an old name for Okehampton, 'Blackingstone Ravens', an unusual Devon variant of the 'Two Crows' ballads. Typically, Baring Gould collected many versions of popular cumulative song 'The Mallard' but discarded the words as nonsense. Jim learned a medley of versions from Bunny Palmer Henry Mitchelmore and sings the slewed, crazy words magnificently.
Devonshire Roses is brimming over with wonderful songs, including Phoebe Birch's Derby Ram-like 'Flemington Great Meat Pie' and 'Twenty One Years On Dartmoor', a 1930s song written by the American Bob Miller. It smacks of the traditional prison song 'Birmingham Jail', and Jim sings "Dart-i-moor Jail" to fit in with the rhythm. The album closes with the notorious 'Widecombe Fair'; Baring Gould collected many versions of this song, but was the first to give it the title of 'Widecombe Fair'. Jim says that the actual fair in Widecombe did not begin until 1850, but the first published reference to the song 'Old Cobley' was in 1761. Verdict: The Devon Songbook in glorious CD – it's fair to say that Roses definitely grow on you.
---
JENNY STURGEON
The Living Mountain

Hudson Records HUD021CD
The book The Living Mountain conveys the very essence of the Cairngorm mountain range in north east Scotland; it was written by Aberdonian Nan Shepherd in the 1940s, but it sat in her desk drawer until it was published in 1977. Singer and songwriter Jenny Sturgeon paints a fabulous picture of the brooding, empty splendour of the high country – and a number of session musicians complete the vivid, shimmering image. She is working on an audio-visual project of the same name, alongside award-winning curator, filmmaker, facilitator, strategist and producer Shona Thomson – a collection of songs and films triggered by Nan's book. Supported by Creative Scotland and Help Musicians, the show was supposed to be tour on 2020 and 2021; however, the covid pandemic jinxed that. Here's hoping that the tour will blossom and grow this year.
Jenny is an organic musician who forges the old and the new with a fine and rare skill and individual art. Her songs are seamlessly woven with nature, folklore and the beautiful, rugged wild country. Among her recordings is the 2016 geese-inspired CD From The Skein and the 2018 album Northern Flyway, with accordionist Inge Thompson, a virtual tone-poem which tracked the course of the migrating sea-birds. The Living Mountain successfully brings together all the emptiness and grandeur of nature's ways.
The celebrated producer Andy Bell recorded Jenny's songs in the remote Clashnettie Arts Centre, close by the Cairngorm range. Jenny plays a plethora of instruments, including guitar, piano, dulcimer and harmonium; Magnus Robb and The Sound Approach and Jez Riley French contributed field recordings of the copious wildlife which inhabits the thousands of acres – snipe, crested tit, snow bunting, golden plover, ptarmigan and red deer. Musicians include bassist Grant Anderson, viola player Mairi Campbell and cellist Su-a Lee; from the opener 'The Plateau' to the closing 'Being', ethereal harmonies and fleeting, wonderful strings abound. This album is like an isolated walk by yourself in the mountains; it soothes the mind and refreshes the soul.
---
FEBRUARY 2021
---
VARIOUS ARTISTS
Between Islands (double CD)

An Lanntair Records LANCD0006
***** FIVE STAR CHOICE! *****
In line with several creative ideas, the Between Islands Project had to be halted because of covid-19. Originally initiated by the An Lanntair arts centre in Stornoway, Lewis, and funded through the LEADER 2014-2020 regional cooperation scheme, the project had been working with 13 artists from Orkney, Shetland and the Hebrides. Musical performances were planned for the Shetland Folk Festival and Heb Celt in Lewis, but the virus put paid to that.
Project coordinator Alex Macdonald explains: "As the project was based on live events, initially we were at a loss as to how it could be saved. Thankfully we were able to redesign what was planned, and this double CD contains both live work previously captured and a series of entirely new tracks recorded in lockdown."
Between Islands encapsulates the songwriting project, with Orkney's Kris Drever, Willie  from Lewis and Arthur Nicholson from Shetland; the fiddle project, with Shetland's Maggie Adamson, Orkney's Louise Bichan and Lewis's Jane Hepburn Macmillan trading some stunning and beautiful tunes; and the folk project, with Orkney musicmeister quartet Saltfishforty, North Uist-born Julie Fowlis, Kathleen Macinnes (born in South Uist and living in Glasgow), Maggie Adamson, Jenny Napier Keldie and Neil Johnstone.
CD one is studio recorded and CD two live at An Lanntair; the many spectacular highlights include Saltfishforty and Jane Hepburn Macmillan's rollicking and swaggering 'The Curly Doddy/The West To The North/The Last Queen Of Burray'; the classic and serene 'Da Slockit Light', written by the late fiddler Tom Anderson after the passing of his wife; Maggie Adamson's 'Maggie Robertson's Reel/Cosgrave's Sound/Hurlock's Reel'; 'Fishing Puirt/The Stronsay Weaver', an unaccompanied puirt a beul which tells the story of the herring girls following the fishing fleet; and fiddler Douglas Montgomery's 'Howe Hornpipe', composed for his mother and father on the occasion of their fiftieth wedding anniversary – Howe is the family home in Burray where he grew up with his brother and sister. All the tracks are faultlessly superb, and they include Kris Drever pairing with Linda Macleod, Neil Johnstone linked with Louise Bichan, Arthur Nicholson duetting with Julie Fowlis, Maggie Adamson together with Kathleen Macinnes and Willie Campbell performing with Jenny Napier Keldie. All the artists absolutely strike sparks; Between Islands could have met with disaster because of the virus, but now this double album is a triumphant must-hear souvenir for all the world to share and savour.
---
THE CHAIR
Orkney Monster

Folky Gibbon Records FGCD0025
***** FIVE STAR CHOICE! *****
The Chair is a mighty kick-butt eight-piece dance band from the bleak and beautiful Orkney Islands; the line-up is drummer Erik Laughton, percussionist Robbie Thompson, bassist Andrew Gifford, guitarist Gavin Firth, accordionist Bob Gibbon, Brian Cromarty on banjo and mandolin, while Kenny Ritch and Douglas Montgomery magic up the singing, ringing fiddles. Orkney Monster is the long-awaited third album, and it's living aural proof that nobody can keep still when these cracking musicians get down and just rock. They have become synonymous for live concerts, festival highlights, late-night parties and the unique 'Orkney Stomp', which fits in snugly with 'The Orkney Soond' – in fact, Douglas and Brian make up half of the Orcadian quartet Saltfishforty, which the magazine Living Tradition recommends as "a class act from start to finish".
This album sizzles, backfires, steams and smoulders. Master tunesmith Gavin contributes his fair share, including the desolate-but-gentle epic 'Wee Davie'. Douglas and Brian write barnstorming tunes, Bob fashions the marvelous 'Margaret Davidson' while Kenny pens 'Fixing George', the first in the 'Fixing Jigs' set. First up is a sizzling  'Beachcombers' set, which fires off with a polka penned by Gavin, building up with Donal Lunny's 'Tolka Polka' and culminating with 'The Angry Seal', Douglas's shuddering juggernaut of a dance tune. There are only two songs, but the vocals and harmonies are really impressive and refreshing – American Tim O'Brien's juiced-up 'Walk Beside Me' and Tom Waits' wistful, wonderful composition 'Shiver Me Timbers'.
The Chair alternate between brash-and-swaggering original tunes – I'm just loving those fiddles! – and gorgeous, peaceful airs of beauteous splendour. Most of all, the traditional, chugging 'The Rose In The Gap' shouts loudly and clearly what the band is all about – a carnivorous energy-force coupled to a no-holds-barred attitude of creating never-ending hedonistic fun. No doubt about it – Orkney Monster places them fairly and squarely in the champions' league of exciting artists to watch, hear, experience and savour.
---
JANUARY 2021
---
WӦR
About Towers

ARC Music EUCD2935
***** FIVE STAR CHOICE! *****
The members of Llantrisant Folk Club were eagerly looking forward to experience the five-strong Belgian band WӦR coming to South Wales and playing their stunning set; alas, that wasn't to be. Baritone saxophonist Fabio Di Meo, fiddler, mandolin and banjoist Jergen Goegebuer, bagpiper, saxophonist and pianist Pieterjan Van Kerckhoven, accordionist Bert Ruymbeek and guitarist/double bassist Jonas Scheys cancelled their British tour – and on the resurgence of the covid pandemic, music, shows, singing, dancing and the whole way of life came to a shuddering stop.
This is the third album from this Flanders five-piece, and it's based upon the lovely tradition of the carillon – a set of tuned bronze bells, suspended in a bell tower. Belgium and The Netherlands enjoy the greatest concentration of bell towers in the world, with 68 in all. Carillons can vary significantly in weight, ranging from a few hundred kilograms to 40 tons; professional bellringers, or carilloneurs, play the music with a baton-type keyboard, where the keys are connected to the bells' clappers and sets them in motion. Around 1644, brothers Francois and Pieter Hemony together with the carillonneur Jacob Van Eyck developed a technique to tune the bells accurately. From then on, Carillons mostly played arrangements of folk songs; however, from the 18th century onwards, original compositions were written for the instrument. The First World War broke out, and 13 carrillons were destroyed; this caused a great outcry and led to the introduction of the carillon culture in North America. In 2014, UNESCO recognised the carillon culture in Flanders and French-speaking Wallonia as an intangible cultural heritage.
WӦR develop this remarkable album as a full-on and delightful assault on the audience's ears and minds – absolutely great and very startling writing, using hints of classical pieces melded to Belgian folk, and a never-ending battery of bagpipes, saxes, fiddles, accordion and echoing, ringing carillon stir the bubbling musical cauldron. The striking repertoire is entirely instrumental; voices would only break the spell of the scintillating atmosphere.
About Towers is overflowing with ingenuous originality coupled with a bonding love and regard of ageless Belgian tradition; from the opening 'Beyaert' to the entrancing 'Jolies Filles', the joyous 'Bien Amoureux' and the closing, quiet 'Cecilia', quite simply it's a gorgeous cracker. When I travel to Belgium, notwithstanding covid and the appalling Brexit nightmare, I will see and hear carillons in a different light now.
---
MOSSY CHRISTIAN
Come Nobles and Heroes

Talking Cat Recordings ORRCD002
Mossy Christian comes from Lincolnshire and is a talented player of the fiddle, anglo-concertina and one-row melodeon; Jon Loomes, the well-known hurdy-gurdy player who set up Talking Cat Recordings and co-produced Mossy's solo debut album, describes him as "a young performer who bears the mantle of tradition proudly." Influenced by source singers such as Joseph Taylor, Harry Cox and Walter Pardon, his dextrous musicianship bubbles with a sparkling vitality. Come Nobles and Heroes is chock-full of traditional and Kipling-Bellamy material from England's coastal counties and makes a very interesting listen.
Mossy's session musicians comprise the wonderful Johnny Adams (trombone and bass brass arrangements), Gina Le Faux (mandolin), Tim Walker (percussion and cornet) and Jon on guitar and hurdy-gurdy. Edwin Beasant plays bass bugle and Ruth Bibby lends a hand – or rather, two feet – at clog dancing, on the finisher 'Dan Leno'. First up is the ranting medley 'Market Rasen Feast / Louth Quickstep', learned from a manuscript which was compiled from 1823 to 1826 by Jushua Gibbons, a papermaker from Tealby, Lincolnshire, suitable for the band to get motoring. Methinks I hear Mossy double-tracked on fiddle and squeeze-box! Definitely one to watch…
---
NICK DOW
…Then As Now

OHM813
thetraditionbearer@hotmail.co.uk
I'm really looking forward to a Llantrisant Folk Club visit by Nick Dow and his lovely gypsy wife Mally on July 7, 2021 – covid and the new dangerous strain permitting. Nick, a Londoner who has located to East Lancashire, is a mesmerising performer, impressive guitarist and respected song collector, and he makes it his business restoring and renovating travellers' wagons. He has been performing and researching folk songs for over 40 years and is an acknowledged expert on the West Country tradition.
During the pandemic lockdown, Nick has taken the time to list together all the existing recordings that he owns. He recorded tracks for the BBC in 1990, with Nigel Canter on fiddle and Chris Robson on button accordion; however, the BBC eventually deleted all the recordings. Nick thought the tracks had disappeared – but, he says, imagine his delight when a long-lost cassette dropped through his letter box. A friend of Nick's had stored the BBC recordings in his loft and kept them for the last 30 years; little did he know that he had found he had found a precious gem.
A lot has happened in those 30 years; Nigel went on to join the bluegrass band Bowed Legged Skeeter – recent favourites at the Gower Bluegrass Festival – and had a successful music career. Chris became a light operatic singer; both are still playing and performing. However, the recordings have been remastered and …Then As Now has been made into a CD, with three extra unreleased tracks. The songs are from the Hammond and Gardiner collections or songs which Nick found in Dorset on his collecting trips, and he has polished his reputable repertoire as good as new. Fourteen entrancing stories, from the opener 'The Brewer Lad' and 'The Maid In Bedlam' to 'The Trees They Grow So High' and 'The Man Of Burningham Town', come up as bright as a new pin; furthermore, Nick will charge you the amazing bargain of £6.50, postage and packing included. What's not to like?
---
Reviews for 2020 and earlier have now been archived and can be found on the CD Reviews Archive (from 2017) page