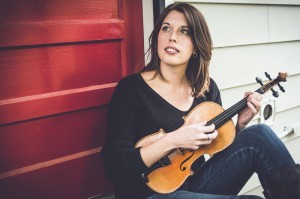 Self-taught fiddle-singer and songwriter Bella Hardy heads a spectacular line-up in the Roots Unearthed music series, which is being staged in the L3 Lounge, St David's Hall in the capital city of Cardiff on Tuesday, October 31. The BBC Radio 2 Folk Awards Singer of the Year launches her ninth album, Hey Sammy, with a 12-date tour across Scotland, Wales and England.
Bella, born in Edale in Derbyshire's Peak District, showcases an album that bears the stamp of extensive musical expeditions far from home. In the time since she released her CD With The Dawn, she temporarily relocated to Nashville, where she became immersed in the Music City's culture of collaborative songwriting and also worked as a ranch hand. Two music-finding trips to Yunnan Province in Southwest China also saw the BBC Radio 2 Folk Singer of the Year Award winner return with a suitcase overflowing with new lyrical and musical notions. Her seven-week residency in the Chinese city of Kunming was arranged by the British Council and the PRS For Music Foundation and resulted in the 2017 release of Eternal Spring, an album of songs and poetry made in collaboration with Chinese singers and musicians. The Chinese experience certainly influenced the 11 new songs on Hey Sammy, which was produced by Paul Savage at Glasgow's Chem19 studio and combines innovative arrangements delivered in Bella's soaring and swooping voice. Two songs, 'Queen Of Carter's Bar' and 'In My Dreams', were penned in collaboration with Nashville producer and songwriter Peter Groenwald; 'Busy Head' and 'Heartbreaker' were written with Scottish jazz pianist and composer Tom Gibbs, who also played keyboard on the record, alongside guitars bass and percussion. All other instruments were played by Bella herself. The album is laced with humanist hymns, ancient Chinese poems, feminist battle cries and the title track's reflections on the rise of racism in Britain. She also returns to her traditional roots with a retelling of the supernatural ballad 'Tam Lin'.
Bella's love of folk music came through a childhood fascination for ballad books. She began performing at Cambridge and Sidmouth festivals from the age of 13 and eventually took a BA in English Literature and a Masters degree in Music. Her debut album, Night Visiting, released ten years ago, established her reputation as a songwriter when her first original composition, 'Three Black Feathers', earned a BBC Folk Award nomination.
Bella has since become a highlight on radio and television, singing solo in a sold-out Albert Hall at the Proms. She has written and recorded with everyone from Beautiful South founder David Rotheray to Eliza Carthy, and performed with Mary Chapin Carpenter on her 2016 UK tour.
The Roots Unearthed programme encompasses exciting artists from Wales, Ireland, England, Europe and America. The four-fiddle Finnish septet Frigg conduct a Finnish Fiddle Tunes Workshop on Tuesday 21 November at 5.30pm, and perform a concert the same evening at 8pm. Los Angeles singer-songwriter, painter and essayist Tom Russell is on Wednesday 22 November at 8pm, and the series moves into St David's Hall for Kate Rusby at Christmas (Tuesday 12 December, 7.30pm). Penarth-born Martyn Joseph performs on Tuesday 16 January at 8pm, and Amy Wadge and Luke Jackson appear on Tuesday 30 January. National treasure and BBC2 Folk Singer Of The Year Chris Wood takes the stage on Tuesday 6 February, North Irish singer Cara Dillon and her husband Sam Lakeman are on Tuesday, 6 March and Lau musician Kris Drever plays on Tuesday 17 April.